By Parke Shall
We're in Ford and we're in it for the long-term. We're collecting dividends, reinvesting them, and have a multi-year outlook on Ford as a hold. Ford (NYSE:F) really can do no wrong in our eyes right now. We look at the company as a win/win here.
Ford continues to be in a trading range, as it's been for the better part of the last 5 years. The market is waiting for the company's investments overseas to pay off which should, in turn, crank up the profitability engine that will move the stock. While the stock churns, we'll gladly accept and reinvest the dividends for the company's next big leg up.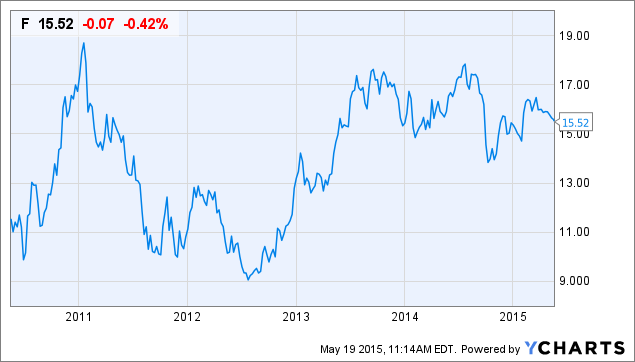 In the interim, the company has done things the right way. They've invested their capital in themselves and in innovation versus returning it to shareholders. Management seems to have a long dated outlook for the company's success (as shown by their actions), and we like this. We agree and see Ford's future, as its valued today, to hold one of two of these win/win scenarios,
WIN: They can either continue to execute their business plan slowly and steadily, the market will notice, and the stock will respond. We'll collect dividends in the meantime.
WIN: Or, the company can continue to move its chess pieces into place across the globe, as they've been doing, and wait for the proper moment to pounce and announce surging profitability across many segments other than the U.S.
In the company's last report, they announced that 4 of 6 of their business segments were profitable. As spending for innovation and fixed costs related to expansion globally come down, we're expecting Ford's profit to widen in all of their global segments. Here in the U.S., the slight weakening of the dollar to start the quarter, should help the company meet or exceed earnings estimates.
As a reminder, we think that Ford's growth story is going to come from,
1. A continued backbone of sales growth domestically, in the company's main profit center
2. Informational expansion into China and markets like EMEA, where the company has yet to become profitable
3. Continued brand prestige and the rebirth of the luxury Lincoln brand, especially overseas
Tuesday's European car registration data continued to point to things moving in the right direction overseas, supporting our thoughts that things are moving along globally,
Ford (F) European car registrations +2.3% to 86,234 units in April, according to the European Automobile Manufacturers Association.
Overall EU registrations +6.9% Y/Y in April, led by a strong month in Germany, the U.K., and Italy. YTD registrations +8.2%.
Ford market share: 7.1% vs. 7.4% a year ago.
Ford YTD registrations +6.0%
Also of note since the last time we checked in with Ford was the company's recalling of 12,300 2015 F-150's due to a steering issue. Ford commented last week, after the recall was issued, that they weren't aware of any accidents related to the issue. We don't think these recalls will have a negative impact on the business, as it's part of releasing a new model with a new design and the recalls related to the F-150 have been limited in nature and size since the new model was launched (2 recalls, first one affected only 100 vehicles).
Ford should also see a challenge in the strength of the dollar, turn into a tailwind for the company moving forward. The dollar has weakened slightly this quarter thus far and the company is taking steps to make sure that it won't have to repeat write-offs that it made in Venezuela months ago. For starters, they're charging people in U.S. dollars for purchase of vehicles in Venezuela. The dollar should also provide them with some momentum into the coming quarter.
In keeping with the company's plans of expanding globally to boost the bottom line, sales in China have stayed on their current growth trajectory also.
The company is just now getting to a point where they're going to see some operating leverage, we believe, outside of the states. The bottom line, now that the big spending initiatives will start to slow down, should reflect these results. When profit can be driven not just from the U.S., we believe we're going to see the next logical leg up for Ford stock.
We commented on this in our last piece, and reiterated our outlook when looking at some of the company's bullish commentary from its conference call, and our corresponding analysis.
"As you can see here, our plan for profitable growth and of course our focus as a business continue to deliver and they remain unchanged."
This general commentary reiterates our outlook that the company believes things to be on course, as we do.
"And while wholesales were about unchanged due to major product launches and the revenue was down mainly because of the effect of the stronger U.S. dollar on our international operations, we grew our global market share and achieved profitability in four of our six business units."
This comment reiterates our thesis that ongoing international growth continues, and that the company's revenue miss was due to the strength of the dollar, as many other larger multinational companies have faced this earnings season.
As we've said, we think a large move up in profitability is just a couple of quarters around the corner. As Ford has been growing as a company these last five years, they've taken capex with it, reinvesting in themselves instead of hoarding their capital or pushing it back out to shareholders. At some point, when they stop spending and their top line holds steady, we're going to see some real fuel for the stock price.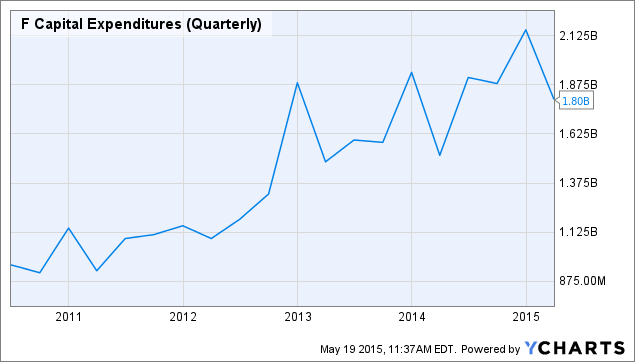 F Capital Expenditures (Quarterly) data by YCharts
Whether Ford shares come to now or later, we're content in holding and collecting the dividends to reinvest. We think Ford here is a win/win scenario.
With the company at a jumping off point for global profitability and the equity priced at just 8.27x of what Ford is expected to earn next year, Ford is begging us to buy more. In general, Ford continues to be our preferred way to invest in the U.S. auto market. Here's a piece on why we have a target over $20. Again, we have to reiterate that we take a long-term view on the company.
Disclosure: The author is long F.
The author wrote this article themselves, and it expresses their own opinions. The author is not receiving compensation for it (other than from Seeking Alpha). The author has no business relationship with any company whose stock is mentioned in this article.