Basic materials stocks, especially coal and gold stocks, were among the strongest movers in the market last week. The following is our analysis of the top movers in the sectors, along with our picks for the best buys among the top movers (see Table):
Patriot Coal Corp. (PCX), Arch Coal Inc. (ACI), Consol Energy Inc. (NYSE:CNX) and James River Coal Co. (JRCC): PCX is a leading coal exploration and production company in the Eastern United States, with 14 active mining operations in Appalachia and the Illinois Basin; CNX is a producer of bituminous coal and coal-bed methane gas primarily in the northern and central Appalachian and Illinois basins; ACI is engaged in the production of steam and metallurgical coal from surface and underground mines; and JRCC is engaged in the exploration and production of steam, bituminous and industrial-grade coal in KY and IN.
All four stocks fell sharply last week, between 8% and 12%, with most of the losses on Friday after PCX announced earlier that morning that it was cutting back production by shutting down two of the company's production units and three contractor-operated mines due to lower demand for metallurgical coal. The lower demand was attributed to slowing growth in China and increased production in Australia, with demand maybe resurging once the global economy returns to normal growth rates.
Of the four, ACI and CNX are solidly profitable, and ACI the most attractive on a value relative to growth basis, trading at a 5-6 forward P/E compared to the 10.4 average for its peers, while earnings are projected to more than double from $1.14 in 2010 to $2.40 in 2012. CNX meanwhile trades at 9-10 forward P/E, while earnings are projected to rise at 25.9% growth rate from $2.22 in 2010 to $3.52 in 2012. Meanwhile, PCX currently generates losses, and is expected to be modestly profitable in 2012, and JRCC is expected to incur losses in 2012. While earnings estimates for all four, and the rest of the coal sector, will probably come down if this lowering of metallurgical coal demand is not isolated to PCX, ACI due to its relatively low P/E and high projected earnings growth based on current estimates will probably remain attractive on a relative value basis.
Furthermore, previously, in our analysis of coal stocks in case we go through a double-dip recession, we had concluded that of the four, ACI would be the top performer even in that scenario. We believe the downside in ACI is limited as it is within striking range of its eight-year lows in the $12 range, and the upside remains attractive from a long-term perspective due to the overwhelming fundamentals underpinning the market in terms of explosive growth in the infrastructure market in developing markets worldwide, especially China and India, once the global economy recovers on a firmer footing.
Hecla Mining Co. (NYSE:HL): HL is engaged in mining and development of gold, silver, zinc and lead properties in the U.S. and Mexico. The stock gapped down Wednesday after the company reported earlier that morning that the Mine Safety and Health Administration (MSHA) ordered closure of the Silver Shaft at the Lucky Friday mine in Mullan, Idaho, for removal of built-up material in the shaft. The company lowered its 2012 silver production forecast from 9.5 million to 7 million ounces.
While the news was negative, the sharp gap-down will most likely be filled soon, as the stock remains cheap on a relative basis to its peers in the group, and the news should already have been factored into the stock price as the mine has had two fatalities and seven injuries in two unrelated incidents previously, so the temporary closure should not have been that big of a surprise. HL trades at a current 8-9 P/E on a TTM basis compared to 18.8 average for its peers in the silver mining group, and earnings are projected to fall slightly from 46c in 2011 to 43c in 2012. Furthermore, it has over $400 million in cash and cash equivalents, less debt, or over $1.40 in cash.
Molycorp Inc. (MCP): MCP is engaged in the mining and processing of rare earth ores at the mountain pass facility near the CA/NV border. The rare earths are critical inputs in existing and emerging applications, including: clean energy technologies, such as hybrid and electric vehicles and wind power turbines; multiple high-tech uses, including fiber optics, lasers and hard disk drives; numerous defense applications, such as guidance and control systems and global positioning systems; and advanced water treatment technology for use in industrial, military and outdoor recreation applications.
Its shares rose 8.6% last week on no company specific news. We are strong believers in MCP, and have earlier expressed our opinion here after the company released its Q3 earnings report. We continue to believe that at 10 forward P/E, while earnings are projected to increase from $1.55 in 2011 to $2.89 in 2012, the valuation is compelling, especially on a P/E relative to growth or PEG basis. We would be buyers here, especially on a dip back into the mid-$20s.
Metabolix Inc. (MBLX): MBLX is a bioscience company well-known as the provider of the Mirel brand of PHA natural plastics that are environmentally sustainable and totally biodegradable, and a green alternative to petroleum-based plastics. It is engaged in the development of a proprietary platform technology for co-producing plastics, chemicals and energy from crops such as switchgrass, oilseeds and sugarcane.
The stock was among the biggest losers last week in the basic materials group, down over 50%, after it announced after-the-close on Thursday that Agribusiness giant Archer Daniel Midlands (NYSE:ADM) gave notice of termination of its Telles, LLC joint venture for PHA bioplastics effective February 8th. While MBLX retains the IP rights to the technology, and management has announced its intent to open discussions with alternative manufacturing and commercialization partners, we would stay on the sidelines on this one as there is too much uncertainty and risk until the company announces a comprehensive strategy going forward.
Other stocks in the basic materials that had large moves in the basic materials sector last week include gold mining company Brigus Gold Corp. (BRD), that was up 21.6% in the last week; another gold miner US Gold Corp. (NYSE:UXG), that was also up 17.1% last week; basic chemicals company Huntsman Corp. (NYSE:HUN), that was up 11.7% during the week; and Canadian uranium mining company Cameco Corp. (NYSE:CCJ), that was up 8.9% for the week. All four stocks were up on no company-specific news. Also, up strongly last week was basic chemicals company Georgia Gulf Corp. (GGC), up 53.5%, after it received a $30/ share offer from Westlake Chemical (NYSE:WLK); however, the stock traded up to almost $33, raising speculation that there would be a higher bid from another competitor.
Table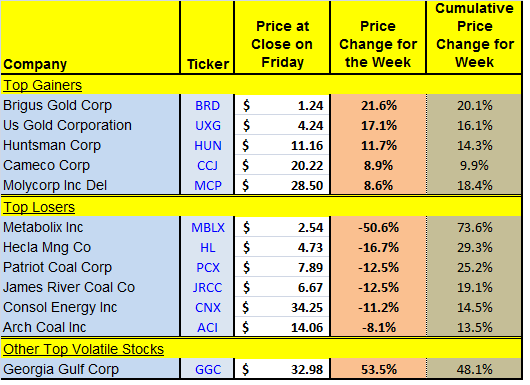 Please note that the cumulative price change referred to in the last column of the Table above is used here as a measure of volatility to determine big movers in the group. It equals the sum of the absolute value of the change in daily prices. So, for example, if a security had price moves of 2%, -3%, 4%, -6% and 1% during the five days of the week, the cumulative price change during the week would be the sum of the absolute values of the daily price changes, which in this case would be 16%.
Credit: Fundamental data in this article were based on SEC filings, I-Metrix® by Edgar Online®, Zacks Investment Research, Thomson Reuters and Briefing.com. The information and data is believed to be accurate, but no guarantees or representations are made.
Disclosure: I have no positions in any stocks mentioned, and no plans to initiate any positions within the next 72 hours.
Disclaimer: Material presented here is for informational purposes only. Nothing in this article should be taken as a solicitation to purchase or sell securities. Before buying or selling any stock you should do your own research and reach your own conclusion. Further, these are our 'opinions' and we may be wrong. We may have positions in securities mentioned in this article. You should take this into consideration before acting on any advice given in this article. If this makes you uncomfortable, then do not listen to our thoughts and opinions. The contents of this article do not take into consideration your individual investment objectives so consult with your own financial adviser before making an investment decision. Investing includes certain risks including loss of principal.