AdCare Health Systems (ADK) describes itself as a company that owns and manages nursing homes and assisted living facilities that, prior to becoming a publicly traded company in November of 2006, operated as a private company for 18 years in Ohio. It states that its 3,450 employees provide high-quality care for patients and residents in the 44 facilities that they manage, 34 of which are skilled nursing centers, nine assisted living facilities and one Independent senior living community.
The company can boast owning 14 of the skilled nursing centers and eight of the assisted living facilities, with the others operated under long-term lease, consolidated variable interest entity, or management contract. It currently operates in Alabama, Arkansas, Georgia, Missouri, North Carolina, Ohio and Oklahoma. Its stated mission is to provide quality healthcare services to the elderly.
Ladenburg Thalmann recently initiated coverage on the company with a "buy" rating in its report, gave it what I believe to be a relatively conservative price target of $7.50.
Key Takeaways from the report:
Value & Revenue Drivers
Quarterly revenues have increased by roughly 641%, from $6.4M to $40.9M over the last six quarters. The revenue growth is expected to continue over the next several years.
Investor and Entrepreneur, Chris Brogdon, is considered to be the chief architect of AdCare's recent and highly successful growth strategy over the last year and a half. He started as an investor in the company and now serves as its Vice Chairman and Chief Acquisitions Officer. Ladenburg Thalmann contends that Brogdon owns, personally, roughly 50 retirement facilities and more than 20 restaurants. He also currently owns nearly 11.0% of AdCare's shares, in the form of 1.036M commons and 450k in warrants that are at an average exercise price of about $4.78.
Available financing options through a USDA program in which a bank will be the actual lender to the company, with a guarantee from the USDA. The type of guarantee is provided through U.S. Federal Government to provide long-term financing for rural projects at attractive rates.
Demographic & geographic trends in the U.S are positive for the industry. In 2010 it was estimated that there were more than 40M U.S. citizens over the age of 65, 17M over the age of 75, and 6M over the age of 85.
Part of the company's growth plan involves strategic acquisitions, under the guidance of Brogdon, and most of the acquiring is planned to be in the U.S. southeast where the elderly population has been growing at a faster clip than other regions of the country.
Jeffrey Cohen of Ladenburg Thalmann provided the following public information about the company's 2011 acquisitions:
In January 2011, AdCare obtained control of Mountain Trace Nursing, a skilled nursing facility located in Sylva, North Carolina, for a purchase price of $6.2MM. The purchase price was financed with a combination of loans ($4.9MM) and cash ($1.3MM). Mountain Trace has 106 beds in service currently.
In April and June 2011, the Company closed on three SNF's in Georgia; Autumn Breeze, Southland and College Park. The three facilities have a total of 329 operational beds and were acquired from Five Star ($2.54-FVE, NR) for a total purchase price of $17.9MM. Financing consisted $12.4MM in loans and $5.5MM in cash.
On August 1, 2011, AdCare acquired five skilled nursing facilities located in Oklahoma, for an aggregate purchase price of $11.3MM by companies owned and operated by Christopher Brogdon, the Company's Vice Chairman and Chief Acquisition Officer, and others. These facilities are known as the Living Center, Kenwood Manor, Enid Senior Care, Betty Ann Nursing Center and Grand Lake Villa. The five facilities have a total of 314 operational units. The Company determined that the transaction is a variable interest entity (VIE) as the ownership entity does not have sufficient equity at risk under the Variable Interest Entities accounting pronouncements. AdCare initially consolidated the Oklahoma VIE's on August 1, 2011, the date of acquisition and initial operations. The Company expects to finalize the valuation and complete the purchase price allocation before December 31, 2011. Financing will consist of $9.5MM in net proceeds from loans and $1.9MM in cash.
In September 2011, AdCare completed the Pinnacle Acquisition, which consists of four purchased and one leased facility. In total the transaction is for $19.5MM and consists of 402 purchased beds in Arkansas and 80 leased beds located in Missouri. The transaction was financed with $14.6MM in loans, a $2.4MM seller note, and $2.5MM in cash.
The firm listed risks that are pretty standard/generic and they included items such as management stability/potential loss of key personnel, revenue concentration, potential shortage of healthcare workers, Medicare/Medicaid reimbursement, and competition.
Here's a look at some key metrics:
Valuation Measures: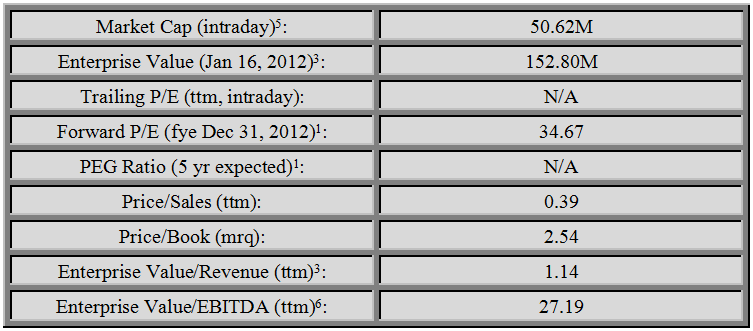 Income Data:


Balance Sheet:


Table Key:


The company currently has just 12.17 M shares out and its stock trades at $4.16, giving it a micro-market-cap $50.63M. The average 3-month-rolling daily trading volume is a mere 21.1k, but that shouldn't matter if you plan to hold long-term. Shares of AdCare are trading 34.69% below their 52 week high of $6.37, which was forged last July. Institutional ownership stands at an unimpressive 18%, but is up about 596k shares from CY Q2 to Q3 and the total short interest is only 115,543 shares, as of 12/30/11.
Though the company technically is not profitable at the moment, I believe it has the potential to become so over the next year to two years. I would recommend that you do some further research of your own, but unless something about the company dramatically changes, I personally consider ADK to be the "buy and forget about it for a year" variety of equities, and see the company as being undervalued due to a lack of understanding and appreciation of its growth plan and strategic acquisition model.
Disclosure: I have no positions in any stocks mentioned, but may initiate a long position in ADK over the next 72 hours.