Accenture (NYSE:ACN) provides consulting and outsourcing services to five key client segments on a global basis. The largest segment is products which primarily serves the manufacturing and transportation industries, followed by communications & high tech, and financial services.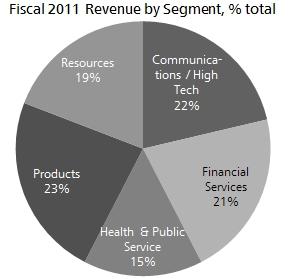 Within the communications segment, about 55% of revenue is derived from serving large telecom companies while in financial services, about 55% of revenue comes from retail and commercial banks. The health and public service segment is dominated by public service which comprises 74% of segment revenue. Accenture generates about 44% of revenue in the Americas, 43% in Europe and 13% in Asia Pacific.
With the exception of health & public service which grew 8%, all segments grew at 18% to 25% in the last fiscal year. In the most recent quarter, fiscal 1Q12, all segments grew at double-digit rates compared to the prior year. Bookings at the company were up 11.6% in the most recent quarter compared to the prior year and down 8% compared to the prior quarter. Some decline in bookings in the first quarter versus the fourth quarter is normal for the business, but the amount of decline appears greater than the historical trend.
Growth in prior years has not always been strong, for example revenue declined slightly in 2009 compared to 2008 and was flat in 2010 versus the prior year. Over the last five years and one quarter, revenue has managed to grow 5.5% and EBITDA has grown slightly faster at 6.6%, both at a compounded annual rates. The company has not made any major acquisitions over the period, although a number of smaller transactions have been consummated. Two key areas of investment for Accenture are in sales and marketing and research and development. Both have grown faster than revenue and EBITDA at 10.4% annually.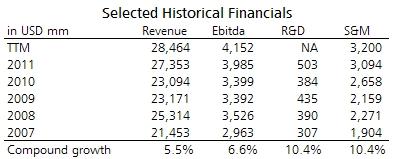 Returns on capital are difficult to assess for services companies because most of the assets are not recognized on the balance sheet. My own preliminary analysis based on the capitalization of research and development and sales and marketing suggests returns are far in excess of the cost of capital which implies that growth should create value for shareholders.
With the equity trading at $53.25 per share, Accenture trades at a price to earnings multiple of 12.2 times based on First Call projected fiscal 2012 earnings of $3.81, after netting cash of $7.30 per share from the market value of equity and removing interest income from earnings. The annualized dividend yield is about 2.5% based on the last dividend. Assuming no major accounting adjustments, fair value for a no growth business is typically about 12.5x.
Accenture currently faces a few headwinds which likely reflect the rather muted valuation ascribed to the company's current cash flows and growth prospects. With a large portion of revenue derived from Europe, there is a clear risk of weak operating performance in the future as that region flirts with recession. The weak Euro will also weigh on reported results, although the currency impact should be transitory. Another risk is the weak revenue environment for financial services. Public service is of some concern as well due to austerity budgets in Europe and elsewhere. Offsetting some of these risks is the fact that parts of Accenture's business tend to reduce costs for companies – especially outsourcing. However, the savings are generally longer-term in nature and such reorganizations take upfront capital to put into place.
Although the short-term outlook is choppy, over the long-term, the business should perform in-line, to somewhat above global growth implying the shares should embed some growth premium which is currently not the case, in my view. The forgoing analysis is cursory, but Accenture's shares look attractive enough to put on the watch list while refining the valuation. Given a strong economy, Accenture's shares have a good chance of outperforming the market as growth premium is built into the stock. Accenture may also use its large cash position to buy back stock on any weakness, which would ensure the stock stays liquid through a downturn, should one come.
Disclosure: I have no positions in any stocks mentioned, but may initiate a long position in ACN over the next 72 hours.