You may never have heard of World Chocolate Wonderland. It's China's first "chocolate theme park." The displays at Shanghai's World Chocolate Wonderland include a terracotta army made of dark chocolate, a Shanghai skyscraper fashioned from white chocolate - complete with a brown Huangpu river flowing next to it - a chocolate bullet train and a white chocolate aircraft carrier.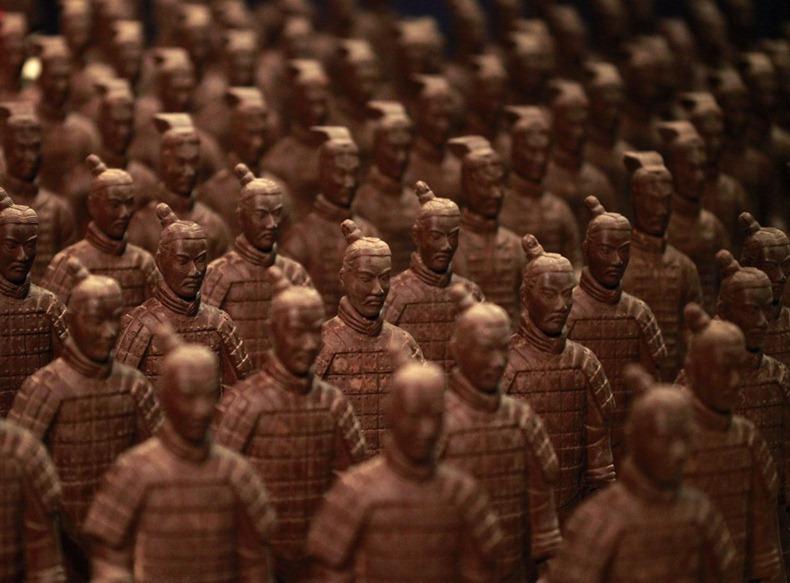 Europe's confectioners are wooing the crowds with samples and demonstrations of the art of bonbon making.
China's increasingly affluent consumers are boosting spending on fine chocolates. More than half of China's chocolate sales are for gifts. Christmas and next month's Lunar New Year are the peak seasons.
Euromonitor estimates that in China the chocolate confectionery market has grown almost 40 percent in value since 2008, while the global chocolate market grew less than 10 per cent.
A recent Bain study forecast that the Chinese market would grow 11 percent per annum for five years, but Lindt & Sprüngli said it believed the market was growing by 30 percent a year, based on research conducted for it by Nielsen.
Thirty years ago practically no chocolate was consumed in China. It was left to the big five international chocolate makers - Ferrero, Cadbury (Kraft Foods) (KFT), Hershey (NYSE:HSY), Nestle (OTCPK:NSRGY) and Mars - to create the market from scratch.
Mars has the largest market share around 40%, the second biggest player is Nestlé with an 11% share, followed by Ferrero with 9%. The only significant domestic competition comes from COFCO, which has a 5% market share. Domestic chocolate companies are weak in R&D, resulting in slow product changes and updates.
A company that's on track and has big opportunities in emerging markets is Hershey. Already since 2004, Hershey International is making transactions and alliances.
Transactions and Alliances
On August 17, 2004, Hershey Mexico acquired the assets and brands of Grupo Lorena, a major confectionery business in Mexico, with relevant presence in the U.S. Hispanic community. Main brands are Pelon Pelo Rico in Spicy confectionery and Crayon in sugar confectionery.
On January 29, 2007, the company announced a manufacturing joint venture in China with Lotte Confectionery Co., Ltd, Korea's leading confectionery and ice cream manufacturer. The joint venture produces for the company Hershey's branded products for sale in China and other Asian markets.
On April 3, 2007, the company announced the formation of a joint venture in India with Godrej Industries Ltd to manufacture and distribute confectionery products, snacks and beverages across India.
On 24 January, 2008, the company announced the formation of a joint venture in Brazil with Pandurata Alimentos Ltda (manufacturer of products sold in Brazil and Latin America under the Bauducco brand) to manufacture, sell and distribute Hershey's branded products across Brazil using the Bauducco distribution network.
Effective February 28, 2009, the company licensed the Van Houten brand from Barry Callebaut. Specifically, Hershey has a perpetual and exclusive license of the Van Houten brand name and related trademarks in Asia Pacific, the Middle East and Australia/New Zealand for consumer products. Founded in 1990, Van Houten Singapore successfully develops and markets popular consumer chocolate products throughout Asia. This acquisition complements the company's existing business in Asia and gives Hershey an immediate in-market presence in several high-potential markets, including Malaysia, and Indonesia. The investment was about $15 million, or approximately 1-times sales.
The Confectionery Picture In Some Emerging Markets
If we look to the retail confectionery market in countries such as China, Brazil, and India, and you compare them with Asia's biggest consumer of chocolate you can draw the conclusion that China and India still have to consume quite a lot of chocolate to catch up, see below.
GLOBAL RETAIL CONFECTIONERY MARKET
( in Billion $)
4-year
Retail Sales*
2010
2009
2008
2007
2006
CAGR
Japan
Total Confection
$10.0
$10.2
$10.0
$10.0
$10.0
0.0%
Chocolate
$4.2
$4.3
$4.3
$4.3
$4.3
-0.6%
Non-Chocolate
$3.7
$3.8
$3.7
$3.7
$3.6
0.7
Gum
$2.1
$2.1
$2.0
$2.1
$2.1
-0.3
China
Total Confection
$9.5
$8.7
$8.3
$7.8
$7.2
7.0%
Chocolate
$1.4
$1.2
$1.1
$1.0
$0.9
11.0%
Non-Chocolate
$5.8
$5.4
$5.2
$5.0
$4.7
5.8%
Gum
$2.3
$2.1
$2.0
$1.8
$1.7
8.2%
Brazil
Total Confection
$11.1
$9.7
$8.9
$7.8
$7.2
11.4%
Chocolate
$4.9
$4.3
$3.8
$3.3
$2.8
15.0%
Non-Chocolate
$4.2
$3.6
$3.4
$3.1
$3.0
8.7%
Gum
$2.0
$1.8
$1.7
$1.4
$1.4
9.2%
India
Total Confection
$1.6
$1.3
$1.1
$0.9
$0.8
20.2%
Chocolate
$0.8
$0.6
$0.5
$0.4
$0.3
25.4%
Non-Chocolate
$0.6
$0.5
$0.4
$0.4
$0.4
12.1%
Gum
$0.3
$0.2
$0.2
$0.1
$0.1
28.9%
* Source: Euromonitor
Especially if you look to the market size of China and India (in population) you see that there are big opportunities for confectionery (chocolate) manufacturers.
Not only is Hershey an interesting play in the Chinese chocolate market. Nestlé and Kraft Foods' Cadbury are also companies that are participating in the Chocolate Wars that are taking place in the emerging markets.
I really think the three companies mentioned in this article belong in a diversified investment portfolio. My advice is to use market weakness to buy these stocks for the long run.
Disclosure: I am long KFT.