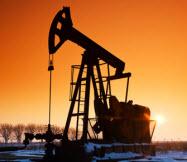 Peak oil is here and most, if not all, of the easy money has been made. Vast reserves still exist such as unconventional shale and deep water plays, unfortunately, these endeavors are becoming increasingly expense causing a shift of profits from energy explorers to the companies that provide the technology, equipment and know how to reach the black gold. I posit the following energy equipment and service providers are the place to find profits in the oil patch. These companies are gaining market share, ready to rally and amassing a bigger piece of the profit pie.
The stocks in question are: Schlumberger (NYSE:SLB), Halliburton Company (NYSE:HAL), National Oilwell Varco, Inc. Co (NYSE:NOV), Baker Hughes Incorporated (BHI), Cameron International Corporation (NYSE:CAM), FMC Technologies, Inc. (NYSE:FTI) and Diamond Offshore Drilling, Inc. (DO).
These stocks have major upside potential and stand to gain significant business facilitating the extraction and delivery of oil and gas. Please review the following oil and gas market backdrop, major oil and gas macro catalysts followed by company specific catalysts and current charts followed by detailed tables regarding each company's summary, fundamental and earnings statistics.
Oil and Gas Market Backdrop
According to a recent Reuters report:
Brent crude futures rose this morning, staying above $111 on expectations of steady demand growth after the world's second-largest oil consumer, China, posted an economic expansion that beat forecasts.

The data eased oil investor worries that Europe's debt crisis is forcing China's factories to pare output and reduce energy consumption. The latest numbers give another prop to prices that have hovered around $110 a barrel since the beginning of the year, fuelled by escalating tension in the Middle East over Iran's nuclear programme.

Saudi Arabia expressed doubts over Iran's claim it could block the Strait of Hormuz, escalating tensions between the two producers. U.S. light, sweet crude rose 94 cents to $99.64 a barrel by 0020 GMT. There was no settlement price for the benchmark because of a holiday in the United States on Monday. The world's top oil exporter expressed doubts over Iran's claim it could block the main oil shipping route out of the Gulf and made clear it was ready to pump more oil after sanctions threatened to cut Iranian sales of crude.
Major Macro Oil and Gas Catalysts
The following is a list of macro catalysts for oil and gas in 2012.
Foreign energy companies are chomping at the bit to get in on America's black gold rush. Total (NYSE:TOT) and China's Sinopec (NYSE:SHI) are the most recent entrants. Total recently closed a $2.32 billion deal on a 25% stake in an Ohio shale deposit operated by Chesapeake. Sinopec recently paid $900 million and pledged to cover up to $1.6 billion in drilling costs for a 33% stake in Devon's (NYSE:DVN) portfolio of properties.
Emerging market countries (China and India) increasing strategic reserve stockpiles
Middle Eastern instability due to Iran, Iraq and Syria. The European Union reached a preliminary agreement to ban imports of Iranian crude, intensifying strains in the West's impasse with Tehran.
Chinese and emerging market demand growth rising
U.S. Fed and ECB printing presses working overtime
OPEC decision to not increase production
The winds of political change are blowing hard these days. If the Republicans take the 2012 presidential election, energy stocks will soar.
Recent better than expected U.S. consumer confidence and manufacturing statistics.
Interest rates are low and the Fed has confirmed its dovish stance is here to stay.
Company-Specific Catalysts And Current Charts
Petrofac and Schlumberger recently announced their Integrated Energy Services (IES) and Schlumberger Production Management (SPM) divisions respectively have signed a Co-operation Agreement ('the Agreement') under which these divisions will establish a working relationship to deliver integrated and high-value production projects in the emerging and growing production services and production enhancement market.
Miguel Galuccio, president, Schlumberger Production Management said:
Schlumberger's subsurface knowledge, production engineering, well construction and project management services coupled with Petrofac's surface facility design, installation and ongoing operational field management create a life-of-field approach coupled with a performance-focused commercial model to optimize asset development and overall value. Schlumberger and Petrofac share a common global culture that promotes the complementary nature of their respective products and services and together will provide a one-stop shop for clients in emerging field development and asset management services.
Chart (click to enlarge)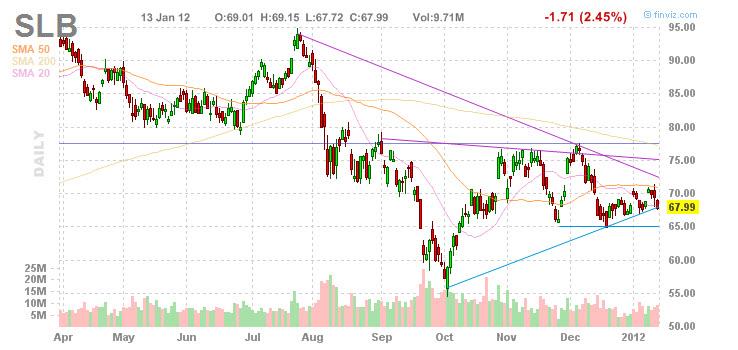 Charts provided by Finviz.com
Halliburton recently responded to court filings by BP saying: BP recently filed a motion for sanctions against Halliburton alleging that Halliburton destroyed evidence relating to post-incident testing of the foam cement slurry. BP has been aware of post-incident tests for some time, but has chosen this late date in the litigation to mischaracterize the results of such tests.
Chart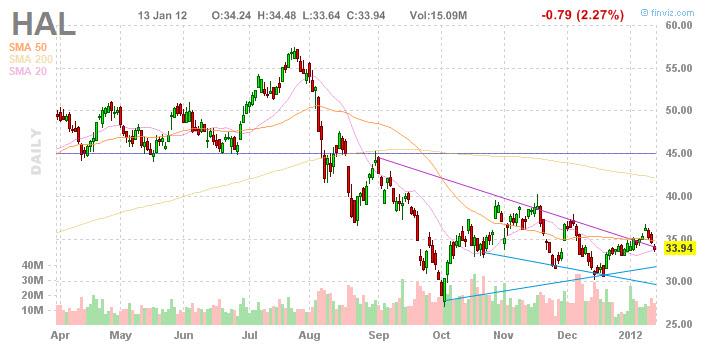 National Oilwell recently announced it has signed contracts to supply drilling equipment packages for seven drillships to Estaleiro Atlantico Sul ("EAS"), including drilling riser and pressure control equipment. The value, over the term of the deliveries, is approximately $1.5 billion.
Pete Miller, Chairman, President and CEO of National Oilwell Varco, stated:
We are pleased to have been selected as the drilling equipment supplier for this prominent project, and excited to work with one of Brazil's premier shipyard companies, EAS. Brazil's extraordinary deepwater discoveries of the past several years have transformed it into one of the most significant offshore markets we serve, and one we expect to continue to grow. We are investing heavily in Brazil to manufacture more of the products and technologies National Oilwell Varco provides to our oil and gas customers, and to service the rapidly growing installed base of NOV drilling equipment in the region.
Chart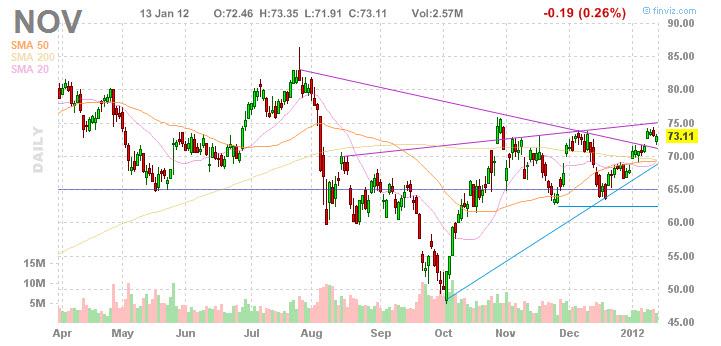 Baker Hughes Incorporated recently announced adjusted net income (a non-GAAP measure) for the third quarter 2011 of $518 million, or $1.18 per diluted share. This excludes a $214 million tax benefit associated with the reorganization of certain foreign subsidiaries and a $26 million after-tax loss related to the early extinguishment of debt. This compares to $255 million, or $0.59 per diluted share, for the third quarter 2010, and adjusted net income of $408 million, or $0.93 per diluted share, for the second quarter 2011.
Chad C. Deaton, Baker Hughes Chairman and Chief Executive Officer said:
The third quarter was a record revenue quarter for Baker Hughes. In Canada, the rig count grew substantially throughout the quarter and our operational results reflected this growth. Strong growth continues across U.S. Land, and capacity across most of the market remains tight. The Gulf of Mexico improved marginally during the quarter as the pace of permitting modestly improved. We continue to position our organization to respond to gradual growth in the Gulf of Mexico over the medium term.
Chart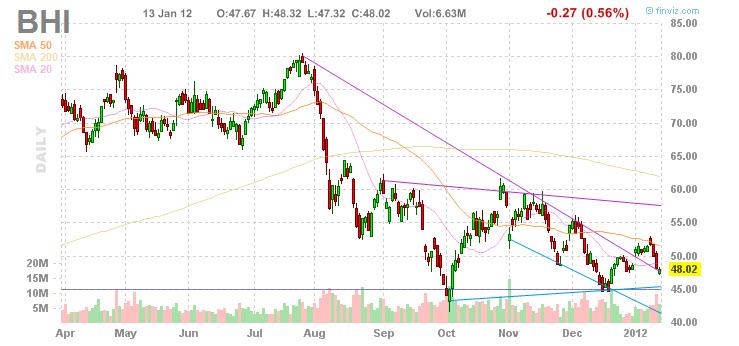 Cameron recently announced an agreement with BP whereby BP will indemnify Cameron for current and future compensatory claims against Cameron associated with the Deepwater Horizon incident.
Under the terms of agreement, Cameron agrees to pay $250 million to BP, and both parties have agreed to mutually release claims against each other. In addition, BP will fully indemnify Cameron for damage claims arising under the Oil Pollution Act, claims for natural resource damages and associated damage-assessment costs, and other claims arising from third parties.
Chart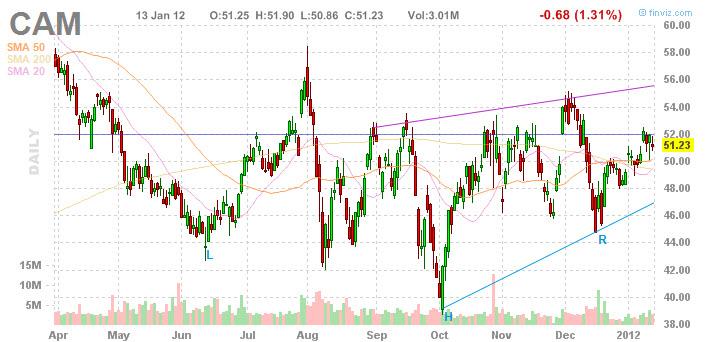 FMC Technologies, Inc. recently announced it has signed an agreement with Anadarko Petroleum Corporation (NYSE:APC) to provide subsea systems and life-of-field services for its Lucius project.
The Lucius field is located approximately 275 miles southeast of Galveston in Keathley Canyon Block 875, in water depths of approximately 7,100 feet (2,160 meters). FMC's scope of supply includes five subsea production trees and two manifolds. The equipment will be supplied from the Company's operation in Houston and deliveries are expected to begin in the fourth quarter of 2012.
John Gremp, FMC's Chairman, President and Chief Executive Officer said:
Anadarko is the largest independent operator in the deepwater Gulf of Mexico. We are pleased to continue supporting their projects as their preferred subsea systems supplier.
Chart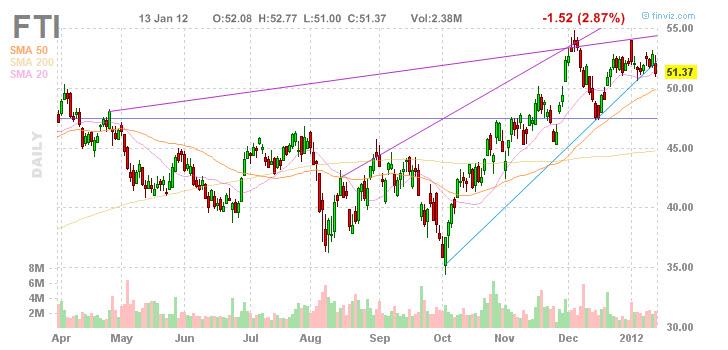 Diamond Offshore Drilling, Inc. recently announced a subsidiary has entered into a contract with Keppel AmFELS shipyard in Brownsville, Texas for the construction of a moored semisubmersible rig with delivery scheduled for the third quarter of 2013. Total cost, including commissioning, spares and project management, but excluding capitalized interest, is expected to be approximately $300 million and to be paid out of available funds. The rig, to be named the Ocean Onyx, will be designed to operate in water depths up to 6,000 feet and will have a variable deck load of 5,000 long tons, a five-ram blowout preventer, and quarters capacity for 140 personnel.
Chart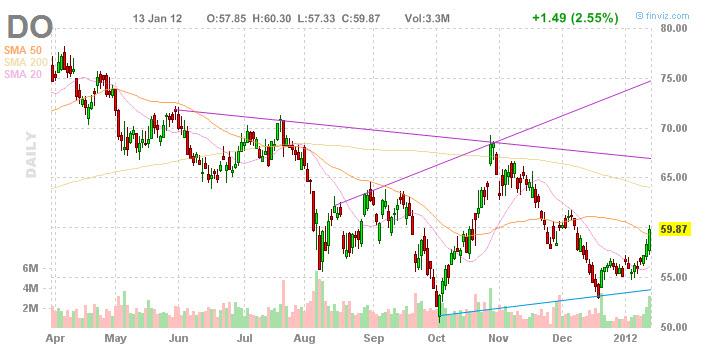 Summary Statistics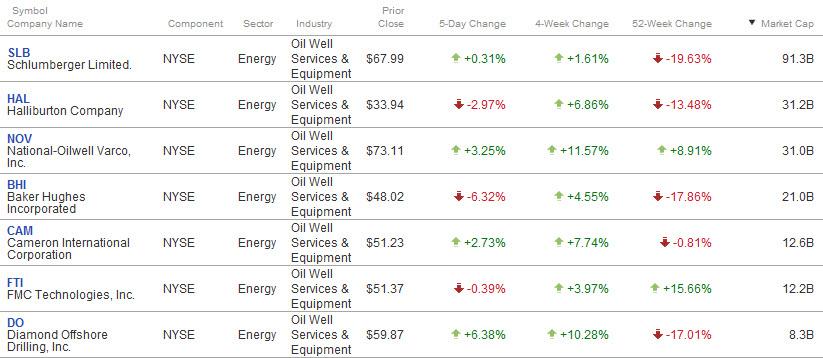 Fundamental Statistics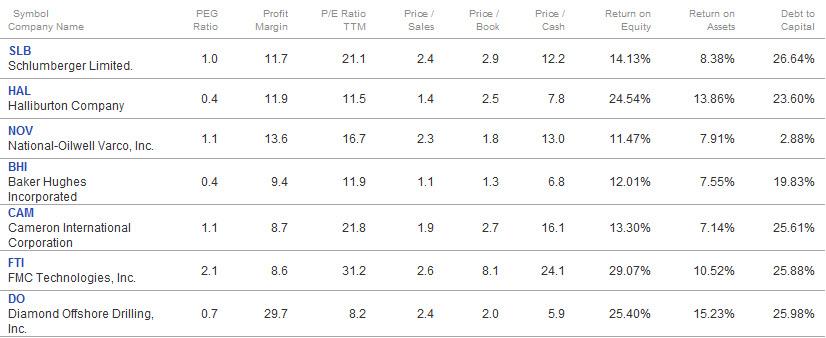 Earnings Statistics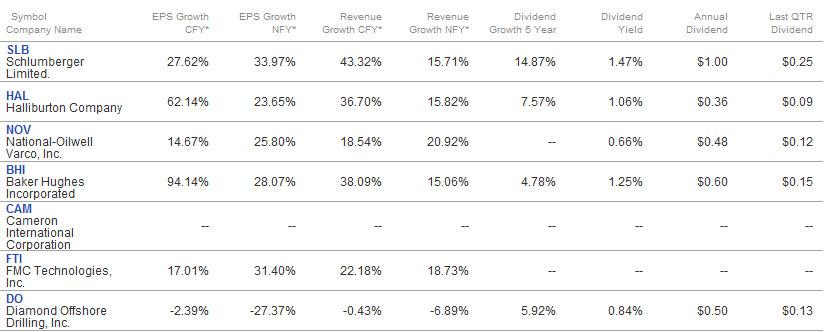 Tables provided by Scottrade.com
Conclusion
With the current tumultuous events in the Middle East bringing attention to the mounting energy requirements of emerging economies, in addition to the burgeoning necessities of the recovering developed economies, the fact that demand is outstripping supply appears to be blatantly obvious. All the easy oil and gas has been discovered, recovered, depleted and expended. We are now left with on shore "fracking" and deep sea drilling which are much more expensive endeavors, ultimately driving a shift in profits from the oil and gas explorers to the oil and gas equipment and service providers.
As emerging markets of the globe are begin to demand their fair share, think of this fact, even with the sad state of the current global economy, we are at $100 a barrel oil. Due to the finite nature of oil resources it seems the tipping point of the oil supply/demand equation is coming to fruition. What do you think is going to occur when the economies of the world begin to recover and emerging markets gain viable traction? You can be sure the demand for these companies' products and services will skyrocket. Even with the glut of natural gas on the U.S. market, the natural gas explorers must continue to drill leasehold wells to assert their leasehold rights under current contractual conditions.
Nonetheless, this is only the first step in finding winners for your portfolio. Don't take my word for it, use this information as a starting point for your own due diligence and research methods before determining whether or not to buy or sell a security.
Disclosure: I have no positions in any stocks mentioned, but may initiate a long position in NOV, SLB, HAL, BHI, FTI, CAM, DO over the next 72 hours.