There is one definite trend that few argue about: America is aging. The number of persons aged 65 or older in the year 2009 (the latest year for which data is available) stood at 39.6 million. This represented 12.9% of the U.S. population, or roughly 1 in 8 Americans. This population controls over 80% of U.S. assets – over $7 trillion – and accounts for 36% of personal healthcare expenditures.
By 2030, the Department of Health and Human Services estimates there will be about 72.1 million people over the age of 65, more than twice the number in 2000. The older population will represent 19% of the number of Americans by 2030.
The oldest segment of the population, older than 85, will rise rapidly after 2030 too as the baby boomers continue to age. This older population will have increased need for long-term health care such as skilled nursing facilities.
In 2005, the value of the long-term care market for people over 65 was $186 billion and by 2010, its value had grown to $258 billion. According to research firm, Kalorama Information, the market will grow at an annual rate of above 6% in the period from 2012 to 2015, resulting in revenues of $353.5 billion by 2015.
The largest segment of the long-term care market is the skilled nursing care sector. This segment alone accounts for over $136 billion in revenues of the nearly $354 billion projected for 2015 by Kalorama. It is also the segment which will see a huge influx of baby boomers as patients in their facilities.
This influx will occur just as we are seeing the decline in the number of skilled nursing facilities. The American Health Care Association reports the number of skilled nursing facilities declined by about 7% from 2000 to 2009.
This drop is due in large part to the heavy burden of regulation on the industry which also serves as an entry barrier to potential competitors attempting to enter the business and threaten the current players in the industry.
The industry remains highly fragmented with the top four firms accounting for only 11% of the industry's total revenues. What investors looking to invest into this particular sector need to do is look for a company that is positioning itself for the imminent demand.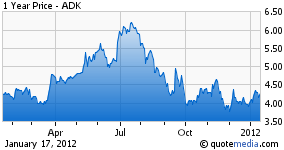 One company which fits this criteria is AdCare Health Systems (NYSEMKT:ADK). The company's main business is as an owner and operator of skilled nursing home and assisted living facilities. It has grown from a base of 730 units to an expected 6,363 units in 2012 thanks to a series of acquisitions over the past few years. As a result of these acquisitions, AdCare's revenues rocketed 200% year-on-year in the third quarter of 2011 to $40.9 million.
In addition to its growth through acquisitions strategy, Adcare is also increasing the acuity activity of its service offerings at its facilities. This will increase the Medicare reimbursement rates, adding to the bottom line.
If the company's current annualized revenue run rate is combined with acquisitions announced, but yet to close, management gives guidance of over $320 million in annualized revenue run rate. This is an increase of more than 500% from 2010 levels.
Adcare Health Systems certainly fills the bill as a company growing quickly in this industry with good long-term fundamentals and is certainly worth a look from investors.
Disclosure: I have no positions in any stocks mentioned, and no plans to initiate any positions within the next 72 hours.