An Effective, Revenue Friendly Platform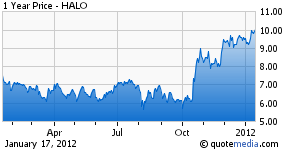 Halozyme's (NASDAQ:HALO) drug delivery platform is unique and has wide-reaching applications that target interests from many larger pharmaceutical companies. Halozyme's Enhanze technology uses recombinant human hyaluronidase enzyme (rHuPH20) to improve the dispersal and absorption of drugs. Its established Hylenex product is diverse and can be utilized to improve the cellular administration of subcutaneous drugs and other agents.
Halozyme's technology has been applied to Baxter's (NYSE:BAX) subcutaneous immune globulin drug HyQ, which is applicable for hundreds of immunodeficiency disorders. Halozyme stands to earn lucrative milestone payments and royalties from this partnership. Arguably its biggest partner is Roche Pharmaceuticals (OTCQX:RHHBY). In 2006, Halozyme permitted exclusive license to Roche to develop and commercialize Roche drugs with Halozyme's rHuPH20 enzyme. At current, Roche is developing eight drugs with the Halozyme enzyme. Quarterly revenue growth was over 500% and revenue of $57.25 million in Q3.
An Investment Moving Forward
Click to enlarge

Most notably, investors saw a huge jump following the October 2011 announcement of positive phase III clinical results of Roche's Herceptin HER2 Positive breast cancer drug containing the Halozyme enzyme. Its pipeline contains solid prospects with recent positive data, such as the phase II Cinryze results, an prophylactic anti-angiodema drug in partnership with Viropharma (VPHM). Positive results from its ultrafast insulin trials hold promise to target the large diabetes market. Halozyme's collaboration with Intrexon to develop the first subcutaneous recombinant alpha 1-antitrypsin replacement therapy netted the company $9 million upfront in 2011 and stands to earn it $54 million more.
Insider buying at the end of 2011 was strong moving into 2012. The stock was at $9.80 a share last week with a market cap of $1.01 billion. The stock is up over 30% year to date and is near its 52-week high. Most analysts have Halozyme as a buy and, with the science and the statistics, it is understandable. With the diversity of its technology's applications and big partners knocking at the door, Halozyme may be a more conservative move in a sector known for its volatility.
Disclosure: I have no positions in any stocks mentioned, and no plans to initiate any positions within the next 72 hours.