Jeffrey Alton, CFA
If you say anything about Restoration Hardware (NYSE:RH), you have to say successful. Management likes to point out, and rightfully so, that Restoration Hardware has gone from a company close to bankruptcy in 2001 with a $20 million market cap to the current $3.5 billion. Revenue has grown over 20% per year for the last five years and the stock is up 265% since its IPO in November 2012. That's impressive and through RH's current expansion plans, the stock looks like it is coiling for another long-term bounce.
We updated investors last September when the company's stock took a tumble after a big summer rally propelled by an earnings beat. At the time, we noted that Restoration Hardware was the kind of company that you wanted in your portfolio, it was a just a question of price. Since then, the stock is up about 8%, but there has been enough volatility along the way to keep any trader busy. RH equity managed to push through $100/share at the end of March and has since retreated to $89.30/share.
That pullback has landed the company's 2019 zero coupon bond on the Hillside HOCS 20 list for the last six weeks, so it seems like a good time to revisit the company's fortunes. Currently, the bonds have a slash line of 68 overall / 62 growth / 79 safety.
The high safety score reflects Restoration Hardware's ability to generate cash and minimal debt. EBITDA was $200 million in fiscal 2015 against revenues of $1.8 billion. The $350 million zero convertible bond due 2019 was the company's only long-term debt although the company also lists another $150 in build-to-suit obligations as the company continues to undertake its strategic real estate build-out plan. That real estate strategy is key to what management sees as more than a revenue double to between $4 billion to $5 billion over the intermediate term.
Restoration Hardware bills itself as a "curator of design, taste and style in the luxury lifestyle market." That sounds as high-end as the products that Restoration Hardware sells. But what sets Restoration Hardware apart is the breadth of its product line-up and their sourcing process. In a word it is BIG.
It is so big, in fact, that Restoration Hardware can only fit 10% of its assortment in its older legacy stores. The RH solution? Send out a really big catalog dubbed the "source book". The 2014 annual source book totaled 3,300 pages and weighed 17 pounds. Restoration Hardware sends out over 12 million copies - enough to make even the most ardent global warming foe blush. While the company takes some heat for the catalog, executives consider it not only a key sales channel in its own right, but a component of their integrated sales approach.
The integrated sales channel includes the company's retail stores, e-commerce web
sites, the source books, phone orders and professional trade and contract services. Each channel is designed to reach clients and support the other in generating sales. Executives understand that their retail stores serve as much a role of showroom as a point of sale. It is common for customers to visit stores to check-out the merchandise, but ultimately place an order on the Restoration Hardware website.
Over the last few years, the goal has been to turn stores into a living catalog. To accomplish that task, Restoration Hardware has had to expand significantly the floor space to fit the entire product line under one roof. The goal is to transform the company's real estate platform from 57 legacy stores that average 7,800 square feet to larger stores. Initially RH targeted stores in the 18,500 square-foot range and built seven, but those have proven not to be large enough. The company has now targeted stores over twice that size, which it calls design galleries. The Atlanta design gallery that was opened last November has 46,000 square feet of selling space and it serves as the model to which RH is heading - a grand store large enough for the company to display its full product line and more tightly integrate the store concept into its ecommerce and catalog strategies.
In addition to driving sales, RH expects the tight integration between bricks and mortar and the Internet to increase efficiencies and margins. Gross margins hit 37% last year and operating margins were 8%, making RH a leader in the industry. The new large-format design galleries not only offer economies of scale and anchor tenant-type leases, but also serve as the best advertisement for the company. RH firmly believes that retail will never exist exclusively on the web. They point to Warby Parker, the eyeglass store, as an example. That company was conceived as an ecommerce store, but is now opening physical stores. The RH strategy is to leverage each point where they touch the customer as an advertising and point-of-sale location. Restoration Hardware does not manufacture any of the products it sells, but it has developed a tightly focused sourcing strategy. RH works closely with selected manufacturers, which it calls artisans, to insure quality control. The list of vendors is concentrated with 75% of purchases coming from 25 vendors and 12% coming from a single vendor. The model has moved from sourcing through third party agents to developing direct, cooperative relationships with the vendors. Lead times range from 3 to 9 months and the company has been able to leverage its selling platform thanks to scale and in-house sourcing capabilities.
In addition to moving deeper in product lines, the company has also expanded horizontally, offering a wide assortment of goods. Product lines include furniture, lighting, textiles, bathware, decor, outdoor and garden, tableware and children's furnishings, all tied to the company's theme of classical and simple. Distressed leather comes up often as well. To launch the RH kitchen and tableware business last year, Restoration Hardware hired Richard Harvey as Chief Merchandising Officer for the brand. Mr. Harvey was previously the president of the Williams-Sonoma brand.
The company has several new initiatives slated for calendar 2015 to propel the business to new heights. The first is to open four new design galleries ranging from 45,000 to 65,000 square feet in Chicago, Denver, Austin and Tampa. The company will also be testing an outdoor furnishings source book sent out earlier and separately from the annual larger source book. Finally, RH promises to launch two new product lines. So with a track record like a derby winner, ambitious plans for the future, and a stock setting up a 12 month base, why consider a zero coupon convert? Seems like the proverbial kissing your sister. Still the security does offer convert-only funds the opportunity to participate in the Restoration Hardware gains.
Given that the stock is trading at almost 30x fiscal 2016 earnings, others might consider the convertible security as a way to hedge the company's execution risk in developing the larger store format and launching new businesses this year. Given high expectations, one stumble in execution could cause a quick retreat. Restoration Hardware does face competition in the space including well-known brands Crate & Barrel and publicly traded Williams-Sonoma (NYSE:WSM), which also owns Pottery Barn. Williams-Sonoma has already cracked the $5 billion annual sales mark, so they are not slouch as a competitor.
Then, there are also the typical risks facing a retailer including a fickle consumer and iffy economy.
Overall, however, we remain constructive on Restoration Hardware. Management has guided the company with a focused, forward-looking vision and there is plenty of room to expand the brand. We think that over time, both the convert and the equity will be winners.
Credit Waterfall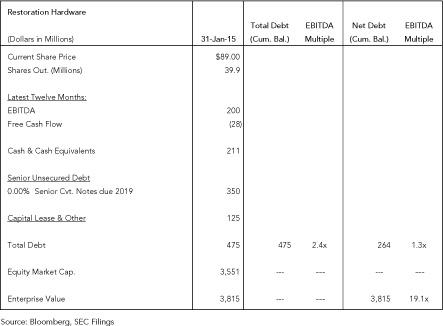 Financial Summary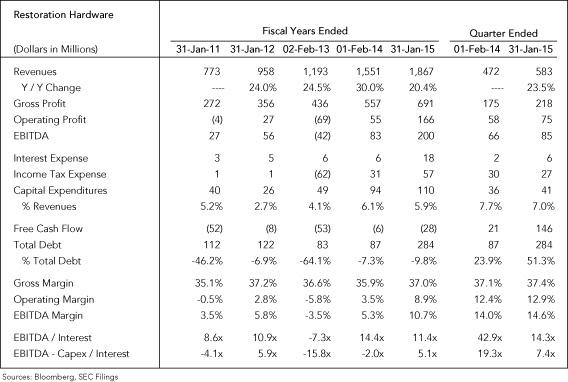 Disclosure: The author has no positions in any stocks mentioned, and no plans to initiate any positions within the next 72 hours.
Business relationship disclosure: Originally published 5/18/15 in Hybrid Vigor.