What is the best valuation metric used to identify stocks trading at a discount to intrinsic value? The most popular metric is the price to earnings (P/E) ratio. Others may argue that price to book or price to cash flow is the best valuation metric. The proven answer is the enterprise value to EBITDA (EV/EBITDA) metric. Enterprise value is the price plus debt while EBITDA is the earnings before interest, taxes, depreciation and amortization. Recent research has found the EV/EBITDA to be the most effective method to getting better returns.
Wesley Grey and John Vogel of Drexel University recently took this topic head-on, and came up with some interesting results. Grey and Vogel published a paper called "Analyzing Valuation Measures: A Performance Horse-Race over the past 40 Years." From the start, their objective was simple… "Our basic research question: Which valuation metric has historically performed the best?"
Based on Grey and Vogel's research, the best valuation measure wasn't the classic price-to-earnings (P/E) ratio. It's something similar to the P/E ratio though, with a more intimidating name: "EV-to-EBITDA."
Grey and Vogel found that buying the cheapest 25% of stocks based on EV/EBITDA returned 17.66% a year from 1971-2010. This beat buying cheap stocks based on the P/E ratio, which returned just 15.23% a year over the same time.
My idea is to apply the EV/EBITDA metric to dividend stocks. It makes sense to buy dividend stocks at a lower value which gives the investor higher dividend rate of pay while waiting for a stock price increase to a higher valuation. I am looking at stocks with a dividend yield of at least 3% and a return on equity of at least 10%. The table below shows the best stocks meeting the criteria along with their EV/EBITDA ratios.
The list is loaded with companies in the oil industry with EV/EBITDA ratios below 5.0 such as: StatOil (NYSE:STO), Marathon Oil (NYSE:MRO), Total (NYSE:TOT), ConocoPhillips (NYSE:COP), and Chevron (NYSE:CVX). Among this group, TOT has the highest dividend yield at 5.0% with an EV/EBITDA of 3.23.
The telecom industry is well represented by companies such as Telecom Argentina (NYSE:TEO), China Mobile (NYSE:CHL), P.T. Telekomunikasi Indonesia, (NYSE:TLK), BT Group plc (NYSE:BT) and Telefonos de Mexico SA de CV Co (NYSE:TMX). TLK has a 7.2% dividend yield with an EV/EBITDA of 4.01.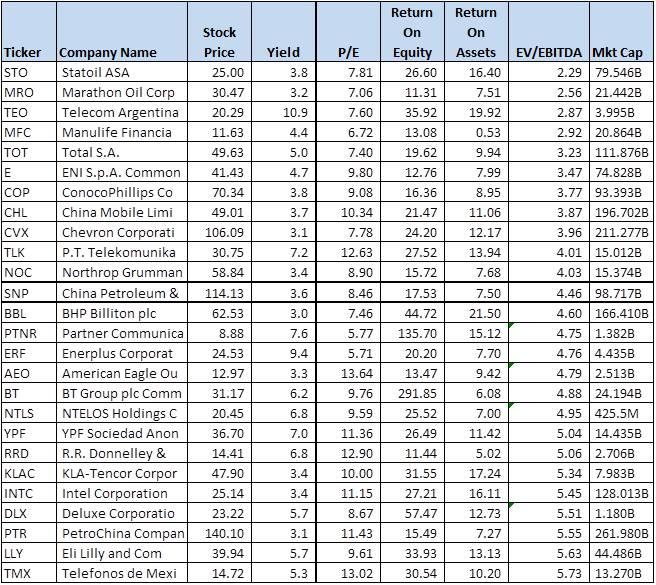 Disclosure: I have no positions in any stocks mentioned, and no plans to initiate any positions within the next 72 hours.