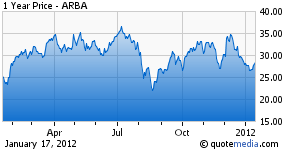 Ariba (NASDAQ:ARBA) continues to come under fire. In my first piece, entitled "Ariba's Competitive Threats Are Intensifying," I discussed many growing issues the Spend Management software leader is facing.
Based on my work at Pipeline Data LLC, I noted that ARBA's customers were displeased with its network fee based strategy. Since that time, the displeasure has grown and appears to be entering the beginning stages of revolt. This fact doesn't appear to be lost on IBM (NYSE:IBM), which recently augmented its Spend Management arsenal by acquiring Emptoris (more on this below).
In my initial article, I also expressed the opinion that ARBA's technology is at risk of becoming antiquated by newer cloud-based architectures. Indeed, privately-held Coupa has embraced such cutting-edge technologies and now threatens ARBA's dominance, just as an upstart Salesforce.com (NYSE:CRM) did to Seibel Systems many years ago. Coupa's assault on ARBA's stronghold was apparent in its latest earnings report, which was just disclosed to the public.
In its press release, Coupa announced that revenue grew by over 120% in 2011. The company also experienced accelerated customer growth, with many of its wins coming against Ariba, Oracle (NYSE:ORCL) and SAP (NYSE:SAP). It now touts over 200 customers in 40 countries. New customers included top-tier companies like Toyota Motor (NYSE:TM) Sales, Home Retail Group (OTCQX:HMRLF) (A European retail giant), BNP Paribas (OTCQX:BNPQY), and Universal Music Group.
Toyota looks like a particularly troubling loss for ARBA. Increasingly, it appears that Coupa is winning in areas where ARBA was once unstoppable. Based on discussions with contacts in various IT purchasing channels, Pipeline Data expects this trend to accelerate, including potential displacements in large ARBA accounts.
Looking at Coupa's new customer count versus that of ARBA, we believe that Coupa has now become big enough to put a substantial dent in ARBA's organic growth. In fact, we believe that this dynamic has driven ARBA to ramp up its M&A activity as its organic growth dissipates. The problem with this is two-fold: 1) ARBA is so dominant in the space that there are a limited number of relevant M&A targets that can move the needle for the company and 2) Coupa continues to grow at a rampant pace, so its impact in 2012 promises to be even more pronounced than in 2011.
By itself, this might be a manageable situation for ARBA to handle. However, it's clear that emerging upstarts are just a part of its worries. On December 16, IBM acquired privately-held Emptoris. It is most interesting to note that IBM is one of the largest suppliers on the Ariba Supplier Network. Further, until the Emptoris deal, ARBA seemed to fancy itself a premier IBM go to market partner. At one point, it wouldn't have been surprising to see IBM's relationship with Emptoris dissolve. At the time, we viewed ARBA as an ideal acquisition candidate for IBM. That is no longer the case.
Worst of all, there are several small vendors that IBM can easily acquire to chart a more significant collision course with ARBA. This makes economic sense to us. ARBA has doubled it s net income in each of the past two years and generated $75M in operating cash flow last fiscal year (a healthy return on its $444M in revenue). For a small level of investment, IBM can leverage its global reach to take a bigger piece of the pie by competing with ARBA, rather than settling for a partner's stake.
Thus, you can see that the Emptoris deal didn't dramatically change the competitive landscape in and of itself. However, it did enable a few things that bode ill for ARBA:
It should bring Emptoris back from the shadows and into the limelight as a legit player in the procurement market. The company had previously been funding impaired. It most notably lacked marketing firepower and feet on the street. IBM brings both in spades.
In our opinion, it takes a step toward validating our thesis that ARBA is heading down the wrong strategic path. With ASN fees inflaming customers and suppliers alike, we believe ARBA has inadvertently invited 800 pound gorillas to the feast.

IBM's Steve Mills is among the greats in the software industry. He surely sees the opportunity and we sincerely doubt that Emptoris represents the entirety of his strategy. We believe that IBM is two deals (M&A and/or partnership) away from posing a very serious threat to ARBA. We also believe IBM will make these moves.
It takes a vendor off the table. With ARBA's organic growth rate waning, it may need all the acquisitions it can find. With IBM in the game and SAP on the prowl, ARBA will likely find itself competing for the most attractive deals.
It makes for an interesting supplier / competitor situation. At last check, IBM is a significant player on the ASN. Also at last check, many suppliers on ARBA's network were incensed with its fees (especially last year's fee increase). Considering IBM's move into the procurement space today, one must wonder how long it will be before it throws its weight and support behind one of the free supplier networks.

If it does, we would expect broad support from suppliers. Of course, IBM's competitors will be the exception, but considering the negative sentiment and margin pressure exerted by ARBA's fees, we believe they will either fall in line or follow suit. Either outcome is negative for ARBA, which has proclaimed that its future rides on its success as a network toll taker.
In short, we view recent events as the first of many anti-ARBA trends we will see in the marketplace. The question is, how long can ARBA keep making its earnings projections in a slowing global environment, while its competitive stronghold comes under attack?
Disclosure: I am short ARBA.