Crude oil inventories dropped again this week, making it three straight weeks of falling stockpiles. The last time we saw that happen was in August of 2014. While traders were expecting crude oil inventories to fall by 1.75 million barrels, the actual decline came in at 2.674 million barrels.
This week's larger than expected draw-down was also the fourth straight week where crude oil inventories came in less than expected, so after what seemed like an eternity of larger than expected builds, trends are beginning to revert to relatively more normal levels.
The chart below shows the rolling ten-week change in crude oil stockpiles going back to 1983. At a level of 33.5 million barrels, this week's reading is still high by historical standards, but down by more than half from where it was just a few weeks ago.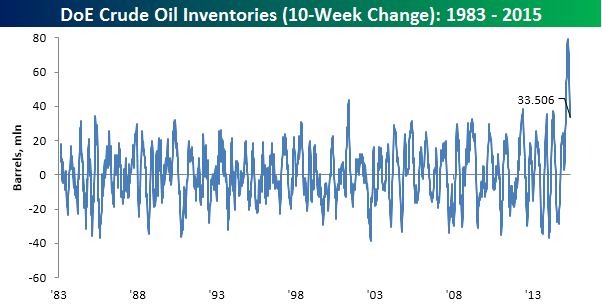 The chart below shows this year's weekly levels of crude oil inventories and compares them to average levels going back to 1983 and the last ten years. As the charts show, the recent decline in inventories is pretty much par for the course for this time of year, and even after three straight weeks of declines in crude oil inventories, inventories are still 139 million above their historical average dating back to 1983.