Who would you say is most knowledgeable about a company's prospects? Sure, analysts study financial statements and listen to quarterly conference calls, but they often miss the mark and fail to remain a step ahead of what the rest of the market already knows.
If you want a more complete view of a company's prospects, I suggest you follow insider buying. While management executives cannot trade on material non-public information, a company's management intimately understands the business and can often judge a company's prospects by intangible qualities, such as the way decisions are made or how the company develops its R&D pipeline.
Maybe this sounds wishy-washy. After all, it's the numbers that count. Hard data is important, but I have worked at good and bad companies and have found that intangible qualities can point a business in an upward or downward direction. The best way to understand what direction these intangible qualities are pointing is by tracking insider buying.
Below I have listed 10 stocks with insider buying that has risen by 10%+ over the past six months, suggesting that management may be becoming increasingly bullish. These companies each have over $1 billion in market cap and have either neutral or net-positive institutional purchases over the same time period. These companies are:
Note: The screen performed in this article is meant to provide a starting point for more in-depth research.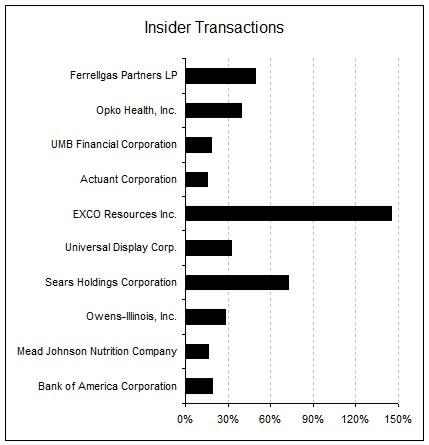 Of these 10 stocks, FGP, XCO, SHLD, OI and BAC are down more than 20% over the past year, providing an interesting entry point.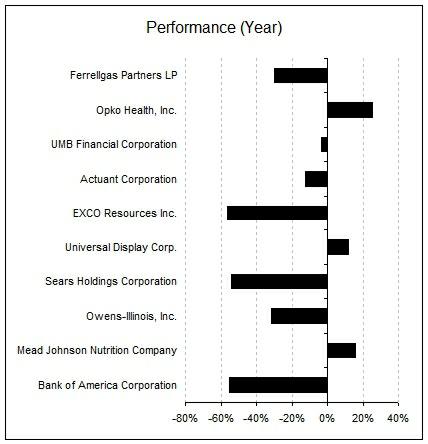 Of course, price performance isn't everything. The next two graphs show valuation metrics for all 10 companies. Because industry leverage standards differ and not all companies are currently profitable, I opted for two more inclusive measures of value: Price-to-Sales and Price-to-Cash.
Using these two valuation metrics, of the companies that are down more than 20% over the past year, all five are interesting on a valuation basis: FGP, XCO, SHLD, OI and BAC.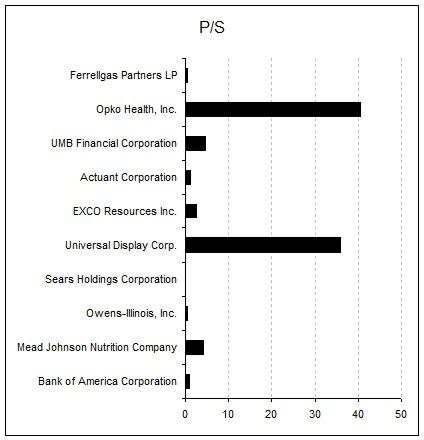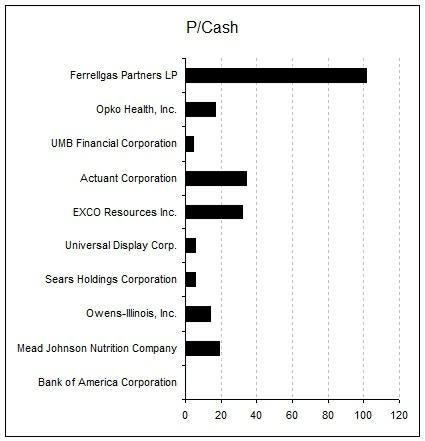 Finally, value isn't worth much if a company's earnings are going down the toilet. Of these 5 companies, only two had a positive operating margin and return on assets. These two companies were XCO and OI.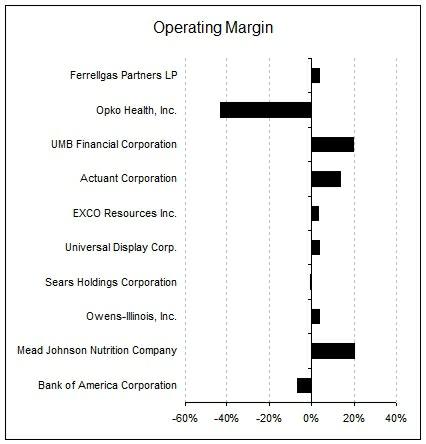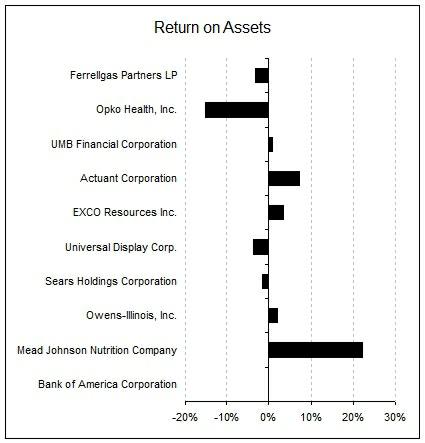 This may seem like a lot of digging just to get two ideas worthy of further research. However, one should remember that the mark of a good analyst -- if there is such a thing -- is that he is not committed to an outcome. It would have been nice to end up with 10 fantastic names, but two will have to do.
Exco Resources Inc. is a natural gas and oil company engaged in the exploration, exploitation, development and production of onshore natural gas and oil properties.
Owens-Illinois is a Fortune 500 company that specializes in container glass products. It is one of the world's leading manufacturers of packaging products.
My recommendation to you is to take these two names and dig deeper into their financial history and management. if you already have, please share your thoughts in the comments section.
Disclosure: I have no positions in any stocks mentioned, and no plans to initiate any positions within the next 72 hours.
Disclaimer: This is not advice. While Plan B Economics makes every effort to provide high quality information, the information is not guaranteed to be accurate and should not be relied on. Investing involves risk and you could lose all your money. Consult a professional advisor before making any investing decisions.