Most well services drillers drill for both natural gas and oil. Recently US natural gas prices have fallen through the floor. This makes it harder to invest in oil and gas drilling service companies. One wonders how much of a cut back in drilling the US natural gas price fall will cause. Ensco (NYSE:ESV) is one of these well services drillers, but it is a deep sea driller. This kind of drilling is just starting to recover from the cut backs due to the Macondo well disaster.
The prices of natural gas have been low relative to oil for some time. This means that most of the relatively expensive offshore drilling is for oil. Plus, only US natural gas prices have fallen through the floor. For example, Russian natural gas prices have been rising since June 2011 in direct opposition to the downtrend in US natural gas prices over the same period. This means that deep sea drillers should remain relatively unscathed by the fall in US natural gas prices.
Still, there is likely to be some weakness in the deep sea drilling market with a coming EU recession. Short term earnings estimates could be impacted, but the longer term estimates should remain relatively intact. The secular bull market for oil will remain in effect due to the growing amount of demand from the many emerging market countries. The Asian Development Bank estimates that the Asian region economic growth rate will be 7.2% in FY2012. The ADB's worst case estimate is that growth will be 5.4%. Both of these estimates should translate into growth in deep sea drilling.
There will be some weakness, but the best of the deep sea drillers should do well. ESV falls into that category. Energypoint Research Inc. rated ESV first in customer total satisfaction among offshore drillers in 2010. ESV has the second largest offshore rig fleet. It has the newest ultra-deepwater fleet for drilling depths over 7500 ft. It has the second newest deepwater fleet for depths over 4500 ft. Even its jackup fleet is relatively new. This jackup fleet saw growing utilization as 2011 progressed.
In Q4 2011 ESV recorded 90% utilization of its jackup rigs. This "newness" is not likely to wane. ESV has many new builds on order. Some of these have already been contracted. This "newness" also means the ESV fleet has some of the newest and best technology. It means that oil companies will want to contract ESV in preference to others. After the Macondo well disaster, many oil companies are more worried about using old and possibly faulty equipment. Most will be willing to pay extra for newer high tech equipment. This should work in ESV's favor. ESV should get more than its share of the available business. The ESV growth chart of deepwater fields in production shows that demand should continue to be strong.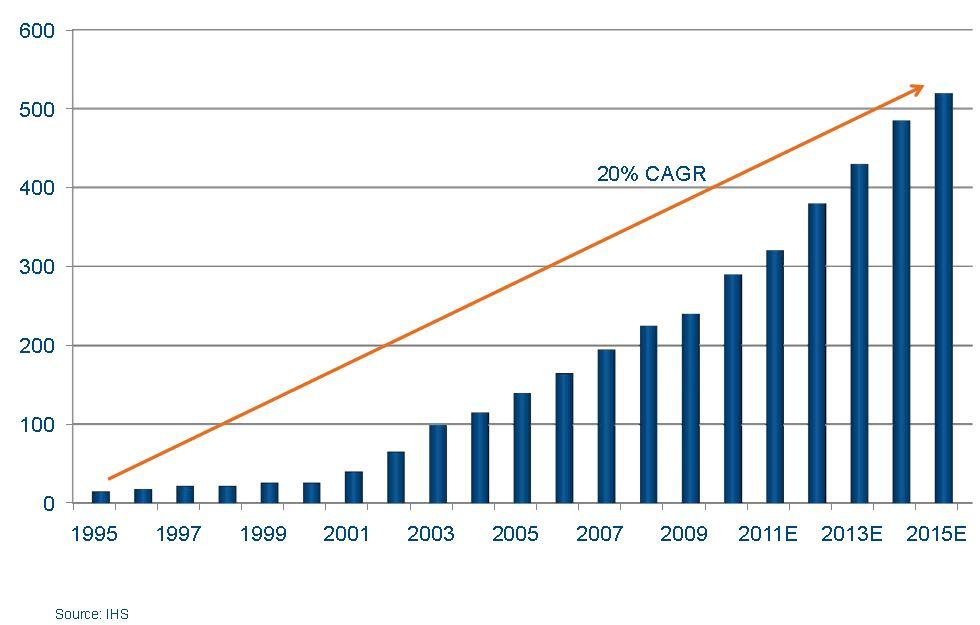 The 20% CAGR for deepwater fields in production should ensure that ESV gets a goodly amount of deepwater drilling business. ESV's better than industry average safety record should help. ESV's approximately $9B in contracted revenue backlog should help keep earnings smooth.
Currently ESV trades at a P/E of 17.12 and an FPE of 8.45. This seems a little high until you take a few other factors into account. ESV has an analysts' FY2012 EPS growth forecast of 89.70%. It has a next five years EPS growth rate per annum forecast of 17.89%. Its growth rates justify a higher than normal P/E. Further, ESV will report Q4 2011 on Feb. 22, 2012 (Yahoo Finance). After it does this the P/E will go down slightly, but the FPE will afterwards reflect FY2013 earnings as the forward year. This should lower the FPE substantially. Since many stocks trade at least partially on their FPEs , this should give ESV's stock price a lift.
There is little doubt that ESV got hurt at least a little by the falling natural gas prices. It got hurt even more by the lower oil prices at various times in the fall. ESV stands to rebound to some degree from these things. If the FY2012 EPS estimate is essentially correct, the P/E at the end of 2012 will be 8.45 assuming a constant price. This should allow the stock price to rise to reflect at least a P/E of 12 at the end of FY2012.
If earnings are $5.92 per share as forecast, this translates into a stock price of approximately $71.00. This is above the median analysts' 1 year price target of $64.00, but it illustrates that there is a lot of potential price appreciation in ESV. I note the FY2012 EPS estimates have been stable over the last three months while most other stocks have had their FY2012 EPS estimates lowered.
The two year chart of ESV lends some technical direction to a trade.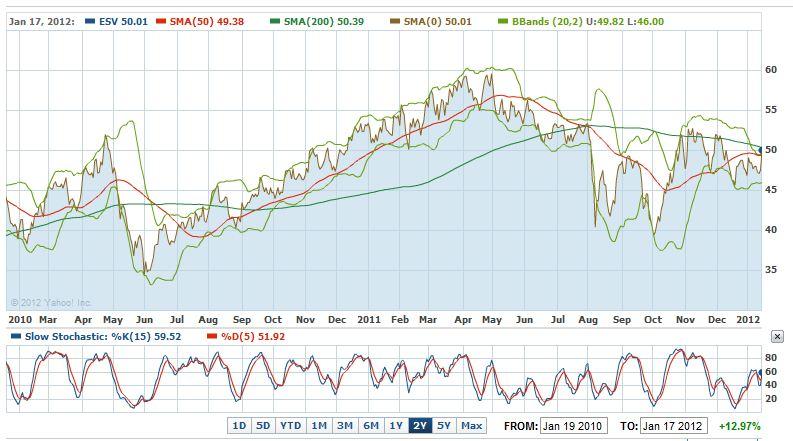 The slow stochastic sub chart shows that ESV is neither over sold nor over bought. The 50-day SMA has been trending up. It looks like it is going to breech the 200-day SMA just above it soon. If it does this, that would be a technical buy signal. There is good support at $49-$50. There is overhead resistance at approximately $53-$54, $56-$58, and $60. After that ESV will reach a new high.
I don't anticipate that a new high will come soon, but $56 may be easily reachable in the short term if the overall market continues to go up. Longer term ESV looks like a good place to keep your money in trying times such as these. The 2.90% dividend is attractive, and there should eventually be good growth. The young age of the fleet tends to preclude age related problems for the next few years.
If you are trading short term, you should be aware that the World Bank just lowered its FY2012 and FY2013 world GDP forecasts to 2.5% and 3.1% respectively. Each moved down from the 3.6% forecast of last June. This announcement makes a short term trade much more iffy. You may want to wait until the market retraces a bit before you try to enter this trade.
I expect the Initial Claims number this week will come in higher than expected. It is likely to begin to reflect some extra claims from Christmas season temps, who have been or are being laid off. If the Initial Claims number is much higher than the estimate of 385,000, this could be enough to turn the US markets downward, especially with the many recent negative announcements of problems in Europe.
Good Luck Trading.
Disclosure: I have no positions in any stocks mentioned, but may initiate a long position in ESV over the next 72 hours.