In what has been a year of nothing but bad news in the Chinese solar industry, many names are down over 60% since last year. Even the 30%+ gains on Tuesday, January 10 in names like Ja Solar (NASDAQ:JASO), ReneSola (NYSE:SOL), Trina Solar (NYSE:TSL), Hanwha (HSOL), and JinkoSolar (NYSE:JKS) look like tiny deadcat bounces from multi-year lows. Why such dramatic gains? Signs of a brighter future.
On January 10th, numbers showed Germany installing over 3 GW of Solar PV in December alone. Compare that to the 1.7 GW installed in America for all of 2011! This brings the tally for Germany up to 7.5 GW for 2011. You can read more about this here.
In a research note on January 10, Vishal Shah, a Deutsche Bank analyst, predicted that a surprisingly strong fourth quarter in Germany, along with strong demand in Italy and the U.S., will benefit the solar sector. Shah also indicated that inventory levels are now at record lows, and that record December shipments may create a sense of rush among installers in the first half of 2012. Demand from China and India may also top expectations, while US installers stock up on panels before a possible import duty.
Axiom Capital's Gordon Johnson also removed sell ratings on five solar stocks on Wednesday, before the Germany installation numbers were released. He sees stabilization in the short-term, but still sees stocks making all-time lows later this year. Hong-Kong based CIMB research analyst Keith Li represented the bears, saying that supply would hit 40 gigawatts and demand was unlikely to reach that.
However, if strong demand like we saw in December continues, and some bankruptcies lead to lower supply, solar may be at its bottom now. Prices seem to show just that.
Polysilicon was selling for about $30/kilogram in the spot market after bottoming out at about $24. According to Avian Securities analyst Mark Bacman, some companies will still need to go out of business this year to ease the massive oversupply in the industry. Spot prices of solar components can be found here.
The recent European debt crisis and the slowing of solar subsidies in European countries have led to an over-dramatic panic in these beat-down solar names. Sure, there may be many bankruptcies, but the strong will survive, and come out even more dominant than before.
More good news came as Maxim Group analyst Aaron Chew forecasted 30 gigawatts of demand in 2012, with China beating Germany to become the world's biggest market, installing 5.5 GW of solar ion in 2012.
However, some concerns over earnings remain even though demand may be picking up. Lower solar prices may be the reason why demand is increasing, as investors see more attractive project returns in regions where feed-in tariffs are used to finance solar, like Germany and China. Because of generous FIT rates in Germany, double digit returns used to be the norm. However, with Germany lowering FITs by 26% this year, the decline in solar prices will allow demand to pick up again in Germany. Even though demand seems to be picking up, it may not mean a return to earnings seen in previous years for a long time.
Let's look at some of the major names that recently moved [ charts]: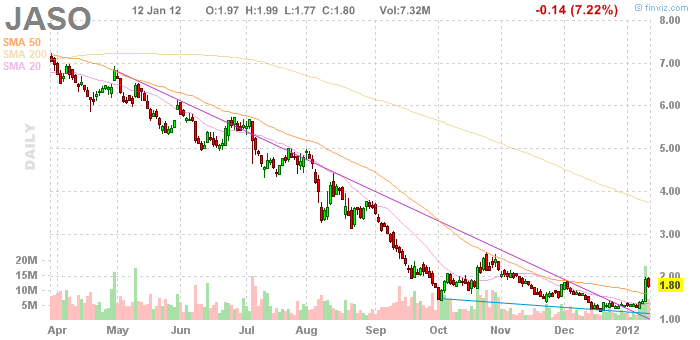 JA Solar Holdings (JASO) trades at $1.92. It's much below the book value per share of $6.39. Growth is expected to be about 11% for the next five years. Germany is JA's largest market outside China (52% of revenue), constituting 18% of their revenue. If demand in Germany continues to stay high like it was in December, JA Solar will continue to benefit greatly. China also plans to spend $473.1 billion in clean energy investments in the next five years.
Looking at the technicals, Thursday's move skyrocketed JASO over the 20 day and 50 day moving average. Current support is at $1.61.
Trina Solar Limited (TSL) is another deeply undervalued Chinese solar company, trading at $9.79, much lower than book value of $17.23. They are even more dependent on Germany, with over 25% of revenues from the single country. Spain and Italy account for about another 20% each in revenues. Trina is much more dependent on Europe than JA, which is still primarily Chinese. Only about 4% of Trina sales are in China. The 50-day moving average of $7.30 is a support.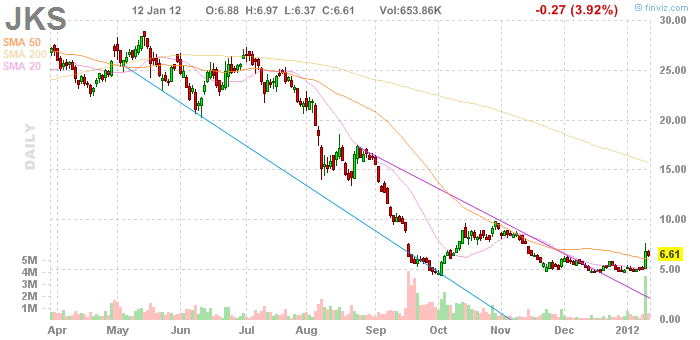 JinkoSolar Holding Co., Ltd. (JKS) has a book value of $22.43, and trades at $6.89. Germany and Italy are a quarter of the revenue each. The 50-day moving average of $6.08 represents a support.
In my opinion, there may be some profit taking after the latest huge run. But if these stocks hold at their 50-day moving averages and rebound, there is a lot of room to run for the rest of 2012. The next major resistance, the 200-day moving represents a run of nearly 100% higher. Stock prices seem to have stabilized from their free-fall since last year, so I do not see much risk in picking up these names on dips.
Am I saying that there are no more storms in the near future? No, there probably are. But if solar prices are truly stabilizing with recent strong demand and low inventories, some of these Chinese solar companies are priced at severe discounts and may make sense for value investors willing to speculate on the future of solar.
Disclosure: I am long JASO.