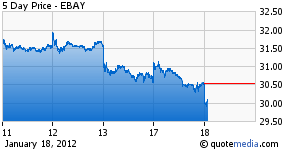 eBay (NASDAQ:EBAY) is expected to report Q4 earnings after the market close on Wednesday, January 18 with a conference call scheduled for 5:00 pm ET.
Guidance
Analysts are looking for EPS of 57c on revenue of $3.32B. The consensus range is 54c-59c for EPS, and $3.22B-$3.44B for revenue, according to First Call. In October, eBay guided Q4 EPS 55c-58c on revenue $3.2B-$3.35B. The company also forecast FY11 EPS $1.98-$2.01 vs. consensus $2.00 on revenue $11.5B-$11.6B vs. consensus $11.59B. eBay CEO John Donahoe forecast that the company would reach $8B in mobile gross merchandise volume and that PayPal will reach $7B in transactions this year, reported TechCrunch, citing the executive's address at the Consumer Electronics Show. Earlier this month, Yahoo (YHOO) named PayPal President Scott Thompson as its new CEO, and CEO John Donahoe was named as interim PayPal President.
Analyst Views
Collins Stewart views eBay's loss of Scott Thompson to Yahoo! as an incremental negative for eBay as the loss could slow down PayPal's growth rate in 2012. However, Collins believes eBay's business continues to be strong. Argus expects PayPal's growth over the next few years to be more based on execution than strategy. The firm expects eBay's margins to increase this year. eBay is worth $40B and if the company were to separate PayPal, its online payments unit, that would boost the combined value of the entities by as much as 30%, according to data compiled by Huntington Asset Advisors and Bloomberg. Bernstein expects eBay will report stronger than expected results, benefiting from growth in PayPal and changes in its Marketplaces business. Deutsche Bank believes that while eBay's Q4 results are likely to be in-line to slightly better than consensus estimates, underlying weakness will be seen at the company in 2012 as the U.S. dollar strengthens and comps get tougher.
This article was written by
Theflyonthewall.com is your source for up-to-the-minute financial news. Known for its unbiased market intelligence, TheFly has been serving professional and individual investors worldwide for more than 12 years. TheFly's news feed keeps investors informed of all the news moving on the wires and circulating throughout Wall Street trading desks. You can't afford to be left out. TheFly's live news feed produces an average of 800 stories, headlines and analyses a day, featuring analyst commentary, hot stocks, technical and quantitative analysis, proprietary options commentary, market rumors, a calendar of company conference calls and events, equity syndicate information and much more. Stop guessing why your stock is moving and be an informed investor. Visit their site as www.theflyonthewall.com.