by Brendan Gilmartin
Overview
Morgan Stanley (MS) is slated to report 4Q 2011 earnings before the opening bell on Thursday, January 19. The actual results are scheduled to be released at 7:15 a.m. EST with a conference call to follow at 10:00 a.m. The results follow earnings on Wednesday from close rival Goldman Sachs (GS).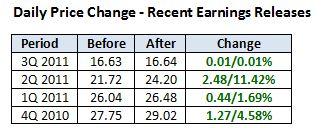 Outliers & Strategy
Key measures:
Earnings Per Share (EPS) from Continuing Operations: If provided, the value for this measure is most often the comparable figure to consensus estimates.
Earnings Per Share : If EPS Cont Ops is not present, this would be the comparable value to consensus.
Revenues: Revenues are a critical measure for Morgan Stanley.
Morgan Stanley is expected to post a loss of -$0.57 per share (range is -$0.81 to -$0.34). Revenues are seen falling approximately 30% to $5.57 bln. (Source: Yahoo! Finance).
Morgan Stanley now trades at just 8.6x estimated future profits and about 0.51x book value.
Key takeaways from the Goldman Sachs (GS) release that should be considered for Morgan Stanley:
Goldman Sachs 4Q diluted earnings per common share were $1.84 compared with estimates of $1.20 - $1.24.
Fourth quarter net revenues were $6.05 billion, below the consensus of $6.54 bln.
Net revenues in Investment Banking were $857 million for the fourth quarter of 2011, 43% lower than last year, but 10% higher than the third quarter of 2011.
Compensation and benefits expenses fell to $12.22 billion for 2011, a 21% decline compared with 2010.
Recent News
01/17: According to Fox Business News, Morgan Stanley is considering more job cuts, due to the regulatory requirements from the Dodd-Frank Bill, including an elimination of proprietary trading desks.
12/13: Morgan Stanley reached a settlement with MBIA, terminating outstanding credit default swap (CDS) protection purchased from MBIA on commercial mortgage-backed securities (CMBS) and resolves pending litigation between the two parties. Morgan Stanley noted the pre-tax loss on the settlement will approximate $1.8 billion ($1.2 billion after-tax) in the current quarter.
11/21: Collins Stewart upgraded Morgan Stanley to Buy with a price target of $21, according to a post on Benzinga.com, based on valuation, stable cash generation, and a strong balance sheet.
Technical Review
Despite the cautious sentiment surrounding Morgan Stanley and the financials, the shares have been in an uptrend since early October (52-week low: $11.52). The shares are rallying today (1/18) on stronger than expected earnings from rival Goldman Sachs, resulting in a bullish engulfing candlestick pattern, implying more potential upside toward the 200-Day SMA close to $19. Should the rally fade on a disappointing earnings release, support is at the 20-day SMA near $16, with further downside risk to $15. (Chart courtesy of StockCharts.com)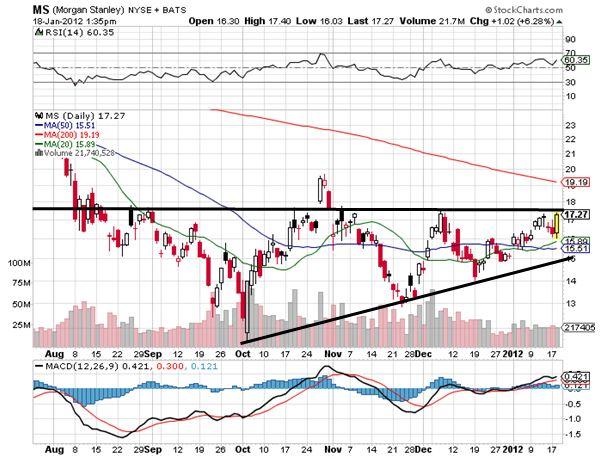 Summary
Morgan Stanley shares are up more than 45% from the October lows, despite concerns over slower capital markets activity, ongoing mortgage-related issues, and litigation. But shares have rallied over the past couple weeks, trading at roughly half of book value, while cutting costs, and shoring up its balance sheet. The results also come a day after Goldman Sachs weighed in with stronger than expected earnings, but noted revenues were a bit light. Given the Goldman numbers, a positive report could be priced in at these levels, while there is plenty of room for downside in the event of a miss on the bottom line.
Disclaimer: By using this report, you acknowledge that Selerity, Inc. is in no way liable for losses or gains arising out of commentary, analysis, and or data in this report. Your investment decisions and recommendations are made entirely at your discretion. Selerity does not own securities in companies that they write about, is not an investment adviser, and the content contained herein is not an endorsement to buy or sell any securities. No content published as part of this report constitutes a recommendation that any particular investment, security, portfolio of securities, transaction or investment strategy is suitable for any specific person.
Disclosure: I have no positions in any stocks mentioned, and no plans to initiate any positions within the next 72 hours.