In this article, we will discuss the following stocks: Advanced Micro Devices, Inc. (NASDAQ:AMD), Bank of America Corporation (NYSE:BAC), Frontier Communications Corporation (NYSE:FTR), Southwest Airlines Co. (NYSE:LUV), Micron Technology Inc. (NASDAQ:MU), Sprint Nextel Corp. (NYSE:S) and Xerox Corp. (NYSE:XRX)
I believe the stocks covered have major upside potential once the geopolitical and macroeconomic issues of the eurozone, U.S. and the world fade from the forefront of investors' minds and a renewed focus on fundamentals and company specific catalysts emerges. What's more, most of these stocks are trading well below consensus analysts' estimates, have recent upgrades, positive analyst comments and some pay dividends.
I wrote an article at the end of last year titled "It's Always Darkest Before Dawn, 7 Stocks Under $10 With Major Upside" about these seven stocks and it looks like several of them are well on their way. The seven stocks are up an average of 9% 18 days in into 2012. This is a significant move I thought deserved some attention. A majority of the stocks discussed in this article were big losers in 2011; nevertheless, a few are at the top of the leaderboard regarding 2012 performance.
2012 Performance Chart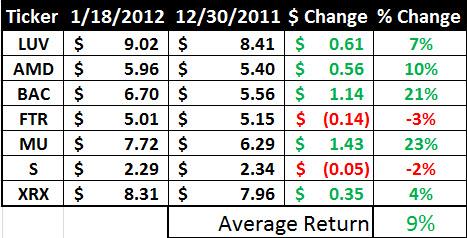 Most of the stocks on the list were significant underperformers in 2011. Topping the list is Micron, with a 23% gain since the start of the year, followed by Bank of America at 22%. Both stocks were down significantly in 2011. However, they have run up quickly in the New Year. This significant move in such a short time leads me to believe they may be setting up for a sell off. With the recent downgrades of European sovereigns and the lackluster report from JPMorgan (NYSE:JPM), I have taken the money and ran. If you are still in these names, I would set a tight 5% trailing stop loss order on these at this point and take a 25% of the position off the table on each of these stocks. The stop loss orders would be $7.35 for Micron and $6.37 for Bank of America as of 1/18/2012.
Southwest Airlines, Xerox and AMD were down in 2011 meaningfully as well, and are already up from 4 to 10% for 2012. Additionally, rumors are out just today that David Einhorn has taken a position in Xerox. Regarding the gains, this may be due to a phenomenon known as the January effect. The most common theory explaining this phenomenon is that individual investors, who are income tax-sensitive, sell stocks for tax reasons at year end (such as to claim a capital loss) and reinvest after the first of the year. Another cause is the payment of year-end bonuses in January. Some of this bonus money is used to purchase stocks, driving up prices.
Sprint and Frontier Communications are down 2 and 3% respectively. It is still early, but it's not looking good for these two. I would set tight stops on these as well and if they are not performing by the end of the quarter I would make a "dead money" call sell them both and reallocate.
Disclosure: I have no positions in any stocks mentioned, and no plans to initiate any positions within the next 72 hours.