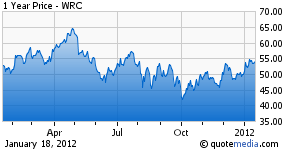 Europe has long been a big market for Calvin Klein Jeans and Underwear owner Warnaco (WRC), so it's no surprise EU slowing is weighing on sales, particularly in Spain and Italy, the company's two biggest European markets. But before you short shares, keep in mind the company's recent focus has been far more centered on emerging markets growth than in Europe.
The prescient strategy is about to pay dividends for Warnaco as sales in mature European markets slog through recession. And while European consumers' flagging appetite for clothing creates a stiff headwind for the company this year, its rapid expansion in China, where sales have doubled since 2007, and in Latin America, where sales are growing 30%, will offset European weakness.
Warnaco's biggest brand, Calvin Klein, accounts for 75% of company wide sales and over 90% of international sales. Sales of its Calvin Klein goods, which increased 12% in 2011, have grown 14% compounded annually since 2006 - mostly thanks to geographic expansion and retail square footage growth.
The company believes its investments to broaden the brand reach can double sales over the coming five to six years. Last year, single digit sales growth was led by 16% growth internationally. International sales have grown to account for 60% of all revenue thanks to Latin America and Asia sales growing from $69 million and $250 million in 2007 to $240 million and $499 million, respectively.
And, there's plenty of future growth opportunity. Warnaco thinks its revenue in China could eventually grow to as much as $400 million from around $160 million today. Fueling the growth is a robust retail strategy, which boosted worldwide retail square footage by 200,000 last year. In 2012, the company expects to grow square feet by another 15% too.
So, while Warnaco will have its share of challenges in Europe this year, it should still be able to post double digit earnings growth this year thanks to emerging markets. If investors are willing to reward such growth similarly to this year, shares should trade about 14x earnings, or $63 per share, which would be good for an 18% return.
Disclosure: I have no positions in any stocks mentioned, but may initiate a long position in WRC over the next 72 hours.