Speculation of a Samsung takeover of Research in Motion (RIMM) was shot down by Samsung spokesman James Chung: "We haven't considered acquiring the firm and are not interested in (buying RIM)." This led the stock to erase its nearly 10% gain on the news, but speculation is still surfacing of new plans to come out of the Canadian BlackBerry producer.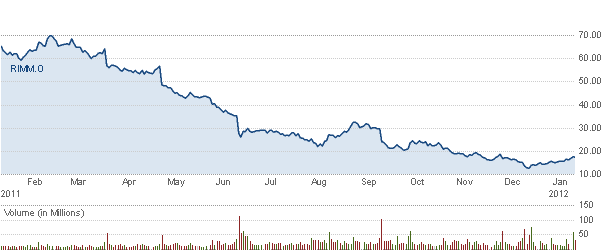 (CNBC)

RIM has been performing poorly over the past two years due to rising competition from Apple and manufactures that support the Android operating system like Motorola Mobility (NYSE:MMI), HTC , and Samsung. The stock has shed nearly 73% of its value in the past year due to these rising concerns and decreased market share. RIM currently has a short interest of 14%, which suggests Wall Street is betting against the turnaround of RIM. The stock is only trading at 4.5 times earnings, pointing to dismal expectations and worried investors. THis valuation is very low and is not rooted in its fundamental value, but rather pure perception.
This marks a pivotal juncture for RIM as it approaches a future of the iPhone and Android. Jefferies' Misek stated RIM is in a very strong financial situation due to its $1.3 billion in cash on hand, no debt, and no danger of a bankruptcy. RIM is trading at the lower end of its moving average and has room for stock-price growth, while awaiting a definitive plan from the company. Hedge fund manager Leon Cooperman has taken a substantial stake in RIM, suggesting its strong financial position and ability to merge with other mobile platforms to expand its business. RIM is not a risk-averse position to take, but the perception of the company is poor and any sign of a potential deal with other technology companies would prop the stock price up dramatically.
Conclusion: If RIM is able to strike a deal with Samsung, Intel (NASDAQ:INTC) or another tech giant, its current price of $17.50 will be a bargain. Even if that does not happen in the immediate future the low valuation, short-interest position and Leon Cooperman's buy on the stock all lead to tremendous upside. Do not allow the failed Samsung deal to turn you away from RIM, it is the perfect time to buy.

Disclosure: I have no positions in any stocks mentioned, and no plans to initiate any positions within the next 72 hours.