In my article Here's Why ING May Be Worth Examining, I presented my case for ING Groep N.V. (NYSE:ING).
On January 13, ING had its yearly Investor Day in Amsterdam. Analysts could see many presentations where the strategy and priorities were outlined for the coming years.
ING announced on its investor day that the priorities of the bank for 2012 and 2013 are to repay state aid (still EUR 3 billion plus a EUR 1.5 billion repayment premium), and to comply with Basel III requirements with a minimum capital ratio (core Tier 1 ratio) of 10% by the end of 2013. When these targets are met, ING plans to start paying a dividend again. For the long-term (2015), ING aims to improve its balance sheet, a ROE of 10-13% under Basel III and a cost/income ratio of 50-53%.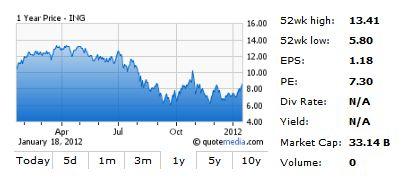 For the future, ING wants to be a strong European bank without letting its balance sheet grow. To repay state aid it could sell non-core businesses. One of these non-core businesses is ING's Asian business. ING scrapped plans to IPO its Asian business along with its European insurance operations because of the tough market climate.
ING Chief Executive Jan Hommen said last week that there is a lot of interest in the company's Asian unit. Now rumors are floating that AIA Group Ltd., the Asian life insurer 32.89% owned by American International Group Inc. (NYSE:AIG), is considering buying the insurance operations in Asia. ING's Asian operations could be worth EUR 5 billion, based on a price-earnings multiple of 13 times to 15 times.
AIA would get a strong footprint in Japan and Korea and some very interesting operations in growing markets like Malaysia, India and China.
ING also announced it had reduced its sovereign debt exposure to southern Europe by EUR 1.2 billion in the fourth quarter. The total reduction now adds up to EUR 4 billion and leaves the remaining position at some EUR 2 billion.
ING is very clearly positioned as a European bank, which leaves room for divestment (for example, the Bank of Beijing stake and possibly other non-European bank operations). However, ING is reluctant to share too many scenarios with investors, because this increases uncertainty and limits the company's flexibility.
I think repayment of state support will almost certainly not take place in May 2012.
ING is still undervalued and offers a great opportunity for investors who have the patience to face the European storm.
Disclosure: I have no positions in any stocks mentioned, and no plans to initiate any positions within the next 72 hours.