Bridgepoint Education (BPI) is one of the largest for-profit higher education institutions in the United States. It has also been alleged to violate fair marketing standards repeatedly. Like many other for-profit schools, Bridgepoint relies on questionable tactics to recruit new students. The US Department of Education has enacted new regulations which are set to take effect in July of this year. Currently, the lobbying group which represents the for-profit college industry is suing the Department of Education to block the impending changes to higher education disclosure standards. If the lawsuit is unsuccessful and the administration is able to put forth these new rules, Bridgepoint will not meet the standards. Failure to meet the required standards could result in the department pulling federal student aid - which accounts for nearly all of Bridgepoint's revenue. Corinthian Colleges (OTCPK:COCOQ) recently experienced a similar issue, which resulted in that company seeking bankruptcy protection. While in a better cash position than Corinthian, Bridgepoint faces a possibility of losing nearly all its revenue in the coming years. The company represents the ideal short: it has huge revenue risk, faces declining demand due to its sometimes unpopular practices, and is alleged to be violating a number of laws.
The Obama administration has fought hard to improve the standards at for-profit universities. While the Department of Education has made great strides in cleaning this industry up, there is still significant progress to be made. Recognizing that, Secretary of Education, Arne Duncan was able to implement the 90/10 rule in 2009. That law mandated that at least 10% of tuition revenues come from sources other than federal student aid (Title IV funds).
Continuing with the goal of improving higher education, the administration enacted a new set of rules in 2010. The goal was to force online and for-profit schools to provide substantive gainful employment statistics to their potential students. The Association of Private Sector Colleges and Universities (APSCU) sued and successfully blocked this effort. The lobbying group was able to convince a judge that the new regulations were overly burdensome and did not show a clear benefit to students. This saved nearly every for-profit school from disaster.
After the loss, the Department of Education tweaked the proposed regulations and reintroduced them. Again, the Association of Private Sector Colleges and Universities responded with a series of lawsuits. This time, the Education department is more confident their standards will hold up in court. If they do, the new rules will take effect on July 1st of this year. In 2014, Secretary Duncan estimated that 99% of for-profit schools would not meet the new disclosure standards. Bridgepoint's two universities, Ashford University and the University of the Rockies, will likely not meet the standard. In fact, they will massively miss the bar.
The new regulations set two priorities: 1) defining gainful employment; and 2) establishing transparency for students as to their likelihood of successfully completing their degree and/or the likelihood they will reach gainful employment after graduation. On the surface, this would appear to be a non-issue. Why would any college be opposed to proving that they provide a decent education? Why would any college be opposed to informing students about their chances of graduating? Shouldn't this be a beacon of pride for any school? Not at Ashford University or University of the Rockies. In fact, only a small fraction of students who enroll ever reach graduation. For those who do graduate, few ever obtain gainful employment.
As of December 31, 2014, Ashford University had over 54,000 students enrolled (a 12% decline from the prior year). 64% of students who enroll will drop out in less than one year. 79% of students who enroll will fail to obtain a degree. 93% of students will fail to obtain a degree in the anticipated time frame. Of course, none of this appears on any Ashford University literature. Many students have complained that they were unaware of, or completely lied to about, these rather bleak statistics. As a result of multiple complaints from students, Ashford has been sued by five attorney generals. Many of the lawsuits are still ongoing, and have levied serious accusations brought against the company. CEO Andrew Clark, however, does not seem to think these fraud cases are a big deal. On the most recent conference call, he noted that none of the investigations will impact the business. That will not be the case, as the multiple cases are already discouraging students from enrolling.
The fact that Bridgepoint relies on frequently obscuring or not providing material information to potential recruits has finally started to get the attention of those individuals. Student enrollment is dropping significantly, leading to meaningful declines in revenues and profits. Bridgepoint is no longer running at a profit, and may not regain any level of profitability in the foreseeable future.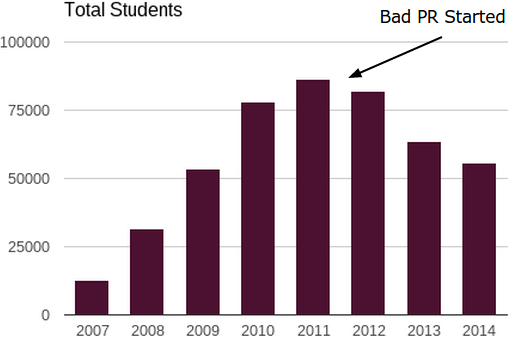 In the most recent 10-k, the company discussed its "proprietary" recruiting methods. According to current and former employees, those methods are actually just lying to potential recruits. As the federal government is set to demand an even greater level of transparency, Bridgepoint will find it even more difficult to attract new students when they will need to clearly disclose that the chances of success are slim. Why would any informed rationale student join a program where there is a ⅕ chance of graduating. Even if they are in the 21% who graduate, there is still a ⅙ chance that they will be unable to pay back their loans.
The bleak realities facing those lured into for-profit schools have certainly caused federal officials to act. Specifically, the new (highly watered down) changes will set a standard for gainful employment and how it is reported. There will be three categories; pass, zone and fail. In order to pass, a school must show that student debt payments are less than 8% of total earnings or less than 20% of discretionary earnings. Failure to pass will result in ineligibility for Title IV funding.
Despite conducting surveys of former students, Bridgepoint does not disclose the pertinent figures for the above new standards. Rather, they disclose some highly questionable metrics. More than 30% of Ashford University graduates do not have a full-time job three years after graduation. Included in the 70% who are employed full-time are those who have a job unrelated to their degree, work less than 40 hours per week (but more than 32), and were employed in the same job prior to attending Ashford.
Investors can try to estimate, using publicly available data, whether Bridgepoint will comply with the new standards. Importantly, Education Secretary Arne Duncan has already noted that 99% of for-profit schools will fail. It is incredibly probable that Bridgepoint will fail; however, it could still help to see how badly the company will fail.
National statistics show that a 4-year for-profit school is 63% more expensive than a 4-year public university. That means an online degree from Ashford University is more expensive than a traditional degree from Ohio State University or the University of North Carolina. Makes sense, right?
Under the standard repayment plan, it would cost about $350 per month to pay down an Ashford University bachelor's degree. In order to have that amount under the new 8% of gross income standard, the average bachelor's degree graduate from Ashford would need to earn over $53,000 a year. That could be a serious challenge for those 30% of graduates who do not have a job three years after graduation.
While non-conforming companies will be given a grace period to adjust to the requirements, failure to ultimately meet the standards will have a severely negative impact on revenues. Bridgepoint will need to find a way to materially improve the prospects of its students. Something it has not yet been able to accomplish in the company's history. On the last conference call, CEO Clark suggested the company may explore a new business model. This, in essence, is an affirmation that Bridgepoint management is aware the company will not meet new federal Title IV funding standards and will lose nearly all revenue in the next few years. Investors who think they are buying an undervalued education stock are actually buying a business which is on the cusp of imploding or dramatically changing. With a P/E of 31x next year's estimated EPS, investors are paying a premium for a stock with a highly uncertain and decidedly negative outlook.
Bridgepoint is a fundamentally flawed business. When speaking about for-profit education, famed investor Jim Chanos has said, "None of the companies can exist without federal loan guarantees." Chanos is right. If Bridgepoint fails to meet the new standards, which is inevitable, it is at risk of losing Title IV federal funding. As was the case with Corinthian College and Baton Rouge College, this is an instant death blow. Bridgepoint should not be considered undervalued, as some Seeking Alpha authors have suggested (here and here); rather, it should be on a bankruptcy watch. No matter how much cash the company has on hand (which is a lot as a percentage of market cap), it cannot survive if nearly 100% of revenues disappear. Long term, Bridgepoint will go out of business, as it will be unable to meet the new Title IV standards. In the short term, investors can expect lower revenues on the declining enrollment figures. If revenues continue at their current rate, it should decline 11% in 2015 to $561mm.
Bridgepoint represents a significant risk to long investors. The company allegedly violates numerous federal laws and relies on questionable marketing practices to obtain new students. With multiple state and federal investigations, the regulatory risks are enormous. Students have already started to shy away from for-profit education scams. This is evident in the company's metrics over the past year, and will become even more evident as it further deteriorates throughout 2015. Facing the probability that it will fail to meet new regulatory standards, Bridgepoint will likely face serious concerns regarding eligibility for Title IV federal student aid (84% of total revenues). The remaining 16% is primarily obtained through deceptive practices that involve securing additional government funds. With nearly 100% of revenues in jeopardy of disappearing, Bridgepoint is an intriguing short trade. For those on the long side, I suspect the chances of earning a return are akin to the chances of successfully obtaining an Ashford University degree - slim.