On January 12 Clean Energy (NASDAQ:CLNE) announced more details of the planned "Natural Gas Highway". The company has identified 98 locations and plans to have 70 stations open by the end of 2012 in 33 states. Here is a map of the company's planned refueling locations: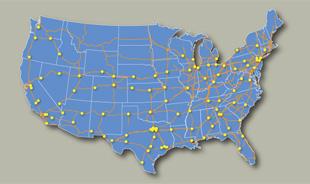 The first phase of the plan will be completed by 2013 and will include 150 natural gas refueling stations. Phase 1 is targeting major highway hubs including: the San Diego-Los Angeles-Riverside-Las Vegas cluster and the Texas Triangle (Houston-San Antonio-Dallas/Ft. Worth); CLNE is also targeting high use long-haul routes like Los Angeles-Dallas; Houston-Chicago; Chicago-Atlanta; and a network of stations along major highways in the mid-west region (IL, IN, OH, MO, KY, TN, KS, OK, AL) to serve the heavy trucking traffic in the area.
This is great news for America as the only significant energy policy that makes sense (and cents) is beginning to take shape. With natural gas prices more than $1.50/gallon less than gasoline derived from foreign oil, America will look back on this effort as a real turning point in this country's energy and economic strength.
Americans close to these refueling depots will be able to consider buying an NGV. As more NGVs are bought, more will be offered by the manufacturers, the prices will come down, and even more natural gas refueling stations will be built.
The full press release can be found here.
It is interesting to note the silence of the government on this most strategic of all developments. As the U.S. and Iran seem to move closer to armed conflict and as events in Nigeria threaten to lop off 8% of America's oil imports, wouldn't you think the U.S. government would be supporting and working to accelerate America's natural gas highway? Some people have referred to my desire for government support on this effort as funding my "pet project". I suppose it is a pet project in that I have been pounding the table on the issue for years.
However, just because it is my "pet project" doesn't mean it cannot have huge benefits for the government and the American people. I can think of no other strategic energy initiative that will have a quicker and larger return on investment (ROI) than replacing high-priced foreign oil with cheap, clean, and domestic natural gas in the transportation sector. It is simple a no-brainer (pet project or not).
I always find myself remembering a quote from a Chinese energy policymaker: "If China had the natural gas pipeline infrastructure and production the U.S. has, we would be adopting natural gas transportation as quickly as possible." I put quotation marks around this comment although that is not a direct quote, though it was definitely words to that effect. No other country on the planet would be under-utilizing such a tremendous economic advantage over all other countries.
I wrote an article almost one year ago in which I wrote: "The historical oil to natural gas ratio has been fundamentally altered forever."
Today the oil to natural gas ratio in the U.S. is around 40, almost double that of just 1 year ago. I also wrote in that article:
The oil to natural gas ratio is simply more evidence that natural gas is the only domestic fuel that can be scaled up to solve the critical economic, environmental, and national security problems facing America as a result of its 60% addiction to foreign oil.
I have seen nothing to make me change my mind on these issues. In truth, Robert Hefner III was correct in his seminal book The Grand Energy Transition when he asserted that the world is simply awash in natural gas. Witness the recent huge discovery off the east coast of Africa.
As for investments, I believe Westport Innovations (NASDAQ:WPRT) and Caterpillar (NYSE:CAT) should benefit greatly from the ANGH and deserve consideration. However, I continue to believe progress on natural gas transportation is not happening fast enough and continue to call for government support and adoption of a strategic long-term and comprehensive energy policy.
But such a policy isn't even being discussed let alone adopted. As a result, I continue to believe oil supply/demand fundamentals coupled with geo-political risks will keep pushing oil prices ever skyward. If that prediction comes true an investor would be lucky to hold such large and medium sized oil producers as Chevron (NYSE:CVX), Suncor (NYSE:SU), ExxonMobil (NYSE:XOM), ConocoPhilips (NYSE:COP) and HESS (NYSE:HES).
For some higher production growth potential, companies in the Bakken like Whiting Petroleum (NYSE:WLL) and GeoResources (NASDAQ:GEOI) are two of my favorites. Both are (or at least should be) buyout candidates as well. For income, Enerplus (NYSE:ERF) deserves consideration for its 8% dividend (paid monthly) and also for their production growth in the Bakken.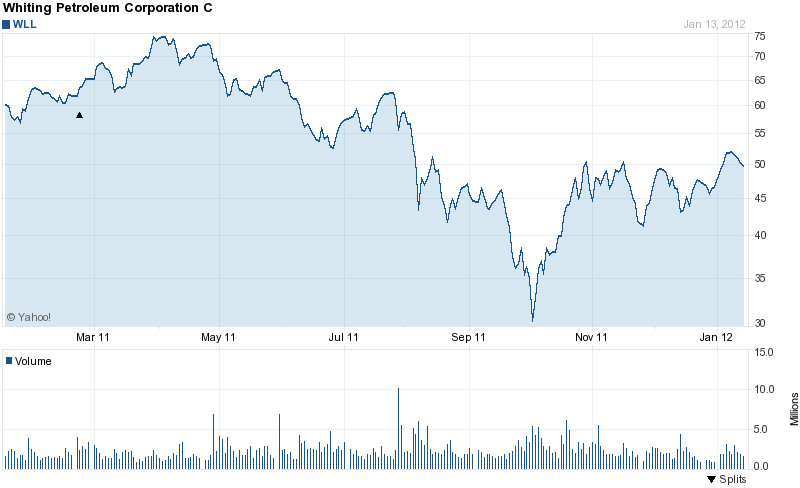 Natural gas transportation is good for America!