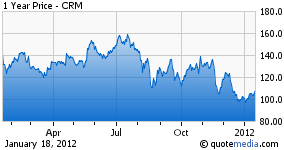 Salesforce.com (NYSE:CRM) is a truly innovative company, with rapid sales growth, nonetheless the valuation and recent price declines makes it a tempting short (as many are currently doing given the level of short interest in the stock) and I wrote this article expecting to justify a short position, but to date there are no concrete signs of a revenue slowdown. The main concern is that acquisitions are becoming the key source of growth and eating into cash flow. I conclude that Salesforce appears relatively fairly valued and it is hard to make the case for either investing in or shorting the company at this point. There may be better upside elsewhere, but I see no catalyst for a short position.
Valuation
Salesforce's valuation requires high growth expectations:
Metric
Value
Comments
Price to book
9.3x
$1.5B book (Sept 10q)
Price to earnings
n/a
Negative net income for most recent quarter and last 9 months
Price to

cash flow

37x
$128M CFO - $34M capex for last quarter x 4 i.e. $376M (Sept 10q)
Price to sales
6.1x
$584M of revenue for most recent quarter x 4 = $2.3B of revenue
Source: SEC filings, using $14.07B market cap
Of course, a high valuation is not bad per se. It just requires high growth to sustain it. Given that Salesforce's earnings are negative, using cash flow-capex as a proxy for earnings gives 37x or 6.1x sales.
Companies at similar price/earnings ratios:
| | | | |
| --- | --- | --- | --- |
| Company | P/E | P/S | 5y revenue growth |
| Citrix | 37x | 5.7x | 16% |
| Tibco | 36x | 4.3x | 12% |
| Green Mountain Coffee Roasters | 39x | 2.7x | 17% |
| Whole Foods Market | 40x | 1.3x | 13% |
Source: Google Finance
Therefore, at the current valuation, Salesforce requires in the region of 12-17% annual growth to justify its multiple. For comparison the equivalent 5 year revenue growth rate for CRM is 40%, which is encouraging and the most recent quarter was 37%, so to date the growth has been maintained. If anything Salesforce looks cheap relative to peers on this basis.
Acquisitions are eating free cashflow
Salesforce is making an increasing number of acquisitions - nothing major in 2009, then Jigsaw, Heroku and DimDim in 2010 and Manymoon, Radian6 and Assistly in 2011. If free cash flow is $376M on an annual basis, then these acquisitions are at best cancelling that out and neither growth rate nor margins are increasing as a result. This is a concern.
Generous stock compensation
Salesforce pays significant stock compensation and this has caused shares outstanding to grow 2-6% each year, diluting equity investors.
Potentially worrying signs
Salesforce is in the process of building a new headquarters. Generally, management focusing on activities that are non-core to the business can be a bad sign.
Worrying sales incentives in Q4 as Seeking Alpha contributor Todd Sullivan has noted, Q4 discounting appears relatively high at up to 40%.
Unlike other software businesses, Salesforce does not appear to be capturing scale benefits. Sales and marketing costs are relatively high at 46-50% of revenues and are not falling as the company grows. The same is true of G&A costs which apparently fixed at 15% of sales. Without operational leverage the bull case becomes less compelling.
Deferred revenue and deferred commissions both appear to be increasing less rapidly than revenue. Now, there are a host of factors that play into these metrics, but they could be indicative of a revenue slowdown in future periods. Equally there are plenty of other explanations for this.
Conclusion
There are concerns with Salesforce such as the lack of operational leverage and acquisitions canceling out free cash flow for the past 2 years, but the business continues to show strong revenue growth and innovation. Until that changes I see no reason to short Salesforce, which if anything appears cheap relative to similar stocks given its very high growth rate, there are some potential clouds on the horizon, but without tangible signs of a revenue slowdown, a short position cannot be justified, especially given the relatively high short interest making it one of the most expensive stocks to short. Equally, with various companies showing meaningful upside e.g I recently made the case for buying Dell (NASDAQ:DELL), I would not rush to own Salesforce at this point. The moment of truth will be Q4 reporting in late February (exact date not announced).
Disclosure: I have no positions in any stocks mentioned, and no plans to initiate any positions within the next 72 hours.