After this weekend's disaster with the Costa Concordia on the shore of the Italian coast, it is not surprising that shares of parent company Carnival (NYSE:CCL) are taking a beating, closing down 14% at $29 on Tuesday.
Disaster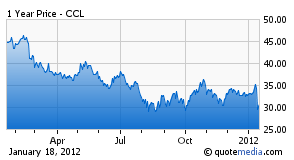 11 are confirmed dead after this weekend's tragic events with 24 still unaccounted for on a total of 4200 customers and crew on board. Travel experts and Wall Street analysts are quick to point out worries about waning demand because of fear among consumers, but this seems to be an overreaction. As recent as 2009, when AirFranceKLM lost a plane in the Atlantic (killing 228 people) the shares only lost 10%, or roughly $400 million in market value, but quickly made up the lost ground in a matter of weeks.
Financial impact
Carnival was quick to point out that the direct cost of the disaster is limited to $85-$95 million or $0.11-0.12 per share for 2012, as the majority of the vessel was insured. It is the indirect costs which could be higher as people might get afraid to book during the "wave" season in an already difficult market. As a result, the shares now trade just below book value, and are fairly cheap with historical earnings per share of around $2.50 during the last 3 years.
Buying moment
The direct costs estimated at $90 million, upcoming legal costs and a possible slower "wave" season this year do not weigh up against the $4 billion which went up in smoke today.
Shares which missed a large part of the rally in recent months because of the Arabic revolution, high oil prices and declining consumer confidence in Europe are once again hit too hard. With the carnival season approaching, Carnival trades at a good level to pick up.
Disclosure: I have no positions in any stocks mentioned, and no plans to initiate any positions within the next 72 hours.