There are several strategies when investing in closed-end funds. Many investors look at these investments as long-term holdings where they simply reinvest their dividends to compound their growth rate. Others may purchase a CEF for its high distributions to use as a supplement to their monthly income. One of the rules CEF investors follow is to buy at a discount to NAV. The theory is you are buying a $1.00 of assets for a price below $1.00 depending on the amount of discount to NAV. This all sounds good when the CEF market price increases to the NAV. But what if it doesn't increase as some CEFs may trade at a discount to NAV for an extended period of time? Here is one way of looking at this from a different perspective.
Buying CEFs at a discount is very similar to value investing as stated above. The best time to buy a value investment is when it is going from "bad to less bad." Let me explain. Generally, there is a reason an investment is trading at a discount. This is the "bad" in the equation. It can be one or many different reasons such as an earning miss, distribution cut, out of favor sector, etc. To stay away from the value trap, you want to buy these discounted investments when they are going from "bad to less bad." Less bad in this equation is defined as a change in price direction that shows the investment is starting to move higher in price.
One way to find CEFs that are beginning to change price direction is to look at the last month change in market price. This will indicate that investors are buying into these CEFs as the price is increasing due to higher buying pressure. The objective here is to capture some capital gain to go with the high distribution rates over a shorter time period. The table below shows the CEFs with the highest price changes over the last four weeks or one month. The S&P 500 SPY had a return of 6.38% in the past month. Each of these CEFs had a higher price increase than the SPY in the last month. This list is a starting point that should be evaluated further to determine if you want to invest in these CEFs.
BLACKROCK ECOSOLUTIONS INVESTMENT TRUST (NYSE:BQR) seeks to achieve its investment objective by investing at least 80% of its total assets in equity securities issued by companies that are engaged in one or more of the New Energy, Water Resources and Agriculture business segments and utilizing an option strategy to enhance current gains. BQR was trading at a 10% premium in July 2011, but has fallen into a discount to NAV. Over the last month, BQR has rallied off the December bottom and may be able to move back into premium price territory. BQR has a 10.89% distribution rate paid quarterly.
WESTERN ASSET HIGH YIELD DEFINED OPPORTUNITY FUND (NYSE:HYI) seeks high income with capital appreciation as a secondary objective through investments in a portfolio of high-yield corporate bonds of varying maturities. HYI has made a 9.8% price increase in the last month. You should wait to see if HYI has a small pullback from this price before committing new capital. HYI has a current distribution rate of 9.67% paid on a monthly basis.
NUVEEN MORTGAGE OPPORTUNITY TERM FUND (NYSE:JLS) will invest at least 80% of its Managed Assets in MBS, consisting primarily of non-agency RMBS and CMBS, directly and indirectly by investing in the Feeder PPIP Fund. JLS has a price increase of 9.21% in the past month with distribution rate of 9.38%.
BLACKROCK RESOURCES AND COMMODITIES STRATEGY TRUST (NYSE:BCX) will seek to achieve its investment objectives, under normal market conditions, by investing at least 80% of its total assets in equity securities issued by commodity or natural resources companies, derivatives with exposure to commodity or natural resources companies or investments in securities and derivatives linked to the underlying price movement of commodities or natural resources. BCX has had a price increase of 9.20% in the past month with distribution rate of 9.75%.
Other CEFs making the list have distribution yields over 11% include:
ING EMERGING MARKETS HIGH DIVIDEND EQUITY FUND (NYSE:IHD)
COLUMBIA SELIGMAN PREMIUM TECHNOLOGY GROWTH FUND (NYSE:STK)
BLACKROCK ENHANCED CAPITAL AND INCOME FUND (NYSE:CII)
(Click chart to expand)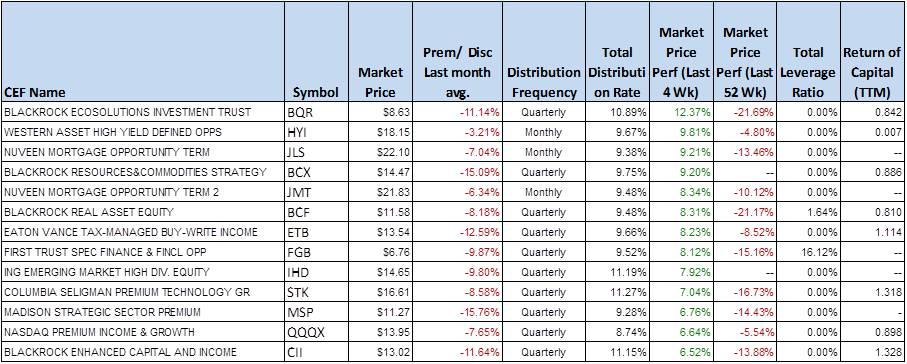 Disclosure: I have no positions in any stocks mentioned, and no plans to initiate any positions within the next 72 hours.