by Brendan Gilmartin
Overview
General Electric (GE) is slated to report 4Q 2011 earnings before the bell on Friday, January 20. Results are typically released at 6:30 a.m. EST, and will be followed with a conference call at 8:30 a.m. GE's earnings are often viewed as a barometer on the overall health of the U.S. and global economy. Therefore, GE has the potential to influence multiple markets, including the index futures, currencies, and other broad market indicators-- particularly if the results are far outside the band of consensus estimates.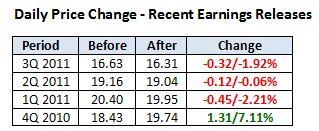 Outliers & Strategy
GE traditionally produces a value for Adjusted Earnings Per Share and Earnings Per share from Continuing Operations. If the company reports a value for Earnings Per Share Excluding Items, that would be the comparable value.
GE has refrained from supplying explicit guidance in recent quarters. The last time GE issued earnings guidance was in 2008.
GE's EPS have topped estimates by an average margin of 8.4% over the past 4 quarters. Revenues are the next critical measure.
The consensus for 4Q EPS is $0.38 per share (range is $0.37 to $0.39) on revenue of $40.03 bln (Source: Yahoo! Finance).
Recent News
01/18: Analysts at Sterne Agee expect GE's fourth quarter results to reflect strong orders, according to a report on MarketWatch.com. The firm said GE is benefiting from equipment and services orders to support oil production, offsetting expected weakness in the healthcare space.
01/12: GE shares are "lighting up" according to a post on Barron's. The report noted that a pickup in call buying reflects the market's expectations for a strong earnings release. Furthermore, Barclay's Capital recently raised the price target from $20 to $22 on strength in the power-generation, oil & gas, and aerospace segments.
12/15: Oppenheimer reiterated an Outperform rating on GE according to a post on Benzinga.com. The report cited the outlook presented on 12/13 from CEO Jeff Immelt, calling for double-digit growth in the Industrial and Capital segments.
12/13: CEO Jeff Immelt made the following observations to analysts in prepared slides: 1. Industrial: energy performance and industrial margins improving; 2. GE Capital: lower losses & improvement in real estate; 3. Expects "robust" organic growth.
12/09: GE raised its dividend from $0.15 to $0.17. GE CEO Jeff Immelt attributed the hike to accelerating financial performance while asserting the GE business model will continue to deliver strong earnings and cash flow growth.
Technical Review
GE shares recently broke out to the highest level since mid-July, rising more than 30% since late November. Meanwhile, the Relative Strength Index (RSI) has hovered above the 70-level since late last month - an indication that the shares are overbought near-term and possibly poised for a correction. Should the earnings results fail to meet current forecasts, look for initial support down at the 200-Day SMA near $17.50, with further downside risk to $16.50. On a positive report, look for resistance at $20.00, followed by the 52-week high of $21.65 established last February. (Chart courtesy of StockCharts.com)
Summary
GE shares have been breaking out in recent weeks, hitting the highest level since last February. This can be attributed to an improving economic backdrop, strength in the GE Capital division, an expected pickup in orders in the industrial and energy segments, and an attractive3.58% dividend yield. GE is also trading at just 12.27x forward earnings, resulting in a forward PEG ratio of just 1.1 and 1.6x book value, below the 5-year average of 1.9x.
The shares are also being held aloft by positive sentiment from the sell-side, with the level of Buy ratings now at the highest level in close to 4 years. Against this positive backdrop, GE shares could see some downside if the results do not meet expectations, as the momentum indicators and 30% jump in the shares since late November point toward an overbought scenario ahead of earnings.
Disclosure: I have no positions in any stocks mentioned, and no plans to initiate any positions within the next 72 hours.
DISCLAIMER: By using this report, you acknowledge that Selerity, Inc. is in no way liable for losses or gains arising out of commentary, analysis, and or data in this report. Your investment decisions and recommendations are made entirely at your discretion. Selerity does not own securities in companies that they write about, is not an investment adviser, and the content contained herein is not an endorsement to buy or sell any securities. No content published as part of this report constitutes a recommendation that any particular investment, security, portfolio of securities, transaction or investment strategy is suitable for any specific person.