In this article I do an in depth analysis of the current issues facing JetBlue (NASDAQ:JBLU), the airline industry, JetBlue stock, financials and risk going forward.
Overview
JetBlue is a low cost airline based in New York City. It strives to offer a premium product to passengers at a low cost. It operates hubs out of JFK airport in New York, Fort Lauderdale in Florida, Boston, Long Beach, San Juan Puerto Rico, and Orlando. It operates flights mainly within the United States and from the United States to the Caribbean and Latin America.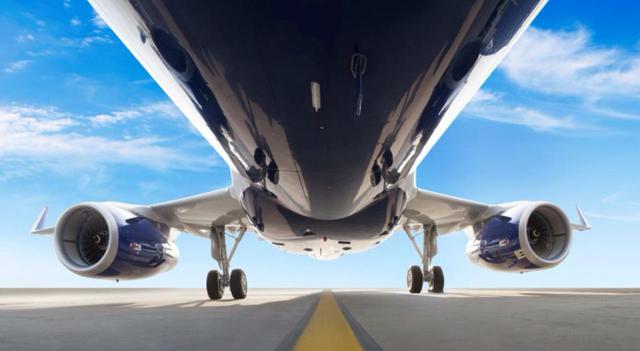 Fig 1: A JetBlue aircraft gets ready to take-off
Sell-Off
JetBlue stock tanked on Wednesday following a capacity increase announcement from Southwest Airlines. Remarks from American Airlines CEO Doug Parker also hit the industry when he vowed to compete aggressively with low cost carriers on price. This raised fears the industry may head back to its old ways of competing for market share instead of focusing on profits. In this article I go into some detail on why this has little affect on JetBlue and is a good buying opportunity.
Oil
Analysts are concerned that oil prices will rebound and cause airlines to be unable to stay profitable. Goldman Sachs however came out with a report earlier this week predicting $45 oil by October, citing cheap capital, imbalances that are not solved, and a surplus of crude for the reasons it sees $45.
JetBlue has hedged 17% of its oil consumption for 2015 and anticipates a cost below $2.00 per gallon for the year. JetBlue has stated its business plan revolves around oil at $90 a barrel and it will not change that regardless of short term changes in the price of oil.
Fundamentals
I go into detail on both positive an negative fundamentals for JetBlue below;
Positive
Recently upgraded by S&P to B+ from B
Grew net income significantly in Q1 2015 under new management
Currently has a market share of 3.6% in the US airline market, as measured by available seats. This leaves a lot of potential for growth ahead
JetBlue took a bold step launching a product between business class and first class on its flights from NY-LAX and NY-SFO. It's product was rated the best out of the competition and on top of this JetBlue charges $599 for it compared to thousands charged by competitors.
The bold experiment has paid of and JetBlue has stated unit revenues have improved 20% on routes that their mint product has been placed on. JetBlue stated the biggest passenger complaint they get about it is that the seats frequently sell out days before the flight departs. JetBlue is now looking for additional routes to deploy mint on
There are many revenue streams coming online in the next few years. JetBlue will begin charging for checked bags, charge for wifi and add 10% more seats to its aircraft.
JetBlue was the first major US airline to announce plans to operate between the USA and Cuba
Despite investors recent panic over capacity in the market JetBlue has been able to add capacity at a rate above the industry average AND have improvements in passenger revenue. JetBlue and Virgin America were the only US airlines that managed to do this in Q1
JetBlue has demonstrated it can co-exist with ULCC (Ultra low cost carrier) competition. It competes on many routes out of Fort Lauderdale with Spirit Airlines and both airlines cite Fort Lauderdale as their best performing hubs
JetBlue has demonstrated it can offer a superior product to any full service airline in the US, while also charging a lower cost and having lower operating costs. This has gained it a loyal following
Despite most of JetBlue's international routes being in the Caribbean/Central American region, only 6.7% of its capacity is to Mexico, the largest economy in this region. Open skies is set to go into effect between the US and Mexico in 2016 and this should allow JetBlue to expand to many new markets there
32% of JetBlue's international capacity is deployed to the Dominican Republic where GDP growth will be 5.1% in 2015. Expedia has said travel demand is up 45% to the Dominican Republic year over year and with a market share of 31% of the USA-Dominican Republic market JetBlue is set to benefit tremendously
JetBlue is expecting growth of 7-9% in 2015, growth that it cites as "profitable growth"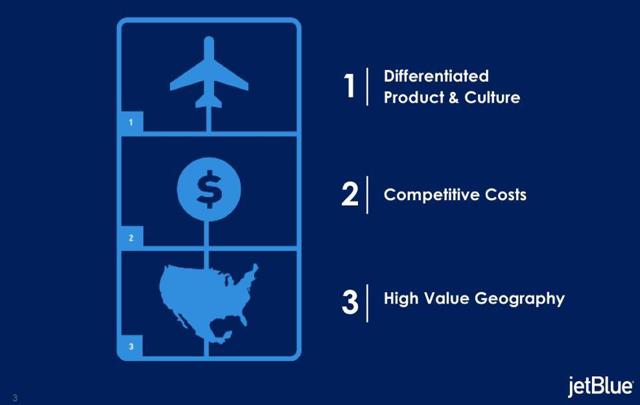 Fig 2: JetBlue Focus Areas
Negatives
Improvements are still in the early stage as is new management and it is yet to be seen if momentum can be sustained
JetBlue is focused in a small number of markets, making it vulnerable to changes in these markets
Financials
JetBlue is expected to report EPS of $1.78 for 2015. Analysts have upgraded EPS estimates 9 to 1 in the past 4 weeks compared to competitors stocks being downgraded almost 9 to 1 on average. JetBlue stock has a PEG ratio of 0.27. Between 0 and 1 is undervalued, 1 - 2 is fair value and 2+ is overpriced.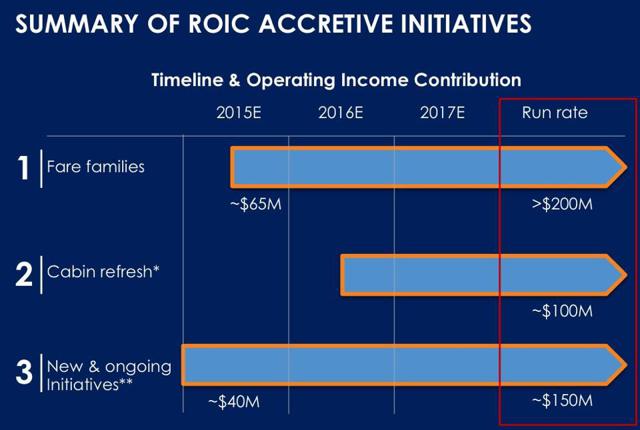 Fig 3: JetBlue ROIC Initiatives
Taking the average S&P 500 PE ratio of 20.78 and multiplying it by $1.78 EPS gives a share price of $36.99, significantly above its current price. Even using a PE ratio of 15 gives a price of $26.70 for this year alone.
Risks
The biggest risks ahead for JetBlue investors are a potential outbreak similar to the Ebola scare in October 2014 in the future that would send its stock tumbling. A terrorist attack or global economic crisis or war would likely hurt demand for travel and send the stock down. Any crash or disaster involving a JetBlue aircraft could also affect its stock negatively. JetBlue is focused heavily in New York and has had multiple instances of large numbers of grounded and cancelled flights due to snow storms and adverse weather in this region which has cost the company significantly.
Summary
JetBlue is a great buy going forward. It is both a value play and growth play, and after many years of its stock under performing I fully expect its stock to outperform under new management going forward. JetBlue stock may see some near term downside due to oil price concerns and capacity concerns but as I have shown above, JetBlue is managing to improve its revenue per passenger while increasing capacity at rates higher than the industry average. Any fall will be a fantastic buying opportunity for investors. I am happy to see management in place now that is committed to delivering returns for shareholders unlike previous management. JetBlue's loyal following plus its product that customers love make me bullish and confident this stock has much more upside than downside ahead.
Disclosure: The author is long JBLU.
The author wrote this article themselves, and it expresses their own opinions. The author is not receiving compensation for it (other than from Seeking Alpha). The author has no business relationship with any company whose stock is mentioned in this article.