Which is a better investment: direct investment in rental properties or purchasing a basket of residential REITs or Mortgage REITs?
To answer this question, you will need to collect the following information on local properties which are listed for sale:
Prices of rental properties: You can use online search engines or listing sites like Craigslist.org to find these values.
Market rents of comparable, nearby rental units: You can use online search engines or listing sites like Craigslist.org to find these values. Occupancy rates are more difficult to assess.
Costs of ownership: Unfortunately you will have to estimate many of these. Most of the homeowners and landlords I know have no idea what they pay to repair and modernize their properties. Worse yet, if you ask them they deny these cash outflows by rationalizing them as "investment" as though the money they spent is really stored somewhere in the walls. Fortunately, some costs like taxes can be found online. Estimates for insurance, mortgage rates, landscaping, rental management, and landlord-covered utilities might require a phone call for a quote.
Examining My Real Estate Market
My neighborhood features low rents and low real estate prices. Two bedroom, two bath units in my neighborhood rent for $825/month, or $10,000 per year. Three bedroom, two bath rental units rent for about $14,000 per year. Four unit multi-family homes containing three 2 bed / 2 bath and one 3 bed / 2 bath units are priced between $240,000 and $299,000. Single family, 3 bed / 2 bath homes are priced starting at $130,000.
After checking prices, I estimate that landlords pay roughly $3,000 per year for each 2 bed / 2 bath unit in costs before management fees. Property taxes are $1,000 per unit based on the $4200 public record tax bill of a 4-unit tax bill. Landlord insurance is quoted near $1,000 per unit. Maintenance, landscaping, and upgrades to keep the units up to date were estimated under $1,000 per unit.
Of these expenses, upkeep and upgrades are the hardest to estimate because investing in an individual property requires investigating its unique costs and because industry rules of thumb are highly suspicious. For example, "How to Estimate the Cost of Homeownership" featured on HSH.com suggests estimating maintenance costs at 1% of a property's value. Market values of properties fluctuate considerably, suggesting that this is a gross oversimplification. (Is the expected cost of maintenance for a property based on 2006 market values or 2010 market values?) Moreover, we would want this to be a truly passive investment-comparable to holding REITs-so labor would need to be added on top of supplies.
If the property is owner occupied, rent less these costs is $7,000 per year. This is a considerable savings from home ownership.
If the property is to be rented out, there are additional factors that must be taken into account. A passive real estate investment would also require a management company which could be hired for about $1000 per year per unit in my neighborhood. Based on vacancy signs, there seems to be a 10% vacancy rate in my neighborhood, so revenue for each 2 bed / 2 bath unit would be $9000 per year, resulting in $5,000 in operating cash flows. (I approximate the operating cash flow of a 3 bed / 2 bath unit as being roughly 1.5 times the operating cash flow of a 2 bed / 2 bath unit, realizing that they are harder to rent out but have lower per-bedroom upkeep costs.)
The expected operating earnings of a single-family home or a multi-family home will depend on financing. Underwriters are comfortable lending 70% of a property's appraised value, and interest rates have dropped a bit below 4%. Unfortunately, the quoted rates do not cover mortgage insurance or origination fees. As an approximation we can assume that these fees will offset savings from a home mortgage deduction in an owner-occupied home or would raise the interest rate of an investment property to about 5%.
The operating income before taxes for each scenario is presented below:
| | | | | | | | | | |
| --- | --- | --- | --- | --- | --- | --- | --- | --- | --- |
| Scenario | Operating Cash Flow | Sale Price | Mortgage Balance | Equity (Cash Paid) | Effective Interest Rate | Annual Interest Payments | Pre-Tax Cash Flow | Pre-Tax Cash on Cash Yield | Debt/Equity |
| Owner Occupied Single Family Home | $7,000 | $130,000 | $0 | $130,000 | N/A | $0 | $7,000 | 5.4% | 0.0 |
| Owner Occupied Single Family Home | $7,000 | $130,000 | $91,000 | $39,000 | 4% | $3,640 | $3,360 | 8.6% | 2.3 |
| Multi-Family Home | $22,500 | $250,000 | $0 | $250,000 | N/A | $0 | $22,500 | 9.0% | 0.0 |
| Multi-Family Home with Mortgage | $22,500 | $250,000 | $175,000 | $75,000 | 5% | $8,750 | $13,750 | 18.3% | 2.3 |
The cash yields presented here are similar to dividend yields you collect from REITs. Unless you hold these investments in a tax-advantaged account, REIT distributions and investment property income are both taxable. Residential real estate REIT dividend yields and debt/equity ratios are provided for comparison:
Ticker

Company

Dividend Yield

Total Debt/Equity

American Campus Communities Inc.

3.24%

0.94

Associated Estates Realty Corp.

4.19%

1.99

American Capital Agency Corp.

19.74%

8.03

Apartment Investment & Management Co.

2.09%

5.47

Apollo Residential Mortgage, Inc.

7.42%

1.95

ARMOUR Residential REIT, Inc.

18.41%

9.09

Avalonbay Communities Inc.

2.78%

0.91

BRE Properties Inc.

2.99%

1.06

Campus Crest Communities, Inc.

6.22%

0.85

Colonial Properties Trust

2.92%

1.38

Camden Property Trust

3.20%

1.42

CYS Investments Inc

15.06%

0

Education Realty Trust Inc.

2.76%

0.77

Equity LifeStyle Properties, Inc.

2.24%

2.28

Equity Residential

4.08%

1.53

Essex Property Trust Inc.

2.97%

1.62

Home Properties Inc.

4.42%

2.14

Hatteras Financial Corp

13.62%

8

Mid-America Apartment Communities Inc.

4.21%

2.21

New York Mortgage Trust Inc.

14.31%

3.29

PennyMac Mortgage Investment Trust

11.93%

0.31

Post Properties Inc.

2.04%

1.02

Senior Housing Properties Trust

6.75%

0.69

Sun Communities Inc.

6.72%

Two Harbors Investment Corp.

17.33%

5.59

UDR, Inc.

3.49%

1.72
Direct real estate investment and residential REITs can be compared by plotting cash pre-tax returns against debt/equity ratios: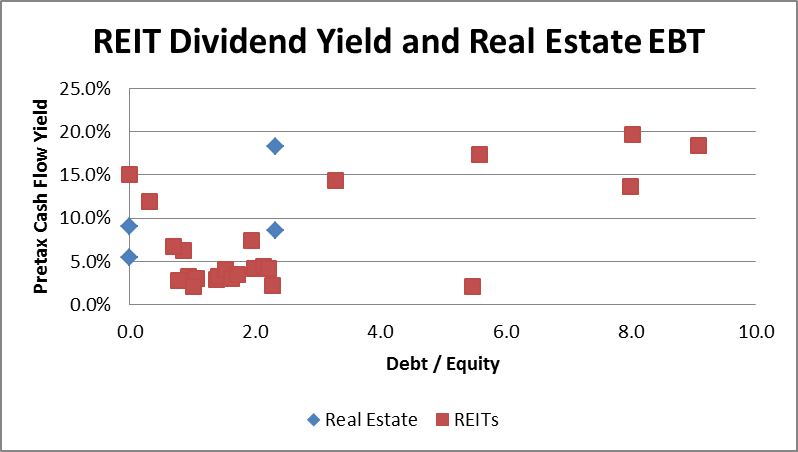 This plot is very useful. It shows how low mortgage rates have made real estate investments more attractive. Moreover, it appears that a leveraged multi-family property is competitive with REITs. In my neighborhood, on the basis of return, direct real estate ownership holds its own against investment in residential REITs. With the current local real estate prices and rents in my neighborhood, there are expected returns from real estate investment which might adequately compensate investors for risk. (Bear in mind that was not true during the bubble.)
There are additional issues concerning real estate investment, including difficulties in estimating maintenance costs, litigation risk, poor liquidity, and a lack of diversification. Prudent real estate investors must have means to control or mitigate these risks before investing.

Disclosure: I have no positions in any stocks mentioned, and no plans to initiate any positions within the next 72 hours.
Disclaimer: This article was written to provide investor information and education, and should not be construed as a guarantee or investment advice. I have no idea what your individual risk, time-horizon, and tax circumstances are: please seek the personal advice of a financial planner. This article uses third-party data and may contain approximations and errors. Please check estimates and data for yourself before investing.