Bill Ackman, a New York hedge fund manager, is the founder and CEO of Pershing Square Capital Management LP. Currently, he operates three funds: The Pershing Square, Pershing Square II, and Pershing Square International. The inception date of the flagship fund Pershing Square is Jan. 1, 2004, while that of the latter two funds are a year later at Jan. 1, 2005. Cumulative returns for the funds as of Q3 2011 stood at ~300%, ~200%, and ~160%, respectively, compared to the low-double-digit returns that most indices returned during the period.
From a mere $54M at inception, the Assets Under Management across the three funds has improved to around $9B. Pershing Square is considered an activist hedge fund given Ackman's record of launching activist campaigns aimed at increasing shareholder value. It had a disastrous stretch between July 2007 and July 2009, when they ran a special purpose fund (Pershing Square IV) focused solely on an investment in Target Corporation (NYSE:TGT). The fund lost most of the $2B invested by early 2009 -- the stock lost about ~50% during the period but the fund's investment in TGT was leveraged.
Ackman's hedge fund career commenced in 1992 when he co-founded Gotham Partners with David Berkowitz, a fellow Harvard Business School MBA graduate in the same year. The fund was initially focused on real-estate related illiquid investments and it did well in the early years posting double-digit returns consistently. Gothman Partners however called it a day in 2003 due to a combination of factors:
They piled on debt by investing in a money-losing golf course operator, which was rebranded as Gotham Golf, and proceeded to acquire 26 other golf courses;
The court blocked the sale of the assets to a cash-rich REIT (First Union Real Estate Equity & Mortgage Investments) in which Gotham had a controlling stake;
Federal regulators started investigating allegations that Gotham used research reports to influence the price of stocks it owned. The investigation focused on Gotham Partners, Tilson Capital Partners, Aquamarine Fund, and Greenlight Capital and the purpose was to determine whether they conspired to manipulate stock prices of Farmer Mac (NYSE:AGM), MBIA (NYSE:MBI), Allied Capital (NYSEARCA:ALD), and American Capital Strategies (NASDAQ:ACAS);
Gotham had a thin investor base that was becoming increasingly impatient. The resulting redemption requests forced Gotham to sell his liquid investments. Rather than holding illiquid investments in the portfolio for the rest of his investors, Gotham decided to bow out.
Even though an appellate court overturned the judge's ruling blocking Gotham Golf's merger with First Union and the federal investigation fizzled out, it was too late. Pershing Square was formed soon after winding-down Gotham Partners. Below is a look at the Pershing Square's US holdings over the last five years: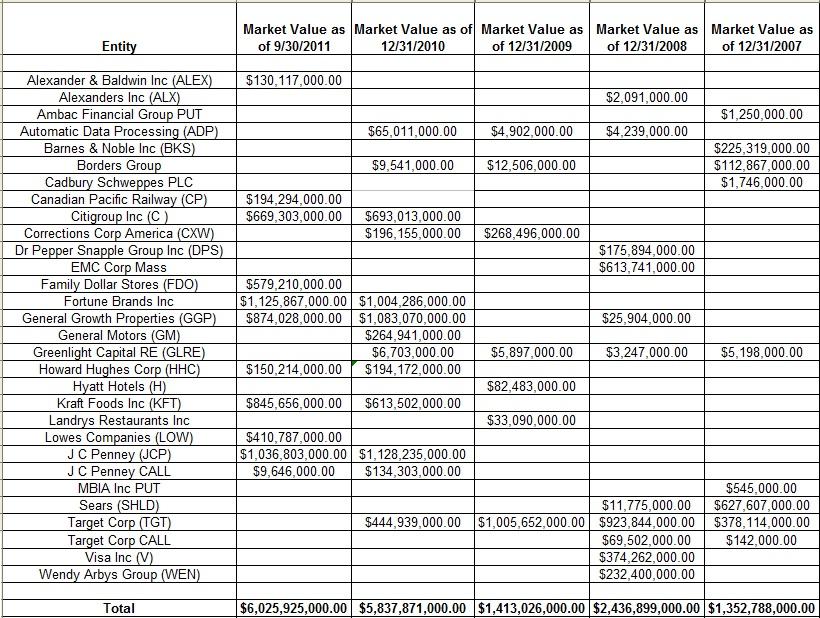 Over the past five years the fund assessed 30 different companies, but the average number of holdings in any given year was less than ten. In essence, even though the fund runs a heavily concentrated portfolio, turnover is significant, with none of the holdings from five years ago having a presence in the latest list.
The fund placed several bets on the short-side on mortgage guarantors (OTCQB:FMCC) and FNMA and bond insurers (MBIA), (ABK) that returned handsomely.
During the credit crisis, Ackman was on a quest for quality businesses with more assets than liabilities but was in bankruptcy proceedings due to liquidity crisis. That led to the investment in General Growth Properties (NYSE:GGP) when it was trading in the $1 range in Q2 2009 - since then it has returned well over ten times.
New investments this year include large positions (~5% of portfolio) in Family Dollar Stores (NYSE:FDO) and Lowes (NYSE:LOW) and smaller (<2% of portfolio) positions in Alexander & Baldwin (NYSE:ALEX) and Canadian Pacific Railway (NYSE:CP).
Bill Ackman made his name in activist investing by battling MBIA relentlessly for almost a decade from the early 2000s. The story is presented in a Bloomberg book "Confidence Game: How Hedge Fund Manager Bill Ackman Called Wall Street's Bluff" by Christine Richard. In the early years, odds were stacked in MBIA's favor as they succeeded in depicting Bill Ackman as a short-seller whose sole interest was to destroy a good company. Ultimately, Ackman won with the company settling fraud charges and the stock plummeting. His perseverance is best summarized by the following comment by Whitney Tilson, co-manager of T2 Partners LLC:
For five years he was wrong, wrong, wrong. Then he made billions… He is the most relentlessly stubborn person on the planet.
The short thesis on MBIA was based around facts that are obvious in hindsight:
Municipal bond insurance is a hollow business model as municipal bond defaults are improbable due to implicit state guarantees. Even so, insurance is sought as a way to reduce the interest rate on bonds. It only serves to transfer public money (what the government entities pay MBIA as insurance premium) to bond insurance companies,
MBIA didn't deserve its triple-A rating and was employing fraudulent accounting methods to maintain the triple-A rating.
MBIA's foray into structured finance made the triple-A rating even more suspect. Although MBIA was guaranteeing only AAA-rated CDOs, Wall Street's game involved manufacturing triple-A rated securities out of higher risk assets.
The loss of triple-A rating was something MBIA could ill-afford as a rating downgrade results in higher capital requirements.
In addition to shorting the stock, Ackman purchased credit default swaps (CDSs), whereby a premium is paid every year, but should the security default in the interim, a lump sum payment is received. Ackman took the CDS route as default protection was comparatively cheap for MBIA as long as it held its triple-A rating (meaning the market saw minimal chance of default). It was only $35K per annum to buy protection for $10M of MBIA debt. Even so, given the huge size of his position, these premiums were a drag on his fund's performance. That ship came to shore in June 2008 when news broke out of Moody's (NYSE:MCO) reviewing MBIA's triple-A ratings for a possible downgrade. By then CDS were upwards of a million dollars per annum to protect $10M of MBIA debt.
Ackman's activist style is a blessing for investors attempting to follow him. He gives presentations explaining his investment thesis on particular investments - a far cry from most other hedge funds that regard secrecy as a competitive advantage. The style allows individual investors a chance to contemplate Bill's recommendations before committing capital. Below is a look at a couple of Pershing Square's recent recommendations and the theory behind them:
Hong Kong Dollar:
Ackman's investment thesis on Hong Kong Dollar was made public in the "Linked to Win" presentation of 09/14/2011. The presentation lays out the following:
The Hong Kong Dollar is pegged to the US Dollar in a 7.75-7.85 band, forcing Hong Kong to mirror US's monetary policy. Because of the anemic economy, the US has a very accommodative near-zero interest-rate policy. Such a policy does not fit Hong Kong which has a very strong economy.
b) Although the peg has been in place since 1985, Hong Kong has a history of adapting - HKD was pegged to the Sterling till the early '70s and free floating between 1973 and 1985. Hence, the idea of de-pegging is not far-fetched.
c) The USD peg was adopted in 1985 when other viable alternative were unavailable and because US was a major HK trading partner. These factors are no longer true.
d) Hong Kong has a large trade surplus while US has a large trade deficit - an indication that HKD is cheap. Also, the weak US economy and the large fiscal and trade deficits has resulted in a ~50% devaluation of the USD in the last 28 years.
China's RMB has appreciated 30% since 2005. As a huge trading partner (~50% of total trade), this drags HKD's trade-weighted value lower. The undervaluation is estimated to be between 26% and 54%.
The peg has resulted in inflation acceleration and asset bubbles as a consequence of low rates and expansion of the monetary base. Ultimately, these factors can lead to social unrest.
Ackman acknowledges that while numerous revaluation alternatives exists, the most likely scenario is to keep the USD peg and revalue to an estimated 6.00 exchange rate (30%) compared to the 7.75-7.85 peg.
Ackman suggests three alternatives for buying into this scenario:
Buy HKD Outright: This is the easiest and the least risky play. One can convert USD outright to HKD at a bank. The payoff is also limited - if HKD is revalued by 30%, expect to make 30% on the original investment. A popular alternative is to buy the iShares MSCI Hong Kong ETF (NYSEARCA:EWH) - this is however not a good proxy as EWH attempts to track the Hong Kong Market as opposed to the currency.
Buy HKD with USD Leverage: A Forex trading account with a brokerage is required to do this trade. While fairly straight-forward to implement, this is not without risks and works similar to futures: A small percentage (typically 5%) of the position (has to be in increments of $10K) is deposited as margin (also termed security deposit or upfront margin). As the exchange rate fluctuates the USD/HKD position fluctuates as well and the difference is either deducted or credited into one's account as long as the position is held. In other words, with every $500 margin, the risk/reward is up to $10K - one could gain or lose up to 20 times the margin deposit.
Buy HKD Call Options: This is what Ackman actually bought and offers the best payoff - the risk is the entire premium. Basically, the call options on HKD trade at a very low premium as the market assumes the chance of de-pegging as very low given it has been left untouched for over 25 years. The payoff can be huge - the 7.80 strike traded at 0.83% of notional that could result in a 36x payoff, if the currency is de-pegged to 6.00.

It is complicated to execute this trade, as most US brokerages only have exchange-listed ISE/PHLX currency options - they only offer options on eleven major currencies and that does not include HKD. To trade HKD currency options, an account that allows trading FX OTC spot options is required. Saxobank is one option and they offer a free 20-day practice account. An alternative that avoids opening an account with a foreign broker is to go with calls on the market index EWH. The payoff however is a lot lower - the Jan 2013 15 calls exchanged hands at $1.79, meaning if the market revaluates by 30%, the payoff will be only about 3 times. Also, as mentioned previously, it is not a good proxy.
The HKD call option exemplifies Bill Ackman at his best. If his prediction plays out, the payoff is huge; if it does not pan out, the premium is lost. As the following factors indicate the latter possibility is very real:
The revaluation trade was first predicted by Deutsche Bank in 2010. However, they believe Hong Kong will maintain the peg until the expected peg to Chinese RMB 5-10 years out.
Donald Tsang, the chief executive of Hong Kong, said in a November 2011 Bloomberg interview that Ackman will lose a bundle on the trade. His take is that HK is doing extremely well near-term, their trade is 4x GDP which is dependent on a stable currency. Tsang also went on to state they are not going to de-peg either during his term (ending in 2012) nor during the next premier's term.
US Housing:
Ackman sees the present as the right time to purchase a house in the US. The case was made in a November 3, 2010 presentation titled "How To Make A Fortune" and summarizes the arguments as follows:
Interest rates won't stay this low forever.
New monetary easing increases the risk of inflation.
Even with the current inflation levels, at today's valuations, it is unlikely we will see another substantial decline in prices.
Forced selling may abate as lenders' balance sheets improve.
Generally, there is more liquidity on the way down than on the way up.
An economic recovery could cause housing to recover faster than many people think.
The hypothesis is still true although more than a year has passed since the presentation saw daylight. It however stops short of alternative investment ideas that payoff when housing rebounds. Homebuilders, home improvement retailers, etc are obvious places that merits scrutiny in this regard. On that count, Bill Ackman has initiated a sizable position (~4%) in Lowes Companies as of Q3 2011.
Disclosure: I am long KFT.