With the interest rate hike matter looming, investors might opt to look for investments which pay a lower yield, but have higher expected earnings growth rates.
If you're looking for total return in investments and are not concerned about the immediate dividend income, here are 5 businesses for consideration. They are all expected to grow earnings at a rate of 10% or higher per year in the near future.
I placed them from lowest expected earnings growth to highest, assuming it's easier to achieve lower growth than higher. So the companies appearing first are more likely to achieve their expected earnings growth.
Here's an overview of the companies:
| | | | | |
| --- | --- | --- | --- | --- |
| Company | Market Cap | Yield | S&P Credit Rating | * Est. Earnings Growth |
| Enbridge (NYSE:ENB) | 42.8B | 3% | A- | 10-12% |
| Gilead Sciences(NASDAQ:GILD) | 161.9B | 1.6% | A- | 11% |
| Union Pacific (NYSE:UNP) | 90.8B | 2.1% | A | 11% |
| Johnson Controls (NYSE:JCI) | 33.1B | 2% | BBB+ | 12% |
| Cummins (NYSE:CMI) | 25.6B | 2.2% | A+ | 15% |
* Enbridge's earnings estimates is by the company. Other estimates are from F.A.S.T. Graphs.
* Numbers as of close of May 21, 2015.
Enbridge with 10-12% Growth
OK, so Enbridge doesn't have a "low-yield" per se, but the company's forecast of 10-12% earnings per share growth makes it a nice candidate for this list.
Enbridge is a pipeline leader, transporting 2.2M barrels of oil everyday. It is also the third largest renewable energy company in Canada. It has a record of growing earnings consistently, supporting its ever-growing dividend.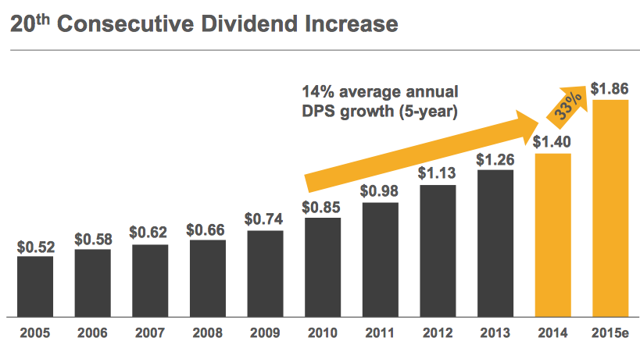 Annual payouts in Canadian dollars.
Source: Enbridge's 2015 Annual General Meeting Presentation
Its last dividend hike of 33% was a pleasant surprise for shareholders although going forward, I expect its dividends to grow between 10% and 15% as the company expects earnings growth for the next few years to be a CAGR of 10-12%, and its payout ratio of 74% is at the lower end of its target range of 75-85%.
I like that Enbridge's business generates consistent cash flows, making it a stable business for long-term investors. Thus, it has earned its right to be a core holding in my dividend growth portfolio.
Gilead Sciences with 11+% Growth
Founded in 1987, Gilead Sciences is a biopharmaceutical company that discovers and develops innovative medicines to meet medical needs that are unmet.
Through our own research and partnerships with universities, medical research institutions and global pharmaceutical leaders, Gilead is rapidly and efficiently making scientific and clinical advancements that raise the standard for new therapeutics that treat life-threatening diseases. - Gilead website
Gilead Sciences has essentially traded sideways in a tight range for 9 months. Analysts estimate that its earnings will grow at a rate north of 11% in the near term.
However, even without the high growth, it is still trading at a discounted P/E of around 12. Compare that with its peer Amgen (NASDAQ:AMGN) which is trading around the P/E of 18 with estimated earnings growth of 10%.
Union Pacific with 11+% Growth
Union Pacific's railroad tracks of 32,000 route miles connect 23 states across the Western two-thirds of the United States. Its network connects with Canada's rail systems and it is the only railroad serving all 6 major Mexico gateways.
This railroad leader is an essential part of US' transportation infrastructure. Between 2005 and 2014, it invested over $31B in this network.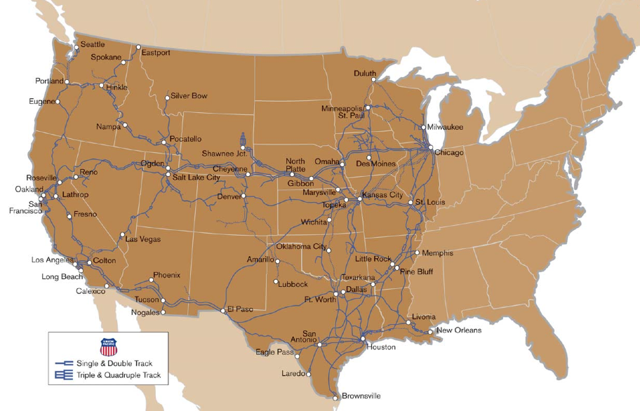 Union Pacific's network
Source: Union Pacific 2014 Fact Book - Page 3
In a reliable and fuel-efficient manner, it delivers products to about 10,000 customers in the following businesses: Intermodal, Industrial Products, Coal, Agricultural Products, Chemicals, and Automotive.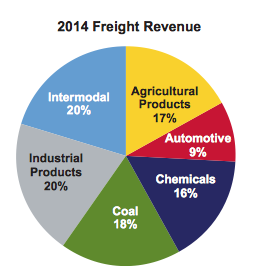 Source: Union Pacific 2014 Fact Book - Page 11
Between 2011 and 2014, UP's operating revenues increased at a CAGR of 7%, while its operating margin expanded from 29.3% to 36.5%.
Analysts estimate its earnings will grow above 11% in the near term. Today, investors can buy this wide moat company at a discount of around 10%.
Johnson Controls with 12+% Growth
Johnson Controls' 3 main businesses are Automotive Experience ($22B), Building Efficiency ($14.2B), and Power Solutions ($6.6B).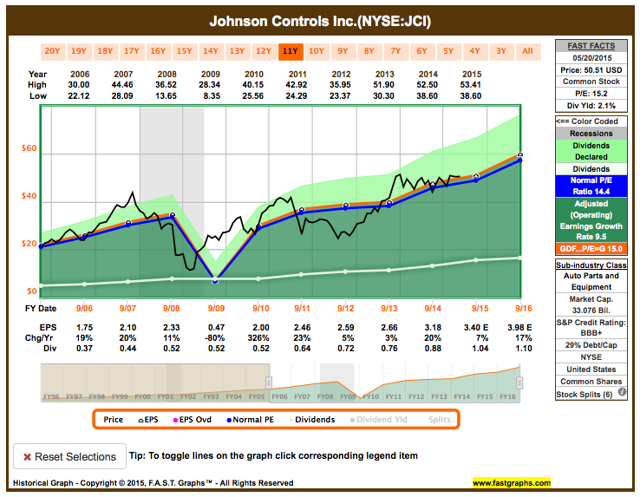 It has made a nice comeback from the recession. It not only recovered from its earnings dip, but its EPS today exceeds that of its 2008 high.
The stronger and more diversified company is ready for more growth today. Its earnings are expected to grow more than 12% in the near term.
To learn more about Johnson Controls, check out fellow contributor, Chuck Carnevale's recent article on the company.
Cummins with 15% Growth
Cummins employs roughly 54,600 people across the globe, serving customers in about 190 countries and territories through a network of approximately 600 company-owned and independent distributor locations and around 7,200 dealer locations.
Cummins designs, manufactures, distributes, and services engines and related technologies, including fuel systems, controls, air handling, filtration, emission solutions and electrical power generation systems. It has four complementary business units: Engine Segment (roughly 44% of revenue), Distribution Segment (23%), Components Segment (21%), and Power Generation Segment.
The company's revenue sources are also diversified geographically with leadership positions across multiple end-markets.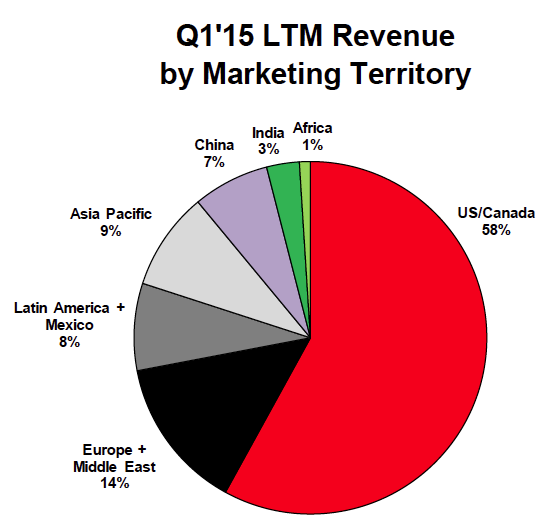 Source: CMI First Quarter 2015 Presentation - Slide 23
Cummins has had a presence in India for 50 years, and in China for more than 30 years. Its sales growth from China comes from new products and tightening emissions.
Cummins has paid out an excellent growing income stream for 9 years. Its 5-year dividend growth rate is 32%.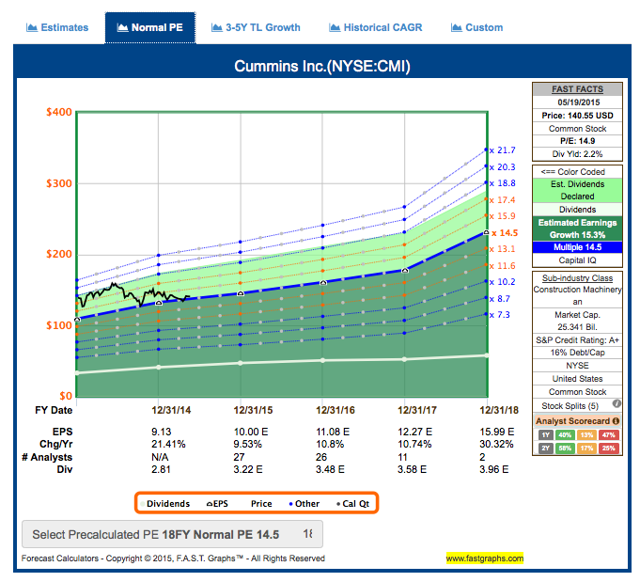 Analysts estimate its earnings to grow at about 15%. What's more to like is that Cummins can be purchased at fair value today, as indicated by the black price line touching the blue normal historical P/E line.
In Conclusion
These companies are relatively high growth possibilities in a dividend portfolio to complement blue chips such as Emerson Electric (NYSE:EMR), Johnson & Johnson (NYSE:JNJ), and Procter & Gamble (NYSE:PG).
Their dividend growth rates serve as a gauge on whether the business is doing well. It goes without saying that these growing dividends should be supported by growing earnings and sustainable payout ratios. Consistent cash flow generation helps too.
References
Enbridge's 2015 Annual General Meeting Presentation - pdf

CMI First Quarter 2015 Presentation - pdf

Union Pacific's 2014 Fact Book - pdf
Disclosure: The author is long AMGN,ENB,GILD,PG,UNP.
The author wrote this article themselves, and it expresses their own opinions. The author is not receiving compensation for it (other than from Seeking Alpha). The author has no business relationship with any company whose stock is mentioned in this article.
Additional disclosure: I'm not a certified financial advisor, and this article is not advising to buy or sell any security. Please use this as initial research.