Silver Wheaton (SLW) recently released its corporate presentation for the month of May, and the most striking factor present in the report was the company's increasing focus on gold streaming. Wheaton is primarily a silver streaming company, which means that it enters into contracts with miners to "purchase all or part of their silver production at a low, fixed, predetermined price to which both parties agree." As a result, Wheaton does not need to incur the costs and logistics associated with mine maintenance, development, exploration, etc.
Gold will now hold more weight at Wheaton
In fact, Silver Wheaton is the world's largest silver streaming company, but it is now diversifying into gold as well. The following graphic clearly illustrates Silver Wheaton's increasing focus on gold: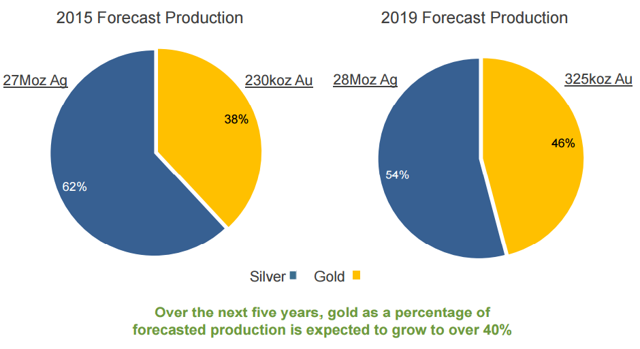 In my opinion, Wheaton is doing the right thing by diversifying into gold, as this will allow the company to benefit from improving demand and pricing conditions in the gold market. Gold prices have made a comeback of late after dropping below $1,150 per ounce in mid-March as shown below: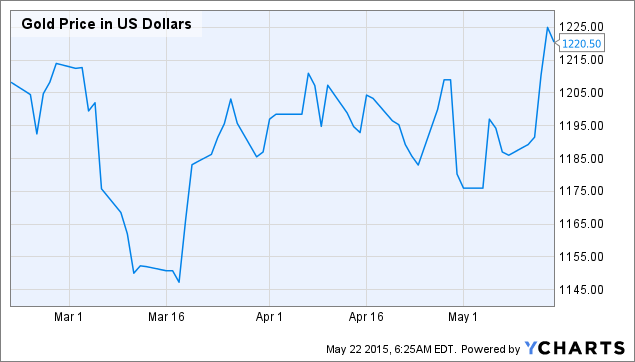 Gold Price in US Dollars data by YCharts
A low-interest rate environment will act as a catalyst for gold
Looking ahead, this momentum will continue as a potential interest rate hike by the Federal Reserve has been delayed. This will support the recent run in gold pricing, and it is likely that we will not see a hike in interest rates in the near future as according to Invezz, "most FOMC participants "thought it unlikely" that data through June would provide sufficient confirmation of economic recovery to support a central lending rate increase, the minutes showed."
Since gold is a non-interest paying asset, it becomes more attractive to invest in when treasury rates are low. Now, interest rates in the U.S. are at their lowest levels since 2006, and the trend could continue as factors such as inflation expectations have declined of late. This is shown in the following chart: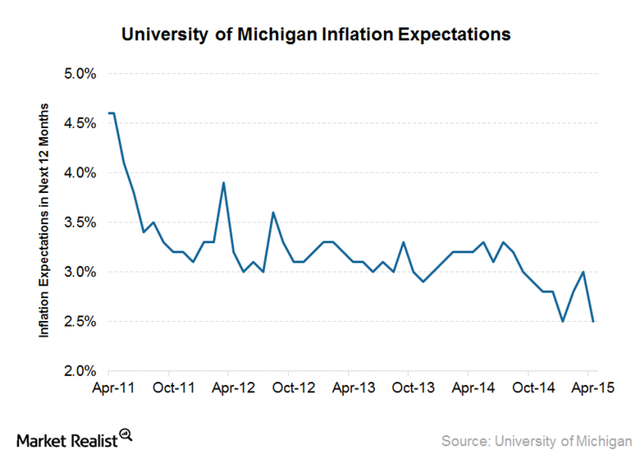 As Market Realist goes on to state, inflation below the Fed's expectation is a positive for gold pricing. This is because low inflation rates will force the Fed to keep interest rates low, and this will be a driver for gold pricing as the metal is negatively correlated to interest rates as shown below: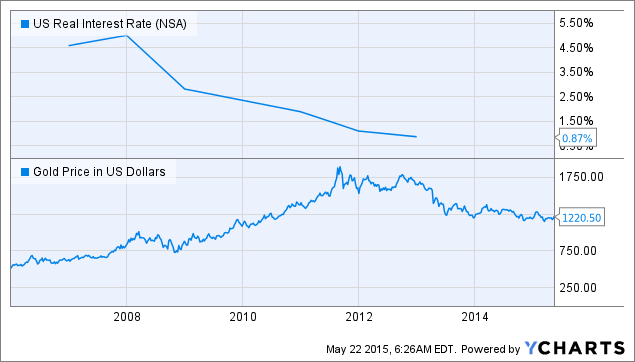 US Real Interest Rate data by YCharts
The chart given above clearly indicates that ever since interest rates started declining from 2008, the acceleration in gold prices increased. Hence, Silver Wheaton seems to be shifting its focus toward gold at the right time, as there is a probability that interest rates will remain low due to inconsistent U.S. data.
In light of the above discussion, it is not surprising to see that gold prices are expected to rise strongly going forward as shown in the following chart:
Wheaton's improving gold profile will help it tap improving demand
Thus, after bottoming out this year, gold prices will gradually get better going forward, and this will be driven by improving demand conditions in key gold consuming nations such as India and China. According to a Reuters report, gold demand from India and China in 2014 came in at 1,656 tons. This year, the combined consumption of both these countries is slated to range between 1,800-2,000 tons, representing an increase of 15% at the mid-point.
More importantly, strong demand from China and India will push overall gold demand to 4,100-4,200 tons this year, an increase of 6% from last year. Thus, on the back of better demand, gold prices will continue getting better, which is why Silver Wheaton has done the right thing by shifting its focus to gold.
The company has taken aggressive steps to improve its gold exposure by entering into a $1.9 billion agreement with Vale (NYSE:VALE) a couple of months back. Under this agreement, Wheaton will receive 25% of the "payable gold by-product stream from the Salobo copper mine in the Para State of Brazil for the life of the mine and 70% of the payable gold by-product stream from its Sudbury nickel mines for 20 years." Wheaton will pay $400 an ounce for gold from Salobo, which means that it will enjoy a strong margin on the yellow metal going forward.
This particular deal itself has expanded Wheaton's gold exposure to 25% from 12% earlier. Hence, the company is already positioning itself to tap better gold demand going forward, and this is a smart move in light of the points discussed above.
Conclusion
Silver Wheaton's stock price has been under pressure this year due to weak commodity pricing. But, the company's increasing focus on gold and the yellow metal's strong prospects will help it achieve a turnaround going forward. As such, it is not surprising to see that Wheaton's bottom line is expected to grow at a compound annual rate of 20% over the next five years as compared to a drop in the last five. Hence, investors should consider using Silver Wheaton's weak stock price performance this year as a buying opportunity.
Disclosure: The author has no positions in any stocks mentioned, and no plans to initiate any positions within the next 72 hours.
The author wrote this article themselves, and it expresses their own opinions. The author is not receiving compensation for it (other than from Seeking Alpha). The author has no business relationship with any company whose stock is mentioned in this article.