Papua New Guinea is one of the last frontiers of energy exploration as much of it is still more or less pristine forest. From Talisman:
only 8,000 kilometres of seismic has been acquired throughout PNG in the past 50 years.
That really isn't a lot, and yet there have been some great discoveries from OilSearch, InterOil and Talisman. Here is The Wall Street Journal:
According to a BP study, Papua New Guinea had 15.6 trillion cubic feet of proven reserves of natural gas at the end of 2010. That figure likely underestimates the true resource as Papua New Guinea has been lightly explored up to now.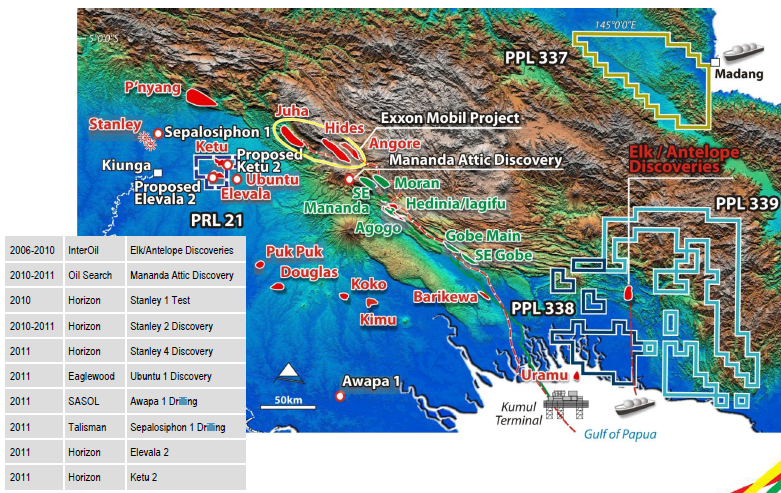 It is hardly a surprise that there is increasing interest in PNG exploration. For instance, New Guinea Energy (NYSEARCA:NGE) said last December that they had received a "number of unsolicited approaches" for its exploration acreage in the Gulf and Western provinces.
The approaches come on the back of a successful mining and petroleum conference staged in Port Moresby last week which was attended by some of the world's major players who were looking for opportunities to re-enter PNG.
Since the area seems generally rich in prospects and so few have been drilled yet, big license holders seem to have good prospects here. We will discuss the main license holders.
ExxonMobil (NYSE:XOM)/OilSearch
OilSearch is a large corporation with activities in Irak, Tunisia, Yemen, as well as having a number of gas- and oil-producing fields in the highlands of PNG, where they have been since 1929. They have all the producing oil and gas fields in PNG: Kutubu, Moran, Gobe, Hides and SE Mananda.
They are presently constructing an LNG facility (they have a 29% stake in the project) with Exxon (33.2%), PNG government (16.8%), Santos (13.5%), Nippon Oil (4.7%) and PNG landholders (2.8%). The project has already been sold out, but OilSearch is on the hunt for the gas resources to underpin a possible third train.
But they also have a 20,600 square kilometer exploration portfolio in PNG and are about to embark on some serious exploration (but also appraisal) drilling. Here an oversight of their license properties. On many of these licenses, ExxonMobil either has a stake and/or is the operator, and even where it is not they benefit from finds in that they are the biggest stakeholder in the PNG LNG venture:
PDL 2 (60%)
PPL 219: (71.25%)
PPL 233: (52.5%)
PPL 234: (80%)
PPL 239: (20%)
PPL 240: (100%)
PPL 244: (80%)
PPL 260: (50%)
PPL 276: (30%)
PPL 312: (30%)
PPL 338: (30%)
PPL 339: (30%)
PRL 11: (52.5%)
PRL 3 (38.5%, ExxonMobil 49% JX holdings 12.5%)
Recent drilling activity and plans
In the Gulf, there is the big Elk/Antelope find by InterOil (8.56Tcf and 129BBls of condensates), but OilSearch has been gobbling up positions here as well, both onshore and offshore: PPL 338; PRL10; PPL 276; PPL 234; PPL 244; PPL 339; PPL 312; PRL 01, as you can see below.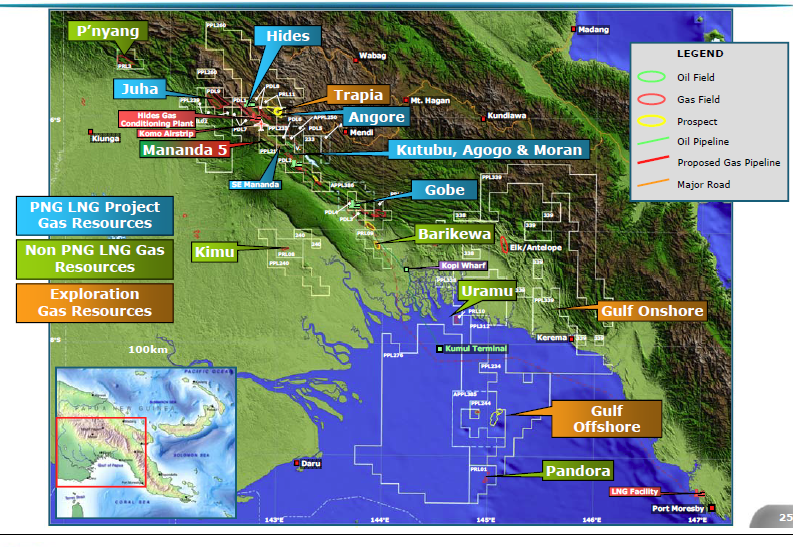 This area is very under-explored but from the description below of the InterOil acreage you will get a feel of the opportunities. They're performing seismics (including modern 3-D seismics) and will commence drilling this year. Of course, with the Exxon/OilSearch PNG LNG plant already well underway, any find will have a ready outlet, even if a good deal of pipeline will have to be constructed to connect gas from the Gulf to the pipeline that's being build between the highlands gasfields and the LNG plant at Port Moresby.
OilSearch is planning for one of the largest drilling programmes in the company's history, according to the latest quarterly report.
From the UK Presentation Oct 2011, the P'nyang and Trapia (formerly Huria) wells are the first exploration wells that are going to be drilled shortly. Seismics from the onshore and offshore Gulf area (both 2D and 3D) will be processed and drilling locations will be identified.
Regarding to their seismic program, according to the latest quarterly report, the seismic acquisition programmes are now complete and interpretation is underway:
The seismic is high quality and confirms our view that there are several different play types in the Gulf. The initial results are encouraging, particularly over the currently identified prospects. Initial discussions were held with a number of international companies with LNG expertise, with a view to a potential farm down of our large Gulf interests to a strategic partner in due course. These discussions are expected to continue in parallel with the seismic interpretation.
TALISMAN (NYSE:TLM)
While it's PNG holdings are only a small part of it's exploration (and exploitation) areas, Talisman is present on PNG since 2001 when they made a discovery offshore. Their interest in onshore exploration is much more recent, which led to the purchase of Rift Oil in Augustus 2009 for $177M and Talisman accumulating an interest in 12 licenses covering an area of more than 15M acres. Just as New Guinea Energy area, that's quite a lot, we would say.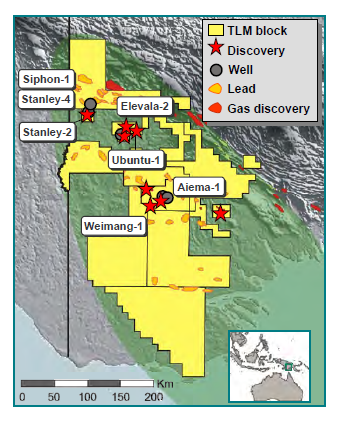 Some of these are:
PPL 235: Talisman is 100% owner of this license, which contains the Puk Puk, Douglas and Langia discoveries, together good for some 2.4Tcf of gas in place. Three out of three wells have hit gas here, the license was bought with the acquisition of Rift Oil in 2009
PPL 259. Talisman holds 50% of the license, with Eaglewood 40% and Fortune International the other 10%. It's here is where the Ubuntu-1 well was drilled which discovered as a condensate rich gas discovery. Gaffney and Kleine did a resource estimate (85.6Bcf and 4.7MMbbls of condensates), the detailed results of which you can find here.
PPL 261. Talisman holding a 100% stake
PPL 268; 50% stake (NGE has the other half)
PRL 4: It has a 50% stake (with Horizon owning the other half) Here is where the Stanley-2 and Stanley-4 wells are located. The first had peak flows rates of 71MMcf/d. Horizon discovered the Stanley-1 well in 2008 which contains a combined 66m of net pay from two different formations containing wet gas, flowing at 25MMcf/d
PRL 21: Talisman has a 40% stake here, with the rest held by Horizon (45%) and Kina Petroleum (15%). The Eval and Ketu discoveries are located here. The Elevala-2 appraisal well has recently hit on a 18m gross gas and condensate interval (slightly better than the Elevala-1 discovery well which was drilled in 1990, flowing 11.9MMcf/d and 634 barrels of condensates), and they're presently drilling a side-track. After the Elevada-2 appraisal well is completed, the Ketu-2 appraisal/development well will be drilled.
Talisman has engaged RFC Corporate Finance to seek a strategic partner for PPL 235, 261, and PRL 4 and 21 in a global effort to bring down cost. However, they are quite upbeat about PNG, here is CFO Scott Thomson in September last year:
TALISMAN Energy chief financial officer Scott Thomson would not be surprised if the company's exploration acreage in Papua New Guinea's Foreland Basin held 15 to 20 trillion cubic feet of gas.
Although it has to be said that this is just before the Siphon-1 well turned up disappointing results.
This quarter Talisman will spud the Weimang-1 exploration well to test a structure near Douglas-1 in the PPL235. Also, the Ketu-2 appraisal/development well, also in PRL21 will be spudded.
The strategy remains to aggregate enough gas and liquids to monetize either with a new partner or feed one of the other LNG plants (Exxon/OilSearch) on the island. For Prl 4 and 21, the strategy is to strip the liquids first and reinject the gas.
The Talisman/Horizon Oil JV drilled its first well (Stanley 2) in late 2010, which showed a gas discovery at rates of up to 30 McfG/d3. A second appraisal well was drilled in PRL4. Overall, the field can produces 140 McfG/d from the two wells.
InterOil (NYSE:IOC)
Apart from the Elk/Antelope gas and condensate field which has 8.59Tcf of gas and 129MMbls of condensate, per GLJ (see here for the full 2009 report). Plans for monetization are underway (with several HoA offtake deals already under the belt) but InterOil has a large exploration opportunity that deserves attention.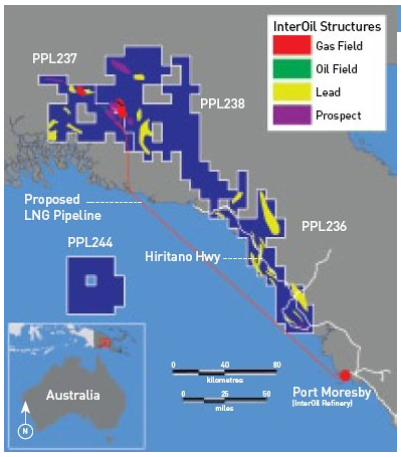 In the following prospect (from page 11 and 12 of the 2010 year-end report), they have identified a number of reefs
Big Horn
Mule Deer
Bwata/Triceratops
Seismosaurus
Bwata west
Wolverine
Zebra
Cougar
Tuna
Wahoo
Mackerel
Mako
Now, would any of these reefs play out (and provided there is any gas present in the prospects, this would provide something of a bonanza, as a reef is what makes the Antelope wells so productive, and so far, InterOil is the only one discovering reefs on PNG.
The well in Bwata/Triceratops, that was spudded on Tuesday, might well give a first shot as we know from a previous well, drilled by a former license holder in 1959, that the structure contains gas. Recent seismic work has shown that the structure is both considerably larger and identified a couple of reefs. Needless to say, the latter have to be confirmed by drilling.
One might also remember what happened at the Antelope-1 well a couple of years ago. Erstwhile InterOil critic Ross Smith Energy Consultants argued that there wouldn't be a reef, InterOil argued there was, and Ross Smith had to retreat as soon as the drill hit the top of the reef.
We also refer to a number of these prospects which, instead of the limestone, consists of different resource rock, the Pale/Subu sandstone, like Mastodon; Rhino; Turtle; Lion; Moose; Long Horn; Bison; and Whale.
Why is this important? Well, InterOil discovered some oil residues in the Subu-1 and Subu-2 shallow core holes, so their thinking is that the sandstones are more likely to be oil containing (in addition, the OilSearch oil resources are in sandstones as well). We're not sure of that as the Antelope wells also had some oil shows, but no commercial flows.
Smaller Players
Now, there are also a number of smaller and micro cap explorers, which sometimes have surprisingly large license acreages. We're suggesting a portfolio approach in these, where you take a very small part in each of them. They are quite risky because some of them do not generate much, if any revenues so are constantly dependend on issuing stock or finding partners.
Since PDL licenses have a duration of five years, there is another danger in that they will loose part of the license, or even the whole license, so we have to stress these are quite risky plays. On the other hand, one significant find in any one of them will easily compensate the losses on any of the others.
Horizon
An Australian exploration company that also works with Talisman on PNG and holds licenses in PNG. Apart from PNG, they also operate in New Zealand, where it produces oil from the offshore Maari/Manaia fields, and China, where it is involved in two oil field exploration and developments.
There are 1.13 billion shares outstanding with a market cap of just under 250 million. Net production currently 1,500 bopd, generating EBITDA of approx US$4m per month. 2P reserves of 16.8 mmbo and resources of 19.1 mmbo / 326 bcf gas. Exploration potential of 97 million barrels of oil equivalent (mmboe) unrisked mean.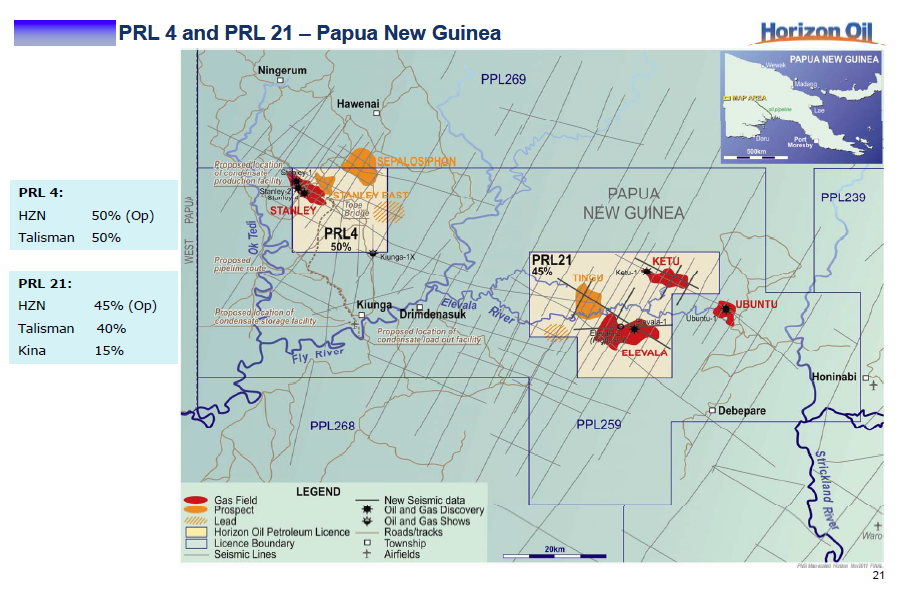 In PNG it has interests in:
PRL 4: owning half (Talisman owns the other half) contains 181Bcf of P2 gas and 5.7MMbbls of condensates contingent resources
PRL 21: it increased its stake in PRL 21 to 45% by acquiring 10% from Elevala Energy. The joint venture is planning to drill two wells on the licence, Elevala-2 and Ketu-2, using the drilling rig Parker Rig 226 which recently completed Horizon's successful Stanley-4 well on PRL 4. PRL 21 contains 48Bcf (Keitu) and 3.1MMbbls of liquids (Ketu), 136Bcf of gas and 8.7MMbls of condensates (Elevala) contingent resources.
Horizon and Talisman are going to apply for a production development license (PDL) for the proposed condensate stripping facility feeding from the Stanley field in PRL 4,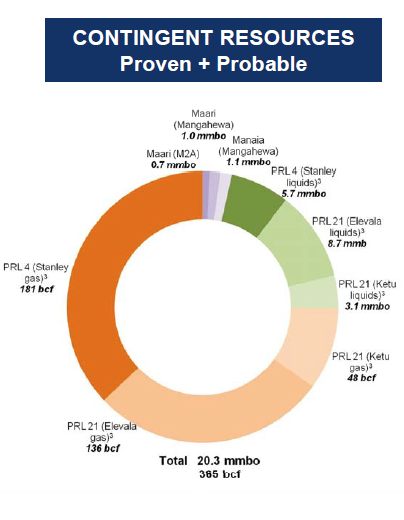 Analysts are quite bullish, at least they were half a year ago:
UBS (57 cents); Euroz (37c); Macquarie (58c); Merill Lynch (47c); Moelis & Co (70c); Morgan Stanley (45c); Patersons (45c); RBS Morgans (43c); Stock Analysis (53c); Southern Cross Equities (57c); Wilson HTM (45c), with all of them except RBS rating the stock as a buy. Latest share price was 21 cents. We haven't considered their other holdings in China and New Zealand.
We're a bit less optimistic about Horizon as Horizon, doesn't have as much of an exploration acreage in PNG as Talisman or OilSearch. Needless to say, it's a much smaller company. Chances of new discoveries are therefore much less pronounced. However, it's much more of a pure play on PNG compared to Talisman. There is, of course, considerable risk. The longer they can't monetize, the more they have to dilute and/or sell some of their licenses.
NEW GUINEA ENERGY
This really is a microcap (so beware) explorer holding a very large license area on PNG. These are held in six licenses (Petroleum Prospect Licenses or PPL's), and many of these are surrounded by significant finds by others. Despite the small market capitalization, some of the owners are pristine names like Macquarie Group (14.5%), Credit Suisse (6.6%), Asia Image (6.4%) and Soros (and here).
The company has a farm-out deal with Talisman (TLM) for PPL 268 and 269
Some basic metrics:
Market cap $40M
Cash burn is about A$5M per month for the last quarter of 2011 which takes the year-end figure to around A$13M
Since the company expects to spend around A$9.5M for the first half or 2012 on resource development (seismics in PPL 265, 266 and 277), new issues will arrive, but not just yet.
They have 850M shares outstanding and have quite a history of new issues and private placements (so again, be aware!), these come at regular intervals. They are listed on the OTC in the US (ticker OTCPK:NGELY) which makes it a little easier for US investors to invest although trading is quite illiquid with rather large spreads (so if you really do want a position, accumulate over time). There have been a number of unsollicited appraches and the company has appointed RBC Capital to explore these.
And there could certainly be interesting stuff down in the ground:
It has built a suite of onshore petroleum prospecting licenses (PPLs) covering more than 50,000 square kilometres which contain an enviable exploratory inventory of six prospects and 101 leads. The six prospects already contain contingent prospective resources (Pmean) in excess of 600 million barrels, while the top 10 leads have an additional 1.8 billion barrels. To date, a billion barrels of oil and 15 trillion cubic feet of gas reserves have been discovered in adjacent licenses.
We'll have to see about this. An independent third party has been contracted to review all of NGE's leads and prospects which include the possible source of the Panakawa oil seeps in the southeast of PPL 267 to the southeast of Western province. Here's a short overview of where that can be: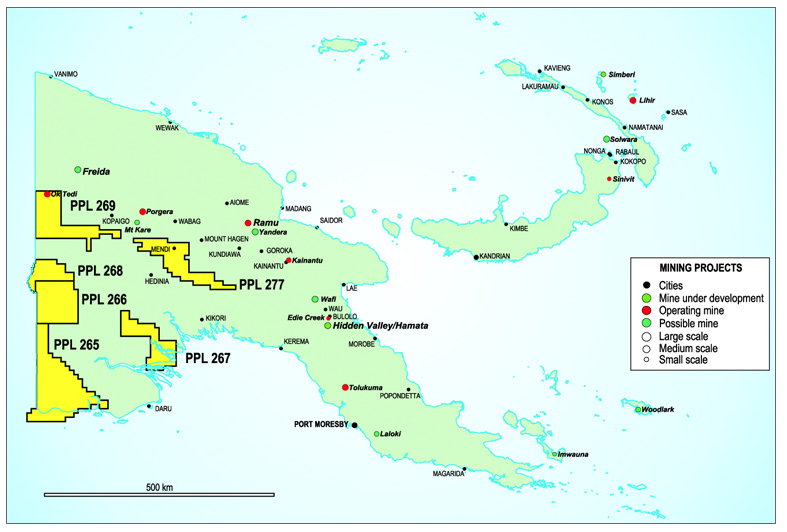 The recent renewals of PPLs 268 and 269 from the Department of Petroleum and Energy also provide more optimism its PPLs 267 and 266 renewals are not far off. We'll have a closer look at PPL 269, which has 5 prospects and 30+ leads and it's predominantly a gas play. The main prospects are:
Tarim-2, with estimates (P50) 97Bcf and 148Bcf and 41MMSTB (million stock barrels) of oil
Sepalosiphon, with 336Bcf of undiscovered wet gas
Thelasis, with 265Bcf of undiscovered wet gas initially in place
Thelymitra, with 292Bcf of undiscovered wet gas initially in place
Ridlegella, with 300Bcf of undiscovered wet gas initially in place
It has a farm-in agreement with a subsidiary of Talisman Energy, which has bee renewed in October (both for PPL 268 and 269).
There is a good deal of adjacent activity and finds, like the Pnyang appraisal well from Exxon/OilSearch in adjacent PRL3. The latter hope to find 2Tcf there, and CEO Worner speculated what a success could mean for NGE:
What that does is open up the PNG LNG play way through to the Western Province. Because if Oil Search are talking about connecting P'nyang through to PNG LNG – which suddenly opens up any discovery for us – it potentially allows us to connect into train 3 of PNG LNG.
There are also the Elevala and Ketu appraisal wells to be drilled in the first half of this year by Horizon and Elevala Energy. (Talisman will be using the Horizon rig on the Sepalosiphon prospect, in fact).
But it's also where they had a major disappointment which caused the stock price to decline from 15 to 5 cents in September, as the Siphon-1 well didn't flow at commercial rates. New seismics will be produced in the first half of 2012 to identify new drilling location to be drilled in 2013.
New Rig
NGE's half-owned subsidiary Western Drilling Limited expects to take delivery of its ordered OIME SL 7 1000 helicopter rig by around mid-December. With the right customization, the mechanically-powered rig is expected to be an extremely cost-effective option for drilling in the Western Province, where at least 12 wells are expected to be drilled over the next three years.
What will happen next?
Well, the next half year or so will be mainly about seismics, in PPL 265 (94Km), 64km in PPL 266, 58km, but who knows what those unsolicited approaches might lead to. New drilling activities by companies surrounding the licenses can get some way in de-risking some of the NGE prospects. For instance:
OilSearch will drill an appraisal well in PRL3, which is immediately north of PPL 269. If the well is successful, it will justify the connection to the Exxon/OilSearch (technically the PNG LNG) infrastructure and will provide another opportunity for NGE to monetize its gas (besides Talisman's gas aggregation strategy)
Two more appraisal wells will be drilled in PRL21 (Horizon has 45%, Talisman 35% and Kina 20%). This is situated between PPL 268 and PPL 269
Trapia, a well in PRL11 by Exxon/OilSearch, located just east of PPL 277. If successful, it will significantly de-risk the PPL 277 license. The well location is just a kilometer from PPL 277
We're inclined to say that for the $40M market cap, one gets rather a lot of acreage with plenty of opportunities.
Eaglewood Energy
This is a very small company (market capitalization is just $17M Canadian dollars, so you have to be very careful with this one), with 87M shares outstanding (and 12M more, fully diluted). It has five licenses with a total of some 14,000 sq km. All in all, Eaglewood has one discovery, four prospects and 16 leads and over 100Bcf in place (p17 here)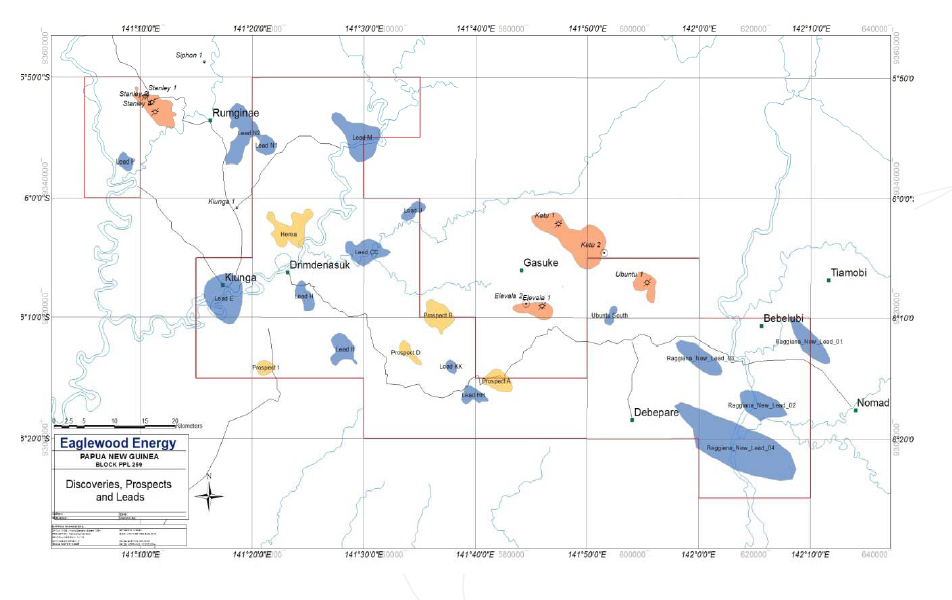 The Licenses
PRL 28: they are 40% owner (and operator) with Talisman having 50% and P3GE 10%. This was originally part of PPL 259, the PRL license was awarded at the end of November last year after the Ubuntu-1 gas and condensate discovery. Gaffney Cline argues there is 113.8 Bcf of original gas in place and considerable condensates (51bbls/MMcf). The well has yet to be flow tested though.
PPL 257 is the Cape Vogel Basin, an offshore license. Although no wells have been drilled yet, seismics show multi-Tcf prospect sizes (p22 here) and farm-out negotiations are ongoing.
PPL 258 sits on the North side of PNG with several prospects in 2.2 million acres. According to a 2010 report from Fekete (p23 here), there is 685MMbbl of P2 resource (oil). Eaglewood is waiting for license extensions (it has already received license extensions for PPL 260, PPL 257 and PPL 259 at the end of last year with extensions lasting the usual five years).
PPL 259: here is where the Herea-1 well will be drilled in the second half of this year (after completion of seismics) although the company doesn't have enough funds to to this on their own so they have to find a partner for this. There is also considerable activity in adjacent parts, with the Siphon well and the Stanley wells (PRL 4) next door.
The latter have just been upgraded to half a Tcf, which increases the potential for PPL 259 with infrastructure next door coming for the condensate stripping. There are a number of other leads in PPL 259 of interest, like Ekelesia, Nama, and Malisa.
PPL 260: OilSearch is the operator and 50% holder (with two 20% stakes for ExxonMobile and Nippon Oil, Eaglewood only has a 10% stake after selling a 20% stake to ExxonMobil for around $7M.
Kina Petroleum
Only active since 2009 but the 100% holder of four PPL's (337, 338, 339, 340) and 15%% of PRL 21 for a total of 21,627 km2. The company is looking to raise up to AUD$12.5M, and undertake a listing of its shares on ASX/PoMSoX. The PRL contains two wet gas discoveries with P50 resource of 480 BCF gas and 25 MMbbl condensate. The other holders are Horizon (45%) and Talisman (40%, after recently buying a 5% stake from Kina). Oil Search has entered into farm-in arrangements for PPL's 338 and 339 to undertake and fund seismic surveys and to drill 2 wells.
Since one cannot trade the shares (yet), we will not discuss these further. It might be one to keep one's eyes on, though; if they go public they will raise capital that could go some way into executing part of the exploration, and their license area really is quite interesting, there can be little doubt about that.
LNG Energy
Another small explorer, but at least this one is listed already in Canada. Not only active in PNG, but also in Europe where they're pursuing shale gas in Poland and Bulgaria. They actually have reserves (proved and probable 14,512MBOE, 3,232MBOE net to LNG Energy) in properties in the US (here is the reserve report).
Their stock has taken a bit of a beating last year, falling from a high of 70 cents to 16 lately. It only shows the risks involved in these small plays. There are 359M shares outstanding (fully diluted), giving them a market cap of $57M, while they had $20M in cash and no debt at the end of Q3 last year. They have 5 licenses in PNG, good for 5.8M acres. These licenses are PPL 319, 320, 321, 322 and PRL 13, all of which are 100% owned by LNG Energy.
We have to say, this is a large position for a company with such a small market cap, even without the US reserves and European shale gas properties. These reserves make this play quite a bit less risky than the other two, and there is certainly enough possible upside to warrant a small position after the sell-off.
These licenses have acquired airborne magnetic and gravity data showing several prospects, especially in PPL 319 (adjacent to InterOil's Elk/Antelope and sharing a structure with their license).
Disclosure: I am long IOC.