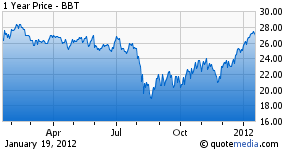 Going into the credit crisis, BB&T (NYSE:BBT) had the record and reputation of one of the best banks in the country. Through the credit crisis BB&T proved that its underwriting was sound and that it didn't need assistance to stay in business (and in fact was able to do a sizable FDIC-assisted deal). Post-crisis, though, it seems like a lot of banking analysts have collective amnesia and seem to think that BB&T isn't the bank that it used to be. Perhaps a solid end to 2011 and healthy guidance will start to move attitudes back.
Good Numbers To End The Year
There have been varying degrees of "clean" earnings from large banks like Wells Fargo (NYSE:WFC), PNC (NYSE:PNC), and U.S. Bancorp (NYSE:USB) this reporting season, and BB&T comes in somewhere near the middle. Reported earnings of $0.55 were better than the average guess from analysts, and the adjusted earnings of $0.61 were even better. Those adjustments consist primarily of reversing out a $0.09 gain on securities and a $0.19 valuation adjustment on foreclosed real estate. BB&T's earnings included a reserve release of $0.11 - definitely large relative to the reported earnings.
Core results looked quite healthy. Operating revenue rose 3% sequentially and beat estimates by about $150 million. BB&T's net interest margin decline was as expected (down 7bp), but the reported NIM of 4.02% holds up very well next to other super-regionals like U.S. Bancorp (3.6%), PNC (3.86%), Wells Fargo (3.89%) and M&T Bank (NYSE:MTB) (3.73%). It should be noted that BB&T has long had top-notch net interest margins, but that these are inflated by purchase accounting adjustments that will roll off.
BB&T also reported better-than-expected fee income, with 4% sequential growth and good results from mortgage banking and insurance. Expenses were up just 1% sequentially, one of the best results thus far, and pre-provision profits were up 5% sequentially.
The Loan Book Is Expanding
BB&T is also looking good on credit quality and loan growth. The non-performing asset ratio dropped 58 basis points (to 2.37%) and it looks as though BB&T's aggressive NPA disposal strategy is paying off. Net charge-offs dropped 2bp (to 1.46%) and provisions were on the lower end of the range.
BB&T has also been actively boosting lending. Period-end loans (ex-covered) rose 3% sequentially with good growth in both commercial and residential lending. Plenty of banks [M&T, U.S. Bancorp, Wells Fargo] have seen improving commercial lending, but BB&T's residential lending growth is a nice surprise.
Will Perceptions Change?
Although BB&T dealt very aggressively to recognize, write-down, and move bad debt off the books and made two savvy deals [Colonial and BankAtlantic (NYSE:BKU)], this is not a well-loved bank. The question is how much of that is based on sound reasoning.
For instance, BB&T often gets criticized for a heavy exposure to commercial lending, but it's not actually that heavy. BB&T's C&I lending is similar to that of PNC and Fifth Third (NASDAQ:FITB) and generally lower than Comerica (NYSE:CMA). Likewise, its commercial real estate lending is not much above the average and pales next to M&T Bank or Zions (NASDAQ:ZION).
While it's true that BB&T's net interest margin is overstated right now (purchase accounting accretion), it's still no worse than average on an adjusted basis and the bank's cost of funds are low. Moreover, it seems a little ironic that BB&T was punished for reporting low earnings and returns because of aggressively writing off bad debt, while banks like Citigroup (NYSE:C) and Bank of America continue to sag under the weight of bad debt still on the books.
A Solid Outlook For 2012 And Beyond
BB&T management has made it clear that they would like to do more deals and have a targeted sweet-spot of $3 billion to $15 billion in assets. That makes a company like First Horizon (NYSE:FHN) or Synovus (NYSE:SNV) unlikely to be a target (too big), but there are dozens of banks in BB&T's targeted geographies that fit the bill - even if BankUnited (a supposed BB&T target) took itself off the block.
Looking ahead, BB&T is seeing strengthening lending activity, an improving insurance industry, and improving credit quality. Giving BB&T the same 14% return on equity target in an excess return model as Wells Fargo, the two banks seem almost equally-undervalued, with PNC being slightly cheaper and U.S. Bancorp looking substantially cheaper but with a higher ROE expectation. With BB&T undervalued and under-loved, investors may look forward to not only improving fundamentals, but improving perceptions as well.
Disclosure: I am long (BBT).