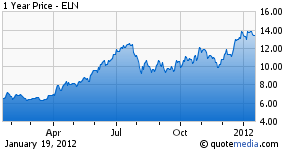 Elan (NYSE:ELN) was granted FDA approval of Tysabri for Multiple Sclerosis in November 2004. It was great news for the firm and its shareholders, as it was no secret that the drug was a breakthrough expected to become bestseller in a huge market. The celebration of the great achievement was of short duration. Three patients developed PML (progressive multifocal leukoencephalopathy), two of them died. It was Biogen Idec, Elan's partner on Tysabri, not the FDA, which decided to withdraw the drug from the market. The FDA was aware that the reward from such a great drug outweighs the risk, which is a rare complication that would occur with any drug that compromises the immune system and there are many on the market. Bottom line, Tysabri was reinstated on the market on condition that the patients take part in a risk-minimization program with mandatory patient registration and regular follow-up.
Since the drug returned, the media did not stop frightening patients from the drug and investors from betting on Elan. With each and every announced case of PML, negative speculators rushed to bring back the story of the drug withdrawal and the two people who died, insinuating that the FDA would sooner or later withdraw the drug from the market. These efforts paralyzed the stock, the drug sales and the company.
Reality was different, though. Tysabri's efficacy was undeniable fact. An increasing number of neurologists began to prescribe the drug, especially to patients whose M.S. symptoms would not respond to existing treatments. Although PML cases surfaced overtime, they were rare and physicians improved the PML statistics further by giving the drug only to patients who are not taking immune suppressing drugs, which are known to increase the risk of developing the adverse effect. Moreover, becoming more familiar with PML, specialists found their way into managing it. The majority of PML patients survived, making the infection life threatening but not a definite killer as the speculators insisted on calling it. Contrary to negative prophesies, Tysabri's sales continued to grow, not diminish.
At that time, the good news wouldn't change investors' poor assessment to the firm. The increase in revenues from Tysabri's sales was a drop of water in the sea of Elan's real accumulating financial problems. These problems did not emanate from PML, but from the firm's management. What surfaced in the financial results was a financial disaster – skyrocketed spending, causing a huge debt, which paralyzed the firm's activities. The financial catastrophe had also prevented the brilliant scientists from going forward with their achievements. In July 2008, ELN plummeted from $33 to less than $10 following the announcement of the disastrous financial report.
During 2009, ELN price continued to slide, ranging between $5.50 and $7.80 with an average price of $6.50. In July 2010, ELN bottomed. The stock traded under $5 and continued the year oscillating between $4.70 and $5.70, while briefly reaching, or crossing $6 by a few pennies. Even the most loyal Elan shareholders joined the club of skeptics, believing that Elan is on its way into bankruptcy.
Good news in the beginning of the year was the announcement that the FDA approved Acorda's (NASDAQ:ACOR) drug Ampyra (dalfampridine) Extended Release Tablets to improve walking in patients with MS, using one of Elan's Oral Controlled Release Technologies, the MXDAS (MatriX Drug Absorption System) technology. Elan's Drug Technologies was chosen to manufacture the drug.
In 2011, the stock demonstrated strength, beginning in April and continued to move up, not bowing to any negative speculations since it announced its revenues have begun to climb beyond market's expectations. The stock ended the year trading around $13.70, i.e., more than doubling in price from 2010 and almost tripling since it bottomed in 2009. Negative speculation about Tysabri and the reforming decisions made by the management began to lose effect, almost fade in most investors' minds. Tysabri's sales, which account for most of the firm's revenues, have steadily grown and the decisions made by new management toward reform were clearly paying off.
The year 2011 was the year Elan executed plans that would move its technologies and products forward, while lowering expenses. In February 2011, Elan signed an agreement with Boehringer Ingelheim in which Boehringer will perform the technical development, clinical manufacturing and all related regulatory filing support services for antibodies discovered by Elan. Elan will lead the discovery science, preclinical activities, clinical development and commercialization of such antibodies. In May, 2011, Elan Drug Technologies (EDT) merged with Alkermes to Create Alkermes plc. This firm will help many pharmaceutical and biotech companies develop better products. Prior to this agreement, Elan's EDT unit had announced that Xeplion, Janssen-Cilag International NV's long-acting injectable drug for schizophrenia, was the first approved injectable product using its NanoCrystal technology.
What About Now?
In a day, or two, investors will probably hear favorable news about approval of adding Tysabri's anti-JC antibody to the drug's insert. The test is expected to help stratify the risk of progressive PML. It is fair to state that Tysabri's prescriptions will mount, as many doctors will be more encouraged to give their patients the best existing drug for this disease. We should also expect sales of Tysabri to increase for Crohn's disease, an indication that is FDA approved. We also believe that Tysabri would be considered for other immunological diseases where the drug is expected to be more efficacious than the conventional drugs.
We expect Janssen Alzheimer Immunotherapy, a Johnson & Johnson (NYSE:JNJ) affiliate (Elan has 49% partnership) to announce clinical trial results of bapinuzumab, which was produced by Elan for Alzheimer disease.
As money talks, we expect an increase in the activity of Elan's scientists. These activities will pour energy into the firm's programs. Scientists will intensify their efforts in pursuing separate therapeutic approaches for Alzheimer's disease, which aim at disrupting three distinct aspects of the beta amyloid cascade: Clearing existing beta amyloid from the brain. This work will be done from within Janssen Alzheimer Immunotherapy. Preventing aggregation of beta amyloid in the brain in collaboration with Transition Therapeutics and Preventing the production of beta amyloid in the brain using secretase inhibitors.
Finally, we expect Elan's pipeline of immunological and neurological products to move forward in faster pace in preclinical and clinical trials.
We believe Elan is now on the right track.
Disclosure: Long Elan.