With the S&P 500 garnering 4.6% in less than three weeks, are money managers becoming skittish? If hundreds of millions flowing out of a few select ETFs is any indication, then the answer is "yes."
On 1/19/2012, institutional advisers used their block accounts to dump roughly $120 million of iShares Russell Top 200 Growth (NYSEARCA:IWY) and $80 million of iShares Russell Top 200 Value (NYSEARCA:IWX). In a single trading session, IWY shed one-quarter of its total net assets under management. Similarly, IWX lost more than one-half of the assets in its coffers.
Granted, the moves may be more indicative of dissatisfaction with these particular exchange-traded vehicles. After all, similar outflows did not appear in the Russell 1000 Large Growth Fund (NYSEARCA:IWF) or the iShares Russell 1000 Large Value Fund (NYSEARCA:IWD).
On the flip side, consider the Relative Strength Index (RSI) for each of four large company ETFs mentioned. For example, in the chart of Russell 1000 Large Growth Fund (IWF) below, RSI hit the "70″ level three previous times in 2011 - February, May and July. In all three instances, IWF either pulled back significantly or sold off dramatically.
Click to enlarge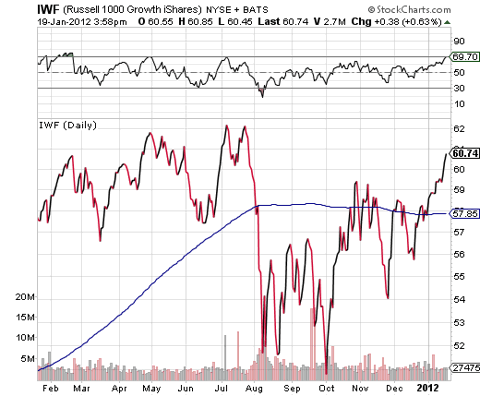 Here in the very first month of 2012, IWF has hit "70″ once more. Wouldn't some profit-taking traders be tempted to cash in their six week gains of 10%-plus? Keep in mind, the pattern for iShares Russell Top 200 Growth (IWY) is eerily similar to the Russell 1000 Large Growth Fund (IWF). The pattern is also similar between the iShares Russell Top 200 Value (IWX) and iShares Russell 1000 Large Value Fund (IWD).
Click to enlarge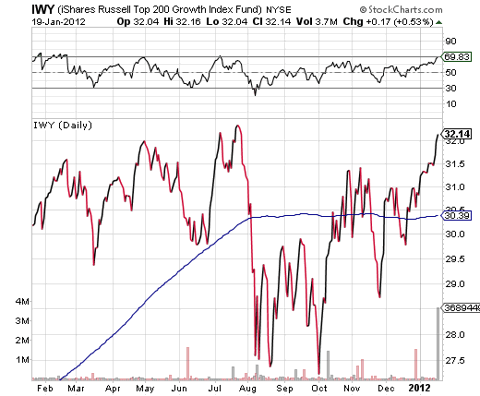 I'm not suggesting that investors sell every last equity holding. However, I would advise investors to be very cautious on putting new money to work. It makes sense to wait for a bit of a pullback.
Earnings may beat expectations, China may loosen monetary policy, investors may chase returns and European bond auctions may continue to proceed smoothly. Nevertheless, the slightest excuse for investors to lock in some profits may come with the smallest bump in the road. What if the ECB hesitates on cutting short-term rates or if it chooses to forgo quantitative easing? What if the pending Greek default is not "orderly?"
Indeed, some institutional block traders may be deciding to "lock in" their gains now. By way of an additional example, outflows exceeded $72 million today (1/19) on the SPDR MSCI ACWI ex-US Fund (NYSEARCA:CWI). On the surface, the dollar amount may not sound like much. However, under the hood, the outflow represented 13% of the total assets that CWI had under management.
Obviously, ETF outflows are not the end-all on future trends. Sometimes, one or two big advisers may be making whole-scale changes for rebalancing or for jettisoning less liquid ETFs in their portfolios.
Nevertheless, it makes sense to keep an eye on the RSI trends. In May and November of last year, when SPDR MSCI ACWI ex-US hit the "70″ level, it sold off shortly thereafter. CWI is not far from that RSI level right now.
Click to enlarge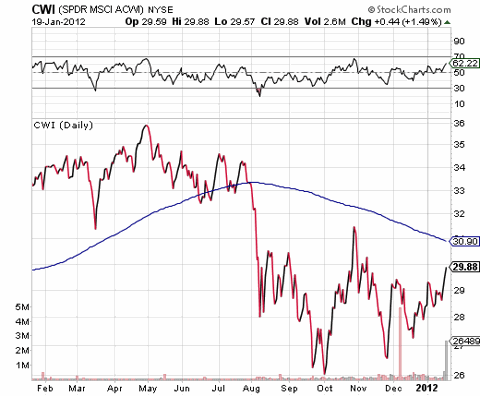 Disclosure: Gary Gordon, MS, CFP is the president of Pacific Park Financial, Inc., a Registered Investment Adviser with the SEC. Gary Gordon, Pacific Park Financial, Inc, and/or its clients may hold positions in the ETFs, mutual funds, and/or any investment asset mentioned above. The commentary does not constitute individualized investment advice. The opinions offered herein are not personalized recommendations to buy, sell or hold securities. At times, issuers of exchange-traded products compensate Pacific Park Financial, Inc. or its subsidiaries for advertising at the ETF Expert web site. ETF Expert content is created independently of any advertising relationships.