The following is an economic analysis of Main Street by analyzing the transportation systems that bring imports into the U.S. as well as exports abroad. When transportation is doing well then the economy on Main Street in most cases is also doing well. When it is not then we have an early warning indicator of the economy and thus can prepare for a downturn ahead of time by going to cash.
This week a website I follow, Pragmatic Capitalist, published this chart:
(Click charts to expand)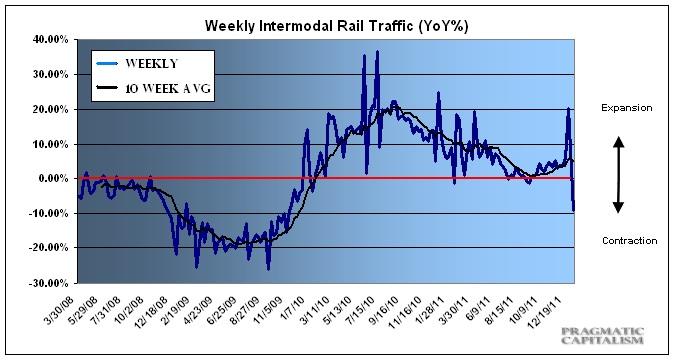 From that chart you can see that the month of January 2012 has just been a terrible month for rail traffic. Then again this could just be a one-month event, therefore before coming to any conclusions I definitely need more data. Railcars are the way most imports and exports travel over land, but how does it get to the land in the first place? The answer is ocean transport, so we need to investigate how that form of transport is doing . The way I measure it is by using the Baltic Dry Index and for that I use a website called Investment Tools to get my data. Here is the latest chart of the Baltic Dry Index from their website: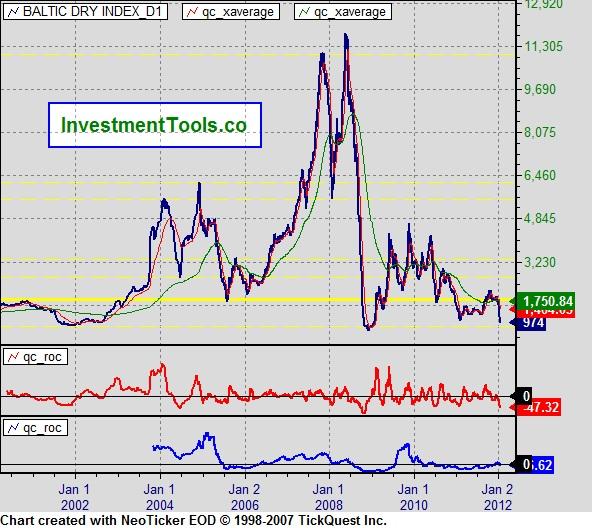 As you can see from the chart above this index is near a 12-year low and is right at where it was at the bottom of the crash in 2009. It might be making a bottom or it might just be ready to break new lows. I would predict the latter happening over the former as times are tough here in the U.S. and are really bad in Europe.
What these two charts are telling us is that imports and exports are slowing down dramatically and when that happens Main Street suffers. Wall Street may ignore these facts and continue to go up, but eventually this obvious slowdown in traffic means that earnings of companies will someday reflect this fact. Most of this slowdown in both rail and ocean transport can be attributed to China's economy slowing down. So why is China experiencing this phenomenon? The main reason is that both Europe and the United States are in deep recessions and since China is an export-driven economy, its two main customers are not importing as many goods and thus China's need to export is also down. At the same time China does not need to import as many raw materials. This causes the U.S. and Europe to transport less. So it's a double-edged sword as all players are dependant on one another to succeed and what is happing with transports does not paint a pretty picture.
Because of the problems that retailers are experiencing, they have curtailed their orders from China. How do I know that retailers are having problems? Just look at the chart of what happened to Sears Holdings (NASDAQ:SHLD) when it reported a large drop in sales.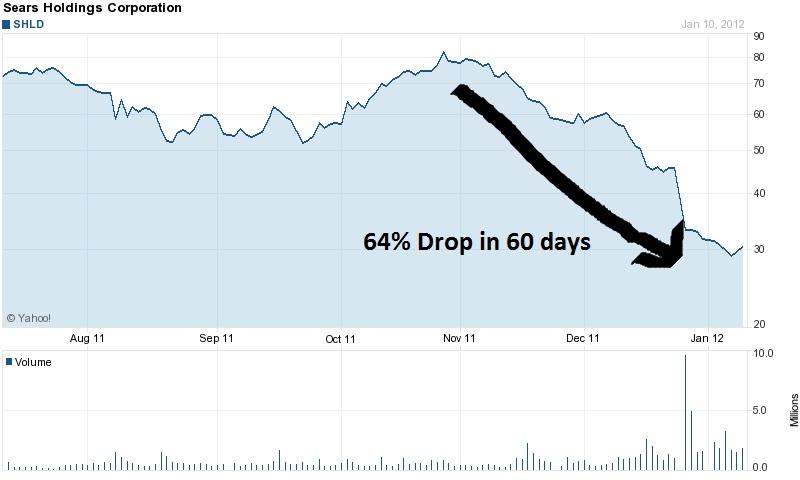 Companies like Best Buy (NYSE:BBY) and Urban Outfitters (NASDAQ:URBN) have also reported dismal results for the Christmas season, which suggests that this is more of an industry wide problem instead of an isolated event.
Though Wall Street has punished these retailers it is still in complete denial that we are in a deep recession as is witnessed by the price movement of a stock I use as a rail transport indicator called American Railcar Industries (NASDAQ:ARII), Inc.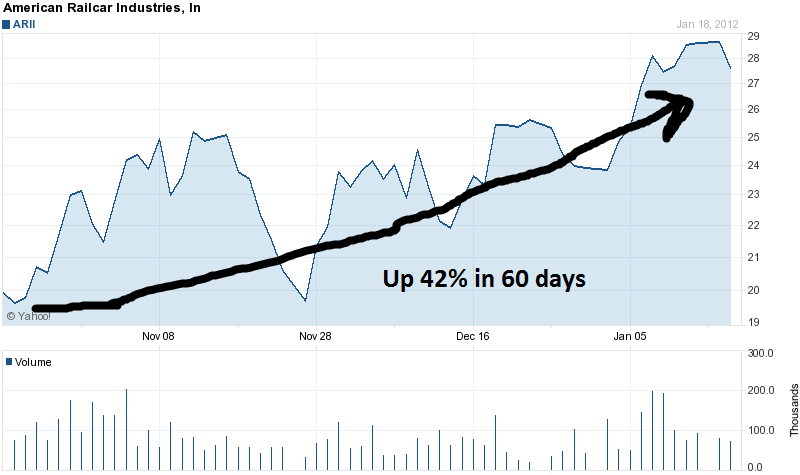 The Company designs and manufactures covered hopper and tank railcars, primarily for the North American railcar and industrial markets. It operates in two reportable segments: manufacturing operations and railcar services. Manufacturing operations consist of railcar manufacturing and railcar and industrial component manufacturing. Railcar services consists of railcar repair, refurbishment, and fleet management services. The company also supports the railcar industry through maintenance, consulting and engineering. Its primary customers include companies that purchase railcars for lease by third parties, or leasing companies, industrial companies and those that use railcars for freight transport, or shippers and Class I railroad.
Therefore when traffic is heavy in the railroad freight business, railcars get used more often and thus they tend to wear and tear more often or just break down 100% and get scrapped and replaced by new ones. So American Railcar is a perfect indicator of the inner workings of the industry, because when traffic is booming it is busy.
I have a system I use in my research that allows me to look under the hood of businesses and see how they are doing on Main Street. The system that I designed is based on the ratio that Mr. Warren Buffett released to the public in 1986, which he coined "Owner Earnings."
In analyzing American Railcar using my system I came up with the following results:

I like to buy companies with a CapFlow less than 50%, a FROIC greater than 15% and a price-to-owner earnings of less than 15. So as you can see American Railcar is a company that is not doing well at all. But as you saw from the chart above that Wall Street just loves its stock. So railcar traffic has plummeted and American Railcar stock has gone up 42% in some 60 days?
Just like homebuilders overproduced homes in 2006, shipbuilders have also overproduced ships and still have a ton of ships coming online every day. China has slowed both imports and exports and has forced shipping rates to where they are at the same level that they were at the bottom of the crash in 2009. Therefore it does not take a rocket scientist to figure out that if our two methods of transportation are suffering massive slowdowns, that it is because the economy is slowing dramatically on Main Street. Thus in my opinion the smart move is to be in a large position of cash and wait for things to play themselves out.

Disclosure: I have no positions in any stocks mentioned, and no plans to initiate any positions within the next 72 hours.
Disclaimer: Please note, investments involve risk and unless otherwise stated, are not guaranteed. Past performance cannot be used as an indicator to determine future results. Strategies mentioned may not be suitable for everyone. The information contained in this article represents the opinions of Peter "Mycroft" Psaras, and should not be construed as personalized investment advice. Before acting on any information mentioned, it is recommended to seek advice from a qualified tax or investment adviser to determine whether it is suitable for your specific situation