LG Electronics (OTC:LGEAF) and Verizon (NYSE:VZ) released a $120 Windows 8.1 smartphone. However, I think LG and Microsoft (NASDAQ:MSFT) are both better off if they do not cannibalize U.S. sales of each other's low-entry, no-contract Windows smartphones.
According to JeeQ Data, Microsoft's Lumia 521, Lumia 520, and Lumia 635 phones are the top-selling no-contract phones at Amazon (NASDAQ:AMZN). The technical specs of the LG Lancet convinced me that is just an updated version of the old Nokia Lumia 521.
Microsoft is now selling the Lumia 521 via AT&T Gophone branding for around $46.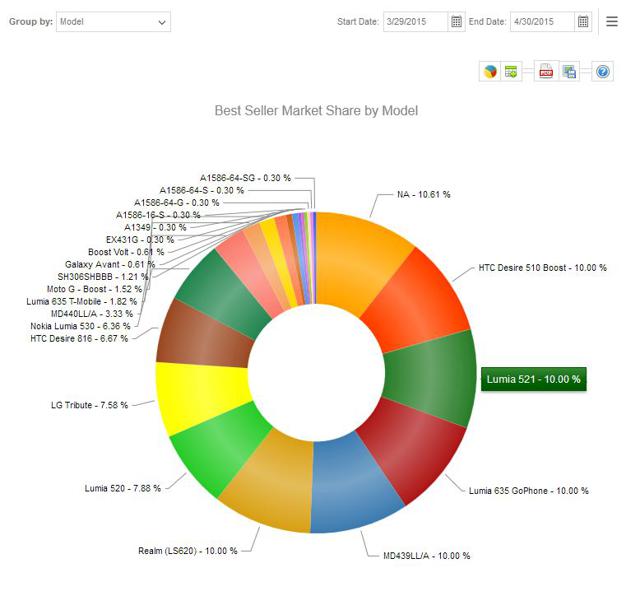 (Source: JeeQ Data)
The LG Lancet may not fare well in the U.S. due to Microsoft's low pricing strategy for its entry-level Lumia phones. I opine that LG Electronics should also release a Windows smartphone with price tag above $250. ASUSTeK (OTC:ASUUY) is bringing the premium-level, unlocked Asus ZenFone 2 Android phone to the U.S. for just $299.
The new flagship LG G4 Android phone may not fare well in the U.S. once wireless carriers start supporting the much cheaper Asus ZenFone 2.
LG Electronics could offset the threat of the ZenFone 2 by also releasing a no-contract/unlocked $299 Windows 10 smartphone. The universal advantage of a Windows 10 smartphone that can be used as a mini computer is very appealing.
The ZenFone 2, being an Android device, cannot compete with the Continuum feature of a future LG Windows 10 smartphone.
Why It Matters
Winning back the support of LG Electronics is a very important catalyst for Microsoft's mobile strategy. LG is the world's fourth-biggest vendor of smartphones. As per TrendForce's most recent quarterly report, LG touts a 6% share of the 291.2 million smartphones that got shipped out in 1Q 2015.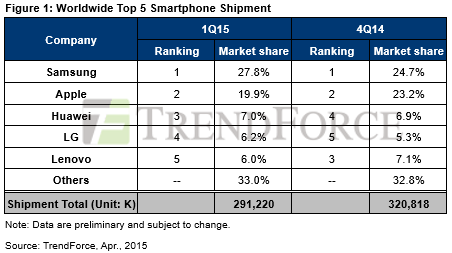 The $120 Lancet from Verizon is LG's first Windows 8.1 phone since it announced that it would stop making Windows Phones in 2012. The LG Lancet has the same 4.5-inch display and quad-core Snapdragon 400 processor of the excellent Lumia 635 handset from Microsoft.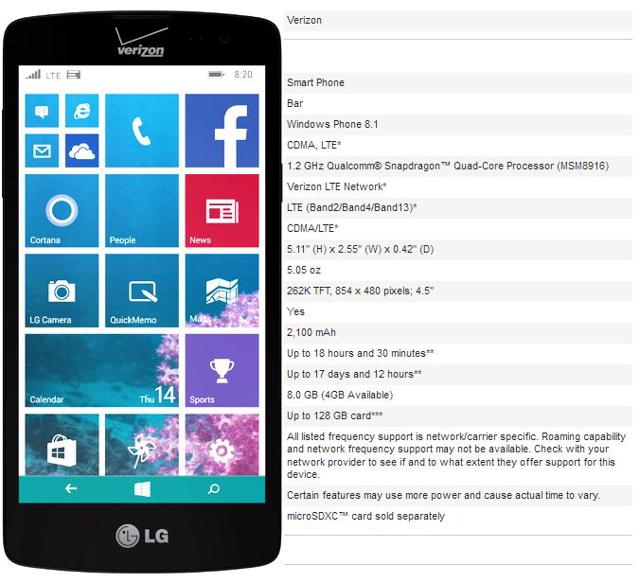 (Source: LG Electronics)
LG also made a great Windows Phone 7 smartphone in 2010. Unfortunately, LG discontinued the Optimus 7 in favor of the Android OS platform.
Now that the Android phone business is on a severe race-to-the-bottom pricing war, LG Electronics is trying to branch out again to Windows mobile devices. But like I said earlier, LG should avoid competing with entry-level Lumia phones. Microsoft generates billions of dollars in Android licensing fees, it can easily afford to subsidize Lumia hardware.
LG should try to target the $250-$400 price range of the ZenFone 2 and OnePlus One. I believe that a $300 Windows 10 smartphone is a better buy than a $300 Android 5.1 phone. Corporate IT managers could buy $300 LG-made Windows 10 smartphones in bulk as a cost-efficient way to upgrade their old Windows 7/Windows XP office computers.
LG's global brand is now more popular than Lumia. As per TrendForce's data, LG sold around 18 million smartphones in 1Q 2015. Microsoft's last quarterly earnings report revealed it only sold 8.6 million Lumia smartphones.
Microsoft's new freemium approach to mobile will greatly benefit if LG starts selling higher-priced Windows phones to postpaid and prepaid subscribers of tier-1 wireless carriers like Verizon.
Conclusion
LG has consistently sold more than 10 million smartphones in every quarter since 1Q 2011. Microsoft should do its best to inspire LG to also issue a Windows 10 version of its LG G4 Android phone. A new mid-range $300 LG Optimus 8 Windows 8.1 phone is also a shrewd tactic against the $299 ZenFone 2.
The freemium approach of Microsoft toward increasing its hardware sales should not be limited to $120 LG Lancet and $129 Lumia 640 handsets. The better approach is a balanced focus on entry-level and mid-range/high-end handsets. Microsoft should concentrate on entry-level handsets. Its more popular OEM partners should focus more on mid-range/high-end Windows phones.
Lenovo (OTCPK:LNVGY), the world's fifth-biggest smartphone vendor, will also launch a carrier-supported new Windows smartphone in China this year. Lenovo and LG Electronics are two giants that sell more phones than HTC (OTC:HTCXF). Verizon is still selling the $500 Windows 8.1 HTC M8 One. However, LG is now more popular than HTC even in the U.S.
Lenovo can also leverage the popularity of its Motorola brand to sell mid-range Windows smartphones in America.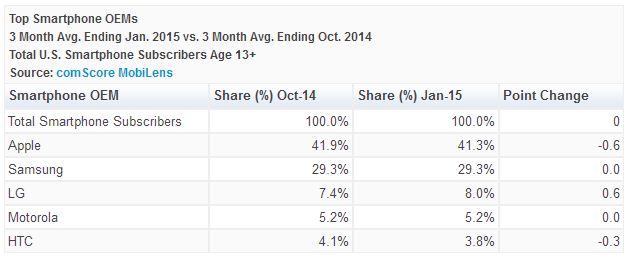 MSFT remains a compelling Buy for long-term investors. More and more top OEMs are backing the Windows phone platform. Microsoft is already subsidizing Windows 8.1 tablets from white-box manufacturers in China. It won't be long before white-box and tier-1 OEMs like Acer (OTC:ASIYF), Huawei, and Sony (NYSE:SNE) start making Windows smartphones.
Huawei is now the biggest smartphone player in China. I assume that Huawei will also try to offer Windows phones to keep its lead over Lenovo in China. The Continuum for Phone feature makes Windows 10 smartphones very useful to Chinese government and private employees.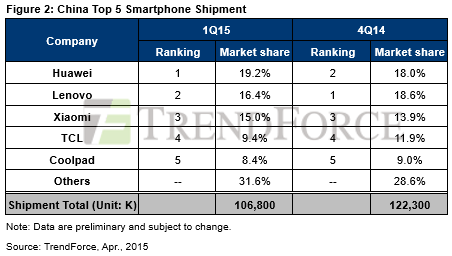 Sony until now is still losing money from its Xperia Android phone division. It is about time that Sony also tries the Windows platform for a change.
Disclosure: The author is long MSFT.
The author wrote this article themselves, and it expresses their own opinions. The author is not receiving compensation for it (other than from Seeking Alpha). The author has no business relationship with any company whose stock is mentioned in this article.
Editor's Note: This article discusses one or more securities that do not trade on a major U.S. exchange. Please be aware of the risks associated with these stocks.