Many of the people investing or trading in Steel stocks don't know a fact that's quite incredible about the steel market. It has to do with China.
It's not really about how China is the largest producer of steel in the world. That, most people would probably guess. It's about the scale of it. About how much larger China is, compared with every other producer out there. China answers for 46% of the world's crude steel production. That is more than the European Union, plus the U.S., plus C.I.S. (former U.R.S.S.) plus Japan all put together (source: World Steel Association). China's production is also 5.8 times higher than in the U.S.
The reason China controls such a large portion of steel production, besides it being a huge industrial center, is also connected to China's huge economic growth relying greatly on investment, with 50% of China's GDP being fixed capital investment, compared with around 20% in developed economies.
Here is the risk. China is slowing down, and any slowdown in investment will surely take a hit to steel demand. Take for instance automobile production, one of the largest consumers of steel … already down 6.5% year-on-year. This is going to mean a deluge of steel, both internally in China and toward the export markets.
(Click chart to expand)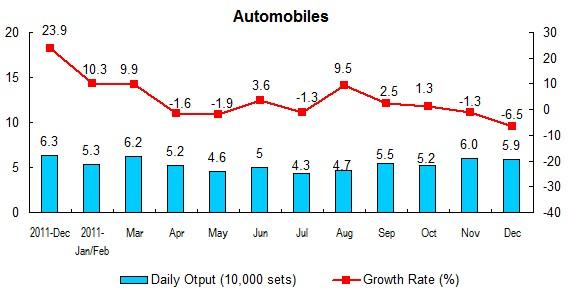 This is the reason the steel sector has been so punished, with stocks such as United States Steel X, AK Steel Holding Corporation Co AKS and Arcelor Mittal MT down huge over 2011. Nucor NUE has held up better, and is usually seen as the most efficient player, but is probably vulnerable to the same dynamics as well - while carrying a higher valuation than the others.
Estimates for 2012 still unrealistic
When checking these stocks, the first thing you'll notice about them is the seemingly reasonable forward P/Es. X trades at a forward P/E of 11.6, AKS at 10.9, MT at 9.2 and NUE at 14.1.
These, however, are misleading. They are misleading because they imply a huge recovery in steel sector prices for 2012. The steel implosion in China is only now starting, making such recovery highly unlikely.
Conclusion
Much like with freight, where overcapacity made it probable that several international players will go bankrupt, so too the steel sector will undergo the same treatment. This means that in time, most of the quoted players will be showing losses instead of profits (barring some huge protectionist move). It also means that some of them might go bankrupt.
Given where these stocks stand today, we're clearly not discounting this scenario yet, so care must be taken when trading these stocks from the long side, especially when the market turns positive.
There's a lot of incentive to try to go long former market darlings, which these stocks clearly were back in 2008, but a look at the dry ship sector can clearly show what's in store.
Disclosure: I have no positions in any stocks mentioned, and no plans to initiate any positions within the next 72 hours.