Most of us know that in football and other sports, the better teams have exceptional defenses that contribute mightily to their success. Do the same defensive portfolio attributes carry over to our investment results? During 2011, the market as defined by the S&P 500 (NYSEARCA:SPY) peaked at about 1364 on April 29, 2011. It bottomed at about 1099 at the beginning of October. Let's examine how some defensive sector ETFs held up during this time period filled with turmoil, which included a U.S. credit downgrade and worries of the on going European Debt crisis. We use the Spyder SPY as our S&P 500 market benchmark and compare performance with a mix of defensive ETFs. Some funds chosen for this comparison are popular and well known, some are relatively new, and I include a few lesser-known choices. They are all traditionally pure play defensive in nature or have holdings that are a mixed combination of those defensive sectors. We include the following ETFs in our analysis; Utility SPDR (NYSEARCA:XLU), Healthcare SPDR (NYSEARCA:XLV) ,another SPDR, Consumer Staples (NYSEARCA:XLP), the Guggenheim Defensive Equity ETF (NYSEARCA:DEF), a recent offering from the new popular low volatility funds, namely the Powershares S&P 500 Low Volatility Portfolio ETF, and finally two dividend ETFs. These dividends ETFs are generally held by conservative investors and typically contain many stable company holdings. We chose the very popular (NYSEARCA:DVY) iShares Dow Jones Select Dividend Index Fund and WisdomTrees' (NYSEARCA:DTN) Dividend Ex- Financials Fund. Let's see how they performed in the graph below during that market correction from late April 2011, to the beginning of October 2011. From these dates one could also parlay this into the old well worn Street adage "Sell in May and Go Away."
As can be seen clearly in the graph, the pure play XLU Utility ETF held up quite nicely.
(Click chart to expand)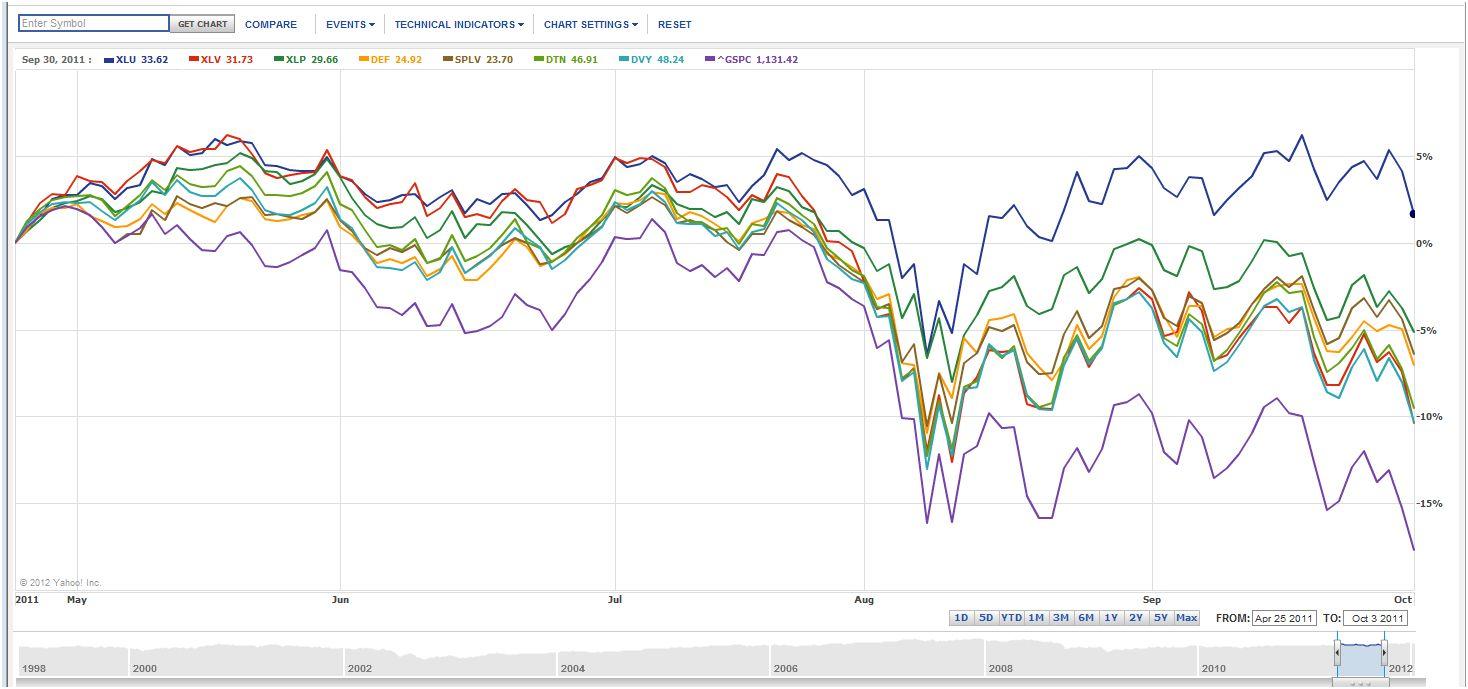 Here are the tabulated results from April 29, 2011, to October 3, 2011, for that market correction and performance for each ETF.
Ticker

Total Return During 2011 Correction (April 29 Market Peak to Trough October 3)

Max. Drawdown

XLU

1%

-11.30%

XLV

-12%

-17.30%

XLP

-6%

11.90%

DEF

-8.90%

-8.90%

SPY

-19%

-18.60%

SPLV

-5.20%

-12.50%

DTN

-10.50%

-15.50%

DVY

-10.70%

-15.60%

data source: etfreplay.com
The Utility SPDR (XLU) , had quite a drawdown before recovering later in the correction but nevertheless led the list with a 1% gain. It appears that the Powershares Low Volatility ETF (NYSEARCA:SPLV), mitigated the damage somewhat with a respectable showing as well. In a future article, this examination could be taken further to include some bond ETFs to see how they performed during this market correction.
Disclosure: I have no positions in any stocks mentioned, and no plans to initiate any positions within the next 72 hours.