Remember Sears (NASDAQ:SHLD), that company that could be in a death spiral already? Sears is now the best performing stock coming into 2012.
Something must have changed, right? No, nothing has. But when you mix a very hot market, buyout rumors, a very large short interest (58% of the float is shorted) and a low float (only around 40% of the outstanding shares trade in the open market), sometimes you get what you just saw: a 50% "straight up" move in a company with stock that should, instead, be imploding.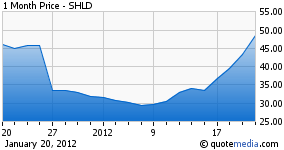 When a short squeeze happens in a company that's fundamentally compromised, like Sears, it doesn't last. And when it stops, the stock will do what you would expect a stock to do under this circumstance: plunge. Sears is, after this short squeeze, a $5.3 billion market capitalization, with nothing supporting such valuation - certainly not the huge loss estimates as far as the eye can see.
Indeed, Sears is a prime candidate to file for Chapter 11 during 2012. And such companies don't trade at $5 billion market capitalizations. As soon as the short squeeze abates, it's likely that Sears stock will plunge, taking out even the recent, post profit-warning lows.
Disclosure: I am short SHLD.