Trina Solar (NYSE:TSL) used to be the best Chinese solar company before the solar industry downturn in 2012. The company did not perform well during the downturn, as other Chinese companies like Yingli Green Energy (NYSE:YGE) and Canadian Solar (NASDAQ:CSIQ) took the lead. Trina also lost its cost leadership position to JinkoSolar (NYSE:JKS). However, the company is now starting to hit the accelerator again and has wrested the No.1 global solar panel position from Yingli Green Energy. The company is also starting to match JinkoSolar in terms of cost, with its in-house solar panel manufacturing cost coming down to 42c/watt. The company has successfully established itself as a downstream solar developer and targets to complete 700-750 MW of capacity in 2015. Trina has also got a well-oiled marketing and distribution network in the largest demand regions for solar panels such as Japan, the USA, India and China. The company is enhancing its manufacturing capacity by setting up factories in Thailand and Malaysia. This will allow it to circumvent new and existing trade sanctions on Chinese made solar modules by the USA and Europe. Trina Solar is consolidating its position as a top solar company. The stock valuation is still quite low compared to other top US listed solar stocks. Some time ago, I had questioned whether Trina Solar had got its mojo back. I think that it has successfully answered my question with its execution in the past few quarters. Trina Solar is a buy on every dip.
Trina Solar Positives
1) Great Performance in Q1'15 - Trina Solar gave a solid performance during Q1'15 with financial numbers exceeding expectations. The main highlight was the improvement in gross margins to 18% from 15.7% in the last quarter. Total shipments in the current quarter exceeded 1 GW which is a great performance, given that Q1 is a seasonally slow quarter for the solar industry.
Net revenues were $558.1 million, a decrease of 20.8% sequentially and an increase of 25.5% year-over-year. Total shipments were 1,026.2 MW, consisting of 891.7 MW of external shipments which were recognized in revenue, and 134.5 MW of shipments to the Company's downstream power projects

Source -Trina Solar
2) Increasing Manufacturing Capacity in Thailand and Malaysia - Trina Solar is once again increasing its manufacturing capacity after being circumspect for the last 2-3 years, as the industry suffered from a major supply glut. The solar panel industry is also consolidating with customers, preferring Tier 1 suppliers such as Trina and Hanwha Q (NASDAQ:HQCL) over other smaller solar panel companies. Trina Solar is expanding its capacity by 700 MW this year as it boosts capacity to meet increasing demand. Its solar module business is generating a good amount of operating cash flow, as its brand name, distribution network and low costs allow it to generate profits even as other companies are mired in losses.
Yes, as a matter of fact, we are still very much constrained by the capacity and we're running at full capacity since [indiscernible] 2013 and so we have been very much running at 24/7 and not even taking holidays off during the Chinese New Year holiday which is the most important holiday here. So as you can see that additional capacity is very much needed, Mahesh… CapEx for our module business is expected to be around 300 million to 315 million this year. As for the CapEx for the module business one of the main expansion project is the recently announced plan to add 700 megawatt of sales and 500 megawatt of module capacity in Thailand. This type of investment is encouraged and supported by the government of China as it fits into the One Belt, One Road policy… In term of capacity across our business as of March 31, 2015, we had analyzed in-house ingot capacity of 2.2 gigawatts, wafer capacity of 1.7 gigawatts, PV cell capacity of 3.2 gigawatts, and module capacity of 4 gigawatts and we look to increase this to 2.2 gigawatts, 1.7 gigawatts, 3.5 gigawatts and 4.8 gigawatts respectively by the end of 2015.

Source -Trina Solar transcript
3) Liquidity position remains good - The main reason that Trina Solar has become the top panel supplier and has managed to improve its profitability is its low debt-to-equity ratio. Even as its other Chinese peers like Yingli Green Energy, Suntech and LDK went overboard in spending hundreds of millions in expanding capacity, Trina Solar adopted a conservative CapEx strategy. This has helped the company keep its debt situation under control.
Our cash dollar at the end of quarter was at 682.9 million while bank borrowings were 912.2 million of which 883.8 million were short term volume. The convertible bond on the balance sheet is 287.5 million. Our capital expenditures in the first quarter were 8 million on the module business and 100 million on the downstream business, including 21 million spend on UK project that we intend to sell.

Source -Trina Solar transcript
4) Solar Development Business is ramping rapidly - Trina Solar has rapidly increased the scale of its solar development business. The company plans to set up around 750 MW of capacity globally in 2015. This is extremely good progress when you consider the company got into this segment just a couple of years ago. Almost 13% of its shipments went into its solar development business. The company's retained solar projects already exceed $300 million in value and should keep increasing as it develops more solar projects throughout the year.
We continue to steadily build up our utilities field and DJ project pipeline and expect our pipeline to start to contribute meaningfully to this business segment in the second half of this year as we connect our project to the grid in the second quarter. We are confident to meet our target of total project connection of 700 megawatt to 750 megawatt in 2015… We still considered two projects one in Xinjiang and one in Jiangsu totaling 210 megawatt. The estimated retained value is 307 million if our conservative assumption of 8% discounted rate is used and 318.5 million using 7.5% discount rate. We believe the additional value for the module sales to our downstream projects along with the retained value of our operational projects better represents the true value of our company.

Source - Trina Solar transcript
5) Solar Industry is on a long-term upswing - The solar industry is on a long-term upswing, with solar electricity becoming competitive with grid prices in a large number of places. There is also a lot of pressure on governments to support green energy to mitigate the effects of climate change. The industry has seen exponential growth, increasing from ~8 GW in 2008 to around 45 GW in 2014. The industry is now geographically diversified, with many countries installing 1 GW or more per year. This trend is unlikely to reverse as solar energy costs keep on decreasing every year driven by increasing scale, improving solar cell efficiency and process improvements.
In 2015, IHS again predicts that installation demand will grow at a double-digit rate of 16 to 25 percent and installations in the range of 53 to 57 GW. The drivers of growth will remain largely unchanged from 2014. Geographically, the largest markets again will be China, Japan and the United States, while the largest contributors in terms of absolute growth will be China, the U.S. and India. The underlying driver of growth will be the ongoing cost reduction of solar.

Source - IHS
Trina Solar Negatives
a) Net margins and ROE remain low despite sharp recovery - Despite showing an impressive recovery over the last 2 years in increasing margins and shipments, TSL's net margins remain quite low as the solar panel business remains extremely competitive. It is difficult to differentiate solar panels, with the main factor being price.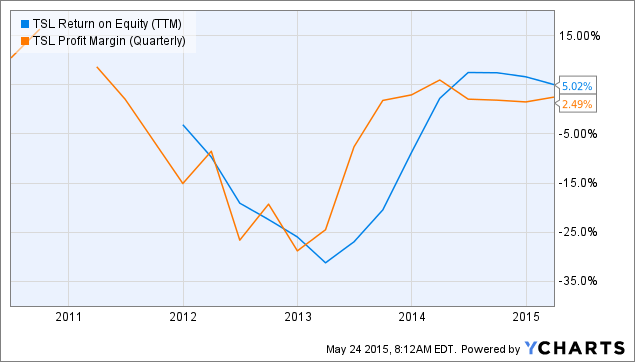 TSL Return on Equity (TTM) data by YCharts
b) Solar development is based mainly out of China - The solar development business in China does not have high margins compared to other parts of the world such as Japan and the USA. This allows companies such as First Solar (NASDAQ:FSLR) and SunEdison (SUNE) to report higher margins and profits. Solar development has become the main money making segment, while the solar panel business has become commoditized. SunEdison is the most advanced in terms of its solar development business. SunEdison has also diversified into developing and acquiring hydro and wind energy power plants. The company has already listed a yieldco and plans to list another one very soon. Trina Solar is still new to solar development compared to First Solar or SunPower (NASDAQ:SPWR). The silver lining is that Trina Solar has a lot of room to expand in this segment, given the large and growing size of the solar industry.
Stock Performance
Trina Solar's stock jumped up by more than 10% after it announced its quarterly results. The stock has been performing well in 2015, as the market starts to recognize the improving fundamentals behind the Trina story. The company is benefiting from an increase in both margins and volumes, which is driving earnings growth.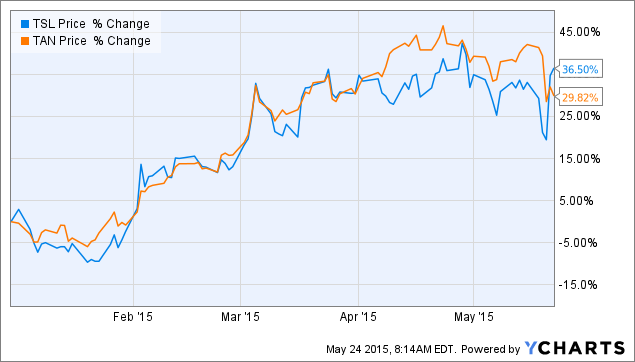 TSL data by YCharts
Valuation remains low
Trina Solar has a very low valuation, with a P/B of 1.2x and a P/S of 0.5x. The forward P/E of just 9x is quite low for a global leader in solar panels, which is forecasting an increase in shipments of at least 20% for this year. Given the strong long-term growth expected in the solar industry, I would expect at least a 20x multiple for Trina Solar which would mean that the stock could double to ~$25 very easily. Canadian Solar, which is a China based company with a strong solar development business, has a P/B of 2.5x and a forward P/E of 25x.
Summary
Trina Solar has become the biggest solar panel supplier in the world, wrestling the top position from Yingli which is facing excess debt issues. The company is increasing capacity, as its existing factories are unable to meet demand in spite of running 24/7. The company has managed to lower its manufacturing costs to become the lowest cost producer of solar panels. The company has got a leading brand name and a strong distribution network in major demand centers. Its solar development business is ramping up strongly and its stock valuation remains cheap. I would advise investors to buy the stock.
Disclosure: The author has no positions in any stocks mentioned, and no plans to initiate any positions within the next 72 hours.
The author wrote this article themselves, and it expresses their own opinions. The author is not receiving compensation for it (other than from Seeking Alpha). The author has no business relationship with any company whose stock is mentioned in this article.