As I write this article, shares of Google (NASDAQ:GOOG) are down $52 or about 8% after it missed earnings last night.
Those who have been reading my writings and acted upon them avoided the loss. On November 15, 2011, I wrote on Seeking Alpha,
"Over a period of time Google will lose its most lucrative searches and the related advertising revenue. It is time to lighten up on Google stock."
Google reported $9.50 per share compared to consensus of $10.45. Gross revenues rose 25% to $10.58 billion vs. $10.91 billion consensus.
On price earnings (PE) basis as well as on price earnings growth (PEG), the stock is cheap and just based on the earnings and revenue numbers the stock should have not seen an 8% decline.
The real reason behind the big stock decline is cost-per-click (CPC) data. The average cost paid by advertisers per click to Google was expected by analysts to increase 3.2%. It turns out the CPC decreased by 8% both from the year earlier fourth quarter and from the previous quarter.
It is true that Google is making great progress on fronts other than basic search. Larry Page, CEO of Google, is pursuing the right strategy for new businesses. In his words,
"Since we last spoke, we've announced that we are closing 12 more products, including Buzz, Knot and Friend Connect, and integrating a whole bunch of others into features of existing products. This means we can double down on the really big bets we have made - like Android, Chrome, Gmail, Display and YouTube."
Page put a positive spin on the earnings,
"Google had a really strong quarter ending a great year. Full year revenue was up 29%, and our quarterly revenue blew past the $10 billion mark for the first time. I am super excited about the growth of Android, Gmail, and Google Plus, which now has 90 million users globally – well over double what I announced just three months ago. By building a meaningful relationship with our users through Google Plus we will create amazing experiences across our services. I'm very excited about what we can do in 2012 – there are tremendous opportunities to help users and grow our business."
The problem facing Google is that its bread and butter is still basic search. It is not that I had a crystal ball to predict a decline in Google stock, it is simply that attack on Google's basic business model was so easy to see.
Amazon (NASDAQ:AMZN) has developed its own ecosystem complete with information from its competitors. It used to be that most consumers would start their search for online purchases at Google. Now since consumers know that they can see information from Amazon's competition on Amazon, our research shows that consumers are increasingly bypassing Google and going directly to Amazon.
Facebook has been working hard to keep consumers within its own ecosystem. An increasing number of Facebook users are making less use of Google.
Of course, Apple (NASDAQ:AAPL) popularized apps. Apps are increasingly bypassing Google and going directly to various data bases such as Yelp. Apple Siri makes it real easy to bypass Google.
Our research also shows that CPC for Google Android is lower than desktop clicks.
Google will continue to see more traffic by people who are just looking around, but people will be clicking less and less on Google ads.
This is another example of the proposition that in technology stocks money cannot be made by analyzing fundamental data such as PE ratios. The secret to consistently making money in technology stocks is to understand change before the crowd by using an analytical method, such as ZYX Change Method.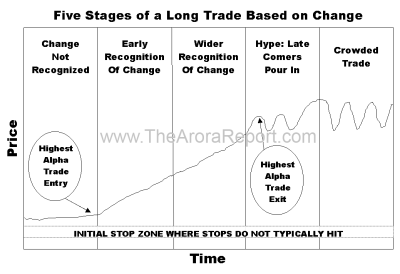 Those who do not want to get into the complexities of analysis can reap handsome rewards by following the five stages of a stock as shown in the diagram.
Disclosure: I am long AAPL.
Additional disclosure: I am long Apple from an average of $131. I took profits on 50% of the position at an average price of $360. Subscribers to ZYX Buy Change Alert may have a similar position and may have taken similar actions.