One of the nation's ailing retailers, Sears Holding Corp. (NASDAQ:SHLD), received an 8% boost from Wall Street on Thursday on rumors that CIT Group Inc. (NYSE:CIT) would be financing costs attributed to the retailer's suppliers. This news comes after CIT reportedly stopped financing vendors of SHLD due to the company's dismal sales and mounting debt.
This jump in the stock price may be indicative of a short term rally due to SHLD securing loans necessary to its business operations, but do not allow this news and short term rally to cloud your view of the long term systemic problems that SHC faces.
Short-Term Rally
There are several key reasons why SHC could rally into the second half of the 2nd quarter of 2012. The main reason comes from firms like CIT agreeing to finance the ailing retailers operations. This comes as good news to Wall Street, as the company was preparing for large banks like CIT to discontinue funding. This shows short term promise for SHLD to continue its operations and work toward a strategy that minimizes losses and allows company maneuvers to take place that would better position the retailer.
Another major contributor to this short-term rally is the company's short interest of 58.2%. This could bode extremely well for the retailer if the company is able to give some reassurance that failure is not imminent. As the stock price increases, short sellers will feel the need to cover. In doing so, this perpetuates a cycle of intense buying that could lift SHC in double-digit percentages. A Forbes analysis of Sears showed that options on SHC were far more active than usual, pointing to three times as many calls on the stock as puts. Forbes says that, "The investor[s] responsible for the transaction could be positioning for continued bullish movement in the price of the underlying over the next year." This points to short term action in the stock that will be conducive to a trade in SHC, but not an investment.
Long-Term Pain
Retail is one industry where a rebound is the exception and not the rule. This is because retailers tend to spiral due to a cycle of decreased sales leading to decreased profit and so on. In the case of SHLD, and most other ailing retailers, like SuperValu (NYSE:SVU)and J. C. Penney (NYSE:JCP), high levels of debt become part of the companies' DNA. SHLD currently has a debt position of $4.55 billion and a shrinking cash position of only $650 million. This debt to equity inequality makes the prospect of bankruptcy far more plausible and makes a retail turnaround requiring reinvestment and costly repositioning in the marketplace nearly impossible.
In the last several months the Hoffman Estates, Ill. announced the closing of up to 120 Kmart and Sears outlets. With comparable store-sales decreasing by 4.4%, this type of re-branding in the market against Wal-Mart (NYSE:WMT) and Target (NYSE:TGT), the companies' biggest competition, is not likely. This type of downward spiral is what leads retailers to the brink of Chapter 11 bankruptcy. It would be foolish to believe bankruptcy is evident within the coming months, but it is a real situation that faces SHLD due to debt levels, failing stores, and a permanently damaged customer perception of the holding company's most valuable brands – Kmart and Sears.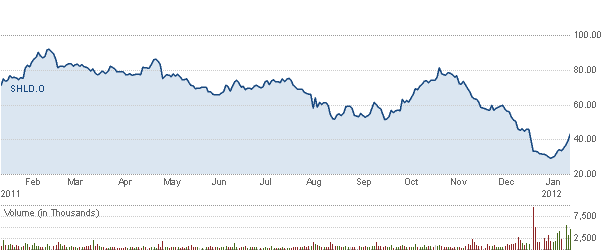 Source: CNBC
If you are looking for a short-term trade that could yield a high return due to a credit deal arising or short sellers covering, SHLD is an exceptional trade to make at this time. On the contrary, if you are looking to make an investment in a retail turnaround, SHLD is not the company, due to extremely high levels of debt and continued losses. Do not hold a position in SHLD for more than several quarters unless you are interested in being the last passenger in a sinking ship.
Disclosure: I have no positions in any stocks mentioned, and no plans to initiate any positions within the next 72 hours.