The market has had a very nice run over the last few months and sits at five-month highs. Volatility has collapsed and the "Risk On" trade is back on. I think the market will be hit later in the quarter by negative events in Europe, but I will play along and ride the trend for a bit. Here are three $8 stocks that have reasonable valuations, good momentum and appear to be heading above $10.
Global Geophysical Services (GGS) - "Global Geophysical Services, Inc., together with its subsidiaries, provides an integrated suite of seismic data solutions to the oil and gas industry worldwide. Its seismic data solutions primarily include seismic data acquisition, microseismic monitoring, data processing, and interpretation services, which deliver data that enable the creation of high resolution images of the earth's subsurface, and reveal complex structural and stratigraphic details". (Business description from Yahoo Finance)
(Click charts to expand)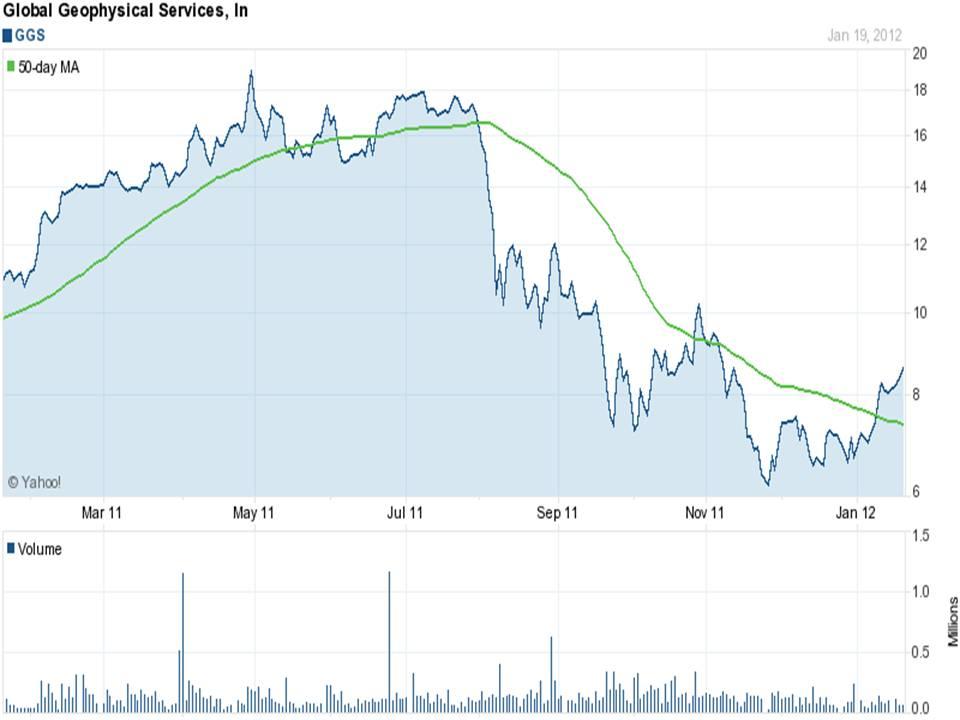 4 reasons GGS looks strong at $8 a share:
After falling off the cliff from over $18 a share over the summer, the stock looks like it bottomed at end of the year and is now moving up smartly. The stock recently rose above its 50-day moving average (See Chart).
Several insiders made purchases in August at much higher levels.
The company is expected to triple earnings this year. It should book $.30 a share in FY2011, and analysts have consensus EPS of $.95 for FY2012.
The company is rapidly increasing revenue. It should close FY2011 with 50% revenue growth and analysts project over 25% sales growth in FY2012.
Boingo Wireless (NASDAQ:WIFI) - "Boingo Wireless, Inc., together with its subsidiaries, provides mobile Wi-Fi Internet solutions. The company installs, manages, and operates wireless network infrastructure to provide Wi-Fi services at its managed and operated hotspots, such as airports, hotels, coffee shops, shopping malls, arenas, stadiums, and quick service restaurants in North America, South America, Europe, the Middle East, Africa, and Asia". (Business description from Yahoo Finance)
4 reasons WIFI is a buy at $8 a share:
The stock is selling near the bottom of its historical range based on P/E, P/S, P/B and P/CF.
The company has a pristine balance sheet with over $2.50 a share in net cash.
Three firms have price targets on WIFI (according to Yahoo Finance), which are at $13, $14, and $15 a share.
Analysts project over 20% sales growth in FY2012 and earnings should also more than double from FY2011.
Xerox (NYSE:XRX) - "Xerox Corporation engages in the development, manufacture, marketing, service, and finance of document equipment, software, solutions, and services worldwide. The company operates in three segments: Technology, Services, and Other." (Business description from Yahoo Finance)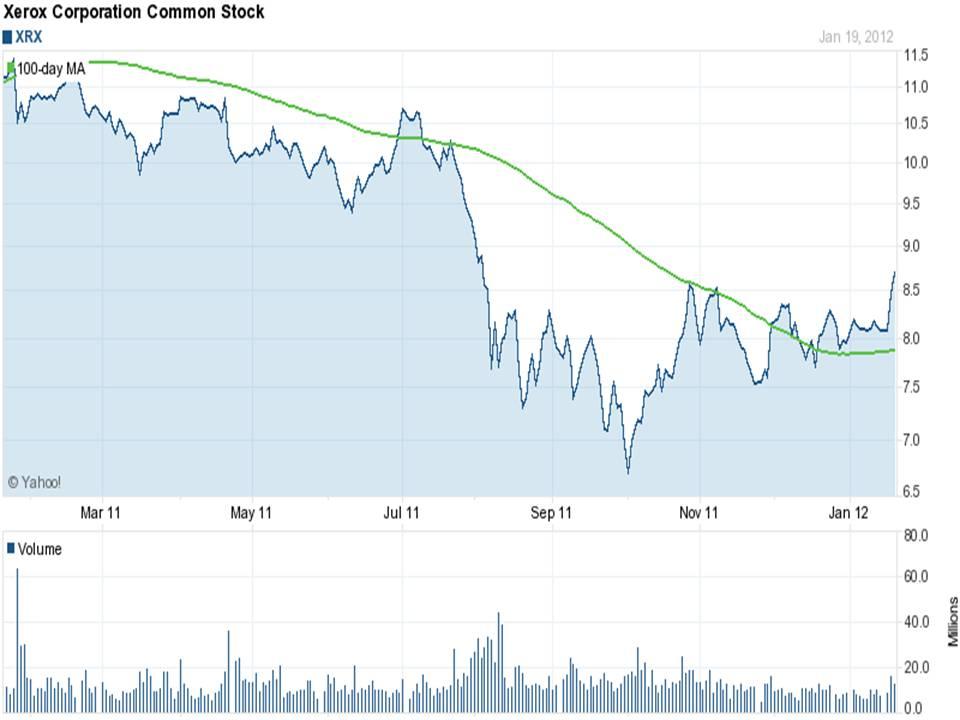 4 reasons XRX is going higher from $8 a share:
Technically the stock is showing good momentum and just crossed its 100-day moving average (See Chart)
Xerox sells for 95% of book value and has a dirt-cheap five-year projected PEG (.37)
S&P has its strongest rating ("Strong Buy") on Xerox and projects it will grow EPS at an average rate of 18% annually over the next three years.
Xerox is cheap at 6 times operating cash flow and a forward PE of just 7.5.
Disclosure: I am long XRX. I may go long WIFI in next 72 hours.