Since the current rally started three months ago, the Thomson Reuters U.S. stock index (a broad based measure of the U.S. market) has risen 11% while the S&P 500 has gone up 14%.
How much farther can the rally in U.S. stock prices go?
Using a unique Thomson Reuters leading indicator that marries the speed at which prices change and volume, it is possible to compute expected market tops given a range of daily trading volumes:
For the Thomson Reuters index
If daily volume stays in the current range of $3B - $4B or increases to as much as $6B (the historic daily high), the index's market top is expected to be no greater than 160, an 11% increase from the end of December 2011
For the S&P 500
If daily volume stays in the current range of $3B - $4B, the market top is probably between 1240 – 1280 ( The S&P 500 closed at 1250 on December 28)
If volume were to increase to $5B or more, the index price could exceed 1280 and could go as high as 1320 (with 1340 being a real stretch)
If either index hits their market top, more than likely a consolidation phase will follow, i.e. a certain amount of profit taking will occur while the market decides which direction price(s) will go next
So an increase in volume is not needed for prices to continue their rise. If volume does increase, our work indicates that the expected market top could increase as well
This report was prepared by Andrew Clark, Chief Index Strategist at Thomson Reuters. Please feel free to quote him directly from this commentary.
Click to enlarge images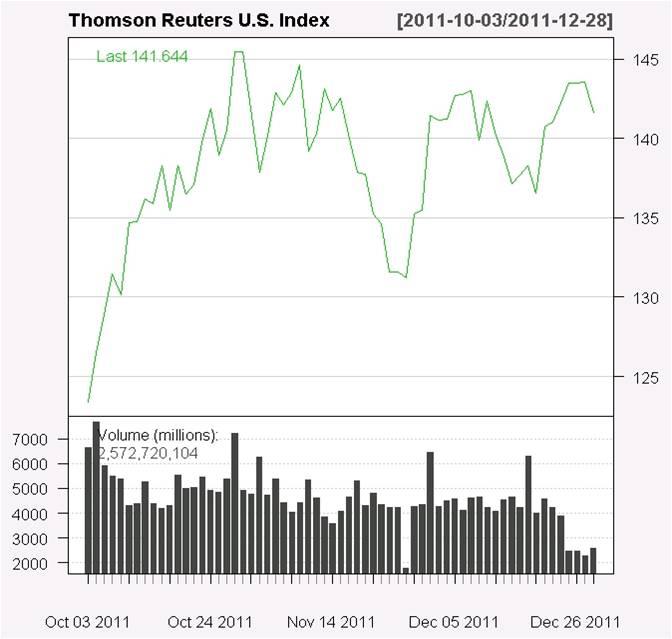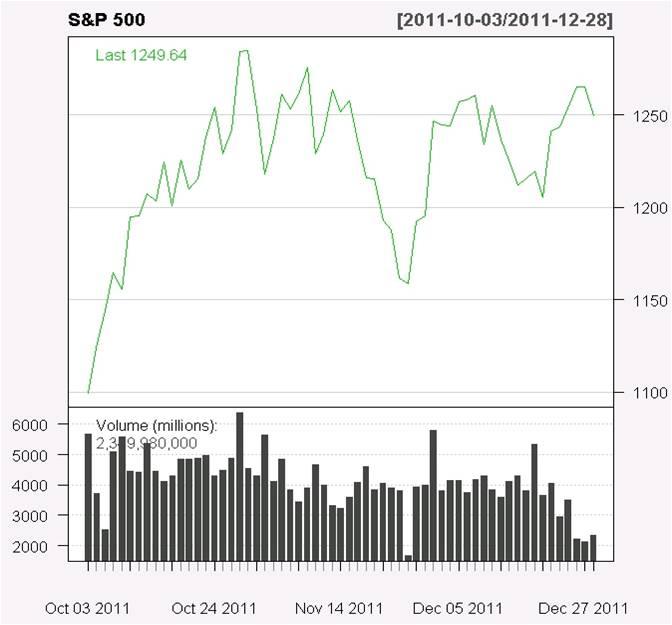 Source: Thomson Reuters Indices.
Disclosure: I have no positions in any stocks mentioned, and no plans to initiate any positions within the next 72 hours.