The end of 2011 and the beginning of 2012 greeted investors with spooky market stories to scare investors. A prominent cartoon in the Wall St. Journal depicted a pretty lady shrieking, "The Dow Sank 17%". Another balloon read "The US Loses Its AAA Rating". She is screaming, "Who Will Fix Europe?". Another caption reads, "$71 Billion Yanked From U.S. Stock Mutual Funds". Another hysterical cry exclaims, "I Want Treasuries!". As if that cartoon wasn't enough to scare readers, the headline read, "Spooked Investors Seek Safety: Volatile Quarter Leaves Market Victims Wondering What Is Next". A contrarian pronouncement we wrote in early October to the surprise of many was, "Beware Of Stock Market Rallies Ahead".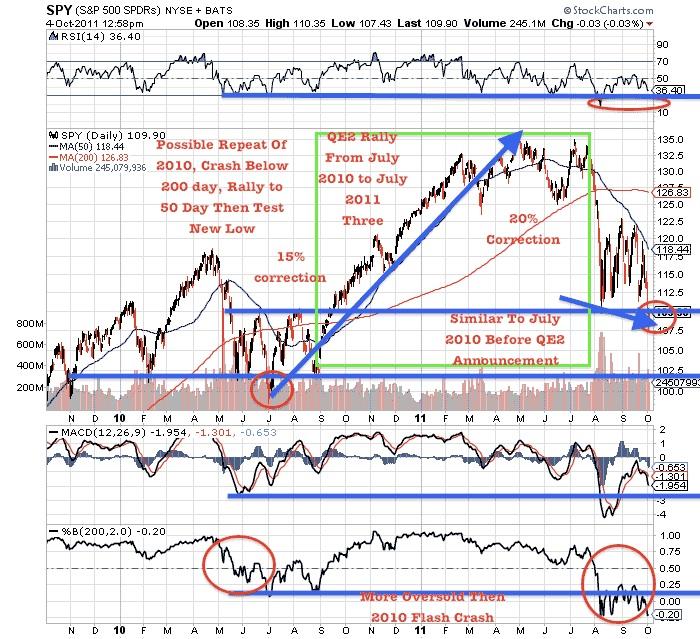 There was altogether too much gallows talk in circulation when we sent out the above chart on the S&P 500 . We expected a potent rally especially in our oversold uranium (NYSEARCA:URA) and rare earth miners (NYSEARCA:REMX). In early October, we noticed positive signals on our indicators suggesting that an impressive rally was in the offing especially in our deeply oversold industrial metal miners (NYSEARCA:COPX).
Cutting straight to the chase we have witnessed a potent rebound where many of the oversold miners are rebounding impressively in 2012. This demonstrates that there is plenty of cash waiting on the sidelines to continue supporting a strong rally. As we said, "When the need is sorest, so the answer comes soonest." Suffice it to say, that the rally in the undervalued junior (NYSEARCA:GDXJ) and industrial (REMX) miners has begun and is continuing.
As we write Bernanke is testifying that the "Federal Reserve is ready to take further actions to spur growth". They are meeting next week and may announce a transparent horizon of accommodative actions. This is in keeping with our expectations of a potent, surprise rally.
The recent rally in the U.S. dollar (NYSEARCA:UUP) and the long term treasuries (NYSEARCA:TLT) represents a thin blanket for a cold night that is not going to last. There are technical stalling signals indicating a potential reversal lower.
The recent 2011 liquidity crisis is presenting a buying opportunity for promising, oversold and beaten down natural resource equities which have been pummeled in a merciless market.
Since early October, we are continuing to watch this impressive rally and the breaking out of many quality companies into new uptrends.
Gold's accelerated move to $1900 prior to the decision past overhead resistance indicated the market was waiting for an inflationary QE3. The market got a surprise as Bernanke announced a tepid twist. Negative news which causes a temporary decline with a rapid recovery indicates resilience. The precious metals market appears to be finding its footing and now may return to close some of those downside gaps created in 2011.
The recent selling panic in gold and silver bullion at the end of 2011 has abated and reversals are beginning to occur.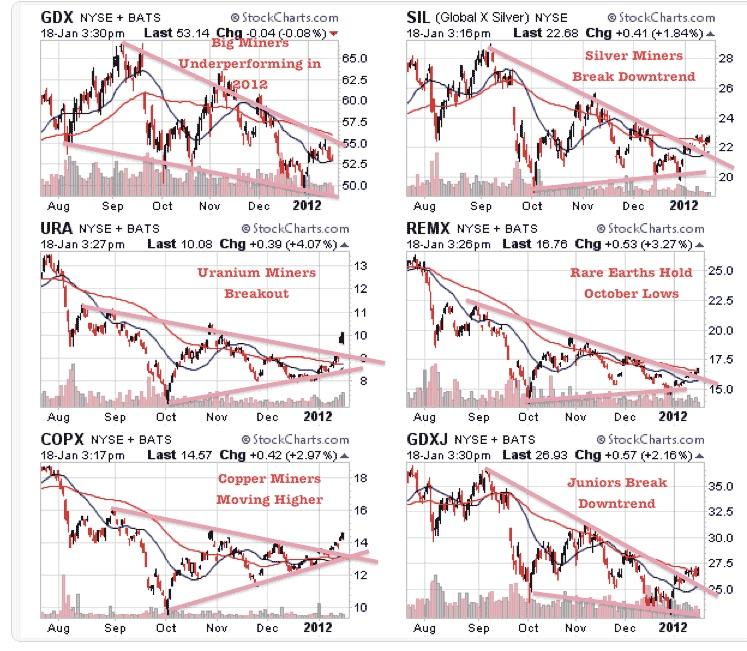 The uranium (URA), silver (NYSEARCA:SIL), copper (COPX) and rare earth stocks (REMX) appear to be breaking downtrends and out of bases. The juniors (GDXJ) look like they are beginning to outperform the majors(NYSEARCA:GDX). The smaller miners have reached compelling valuations that long term, contrarian investors can use to their benefit by adding to positions or initiating purchases in favorite stocks or sectors which one has not participated in yet at a discounted level. We must understand the long term upward trends in natural resources and realize this is a rare opportunity to pick up resource stocks just beginning new uptrends and breaking out of bases.