With the rapid growth of internet commerce in China, Chinese ADRs have abruptly risen in stock price over the past couple of weeks. Their valuations and share values are reaching unprecedented levels. This results in more M&A deals because a Chinese ADR with high valuations will acquire a part of a smaller Chinese ADR with lower valuations because it's immediately accretive to the acquirer given the lower multiple.
E-Commerce China DangDang (NYSE:DANG) is a mid-size business-to-consumer e-commerce company in China. It has been under the radar up until the past few days, when its stock price has gone on a big and rapid run. This indicates a deal might be in the works.
As shown in the month long chart below, DANG has stayed in a range between $9-$9.50 for the past month, until just the past couple of days.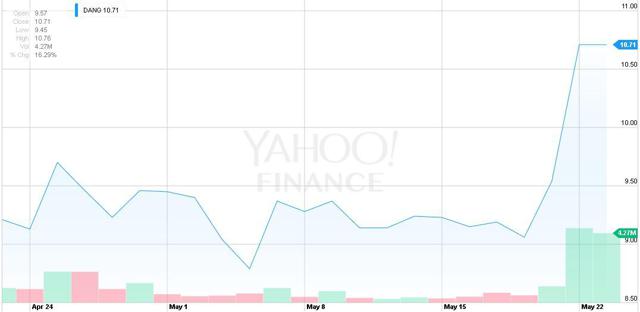 it'

As shown in the above historical price table, DANG has risen from a close of $9.06 on May 20th, to closing 6% higher to $9.54 on May 21st, and another 12% higher to close at $10.71 on Friday, May 22nd. Volume has risen substantially. What is going on over at DANG? It's very possible a deal is currently in the works and has leaked, causing a boost in the stock price before the deal is announced. This happens often with Chinese stocks before a deal and a buyout, as happened with eLong (NASDAQ:LONG) just last week.
Potential partial acquirers of DANG in the e-commerce business with higher multiples are Vipshop (NYSE:VIPS), JD.com (NASDAQ:JD), Jumei (NYSE:JMEI), and Alibaba (NYSE:BABA).
ELong's Deal
Compare DANG's recent price movement with what happened with LONG. On April 30, LONG reported bad 1Q15 results, missing on the top and bottom line. Its revenues declined from last year, yet that didn't prevent an acquisition deal because of its strong presence in the China online travel industry.
On May 22, it was announced that Ctrip (NASDAQ:CTRP) acquired a 37.6% equity stake in eLong for a total purchase price of approximately $400M. That would value LONG's market cap at $1.08B, almost double what its share price was trading a week ago.
In the few days before LONG made the deal its stock price went on a rally. This is after the stock was flat for a long time. Was the deal leaked and this buying was on insider information? Probably. With Chinese companies, the walls are thin and insider trading isn't punished like it is in the US.

As shown in the above month long chart, LONG mysteriously started rising in share price on May 18th. It continued rising daily up until May 21st, the day before the deal with CTRP.
Right now, DANG is going through a similar abrupt uptrend for no apparent reason like LONG did.
DangDang Is Vastly Undervalued When Compared To Its Peers
DANG has shown much success in growing its revenues. The following is DANG's past and estimated future revenue growth from Bloomberg.

Projected YoY % Growth is over 20% in each of the years 2015-2017. That kind of healthy growth makes DANG a prime target for a partial acquisition. DANG is very undervalued compared to other Chinese e-commerce stocks. The following is an EV/Sales comparison with DANG's peers.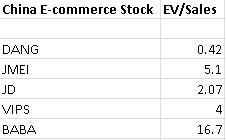 Any one of DANG's larger competitors listed above would benefit from buying a piece of DANG to lower its EV/S multiple.
Based on deals that have happened with other Chinese internet stocks with low EV/sales ratios, it's likely that a deal is currently emerging with DANG. Buying DANG now before the deal is announced is a good bet, especially as the stock is still quite undervalued on its own compared to its peers even if a deal doesn't materialize.
Disclosure: The author is long DANG.
The author wrote this article themselves, and it expresses their own opinions. The author is not receiving compensation for it (other than from Seeking Alpha). The author has no business relationship with any company whose stock is mentioned in this article.