Pacific Biosciences (PACB) is the owner of the PacBio RS II Sequencing System, a platform based upon the company's novel Single Molecule, Real-Time [SMRT] technology. The company's instrument is now the undisputed leader when it comes to providing the industry's highest consensus accuracy and longest read lengths with the ability to detect real-time kinetic information. This allows for the company to enable de novo genome assembly, which helps to create reference sequences that are utilized as a road map for additional short-read sequencing.
When Pacific Biosciences first went public in 2010, it was prophesied that the company's latest genomic sequencer would revolutionize the technology and the industry. The so-called "third generation" of sequencing would enable faster processing of complete genomes in minutes and for a fraction of the cost of the competition. Yet very quickly such hype gave way to the start-up realities that severely tarnished the company's reputation. This considerably ate away at the stock's valuation as the expensive instrument sold for just under $1 million dollars and its error-prone inaccuracy appeared to offer no additional advantage over its competitors.
Yet now a few years later, after the update of several critical software patches and the launch of the PacBio RS II, Pacific Biosciences is once again beginning to gain influence in the scientific world. Indeed, the company is now beginning to excel in the area in which it was initially criticized. The company's industry-leading long reads are now beginning to improve the quality of scientific research. While the company came nowhere close in the race of competing towards the "$1,000 Genome", a technological ambition to become the lowest cost sequencer, it has indeed been able to radically improve upon the quality of the results.
Establishing A Market Foothold
Pacific Biosciences now competes in a market filled with short-read technology dominated by low-cost sequencing leaders such as Illumina (ILMN) and Thermo Fisher (TMO). While the machines of the competition are far from completely accurate, they provide some of the best combinations of speed and accuracy for the low price of the system and process. Yet as long-read technology comes down in cost, one has to wonder if the benefits Pacific Biosciences offers will provide a unique advantage over the competition.
Yet as scientific research continues to improve, it is becoming increasingly clear that long-read technology is becoming more necessary. Because short-read technology is akin to putting in order the words and sentences of a book in contrast to the chapters which long-read technology can provide, short-read sequencers are subject to more difficulties in repetitive genomic regions. Imagine trying to identify what line on a page of a book, the word "the" belongs.
(Source Link)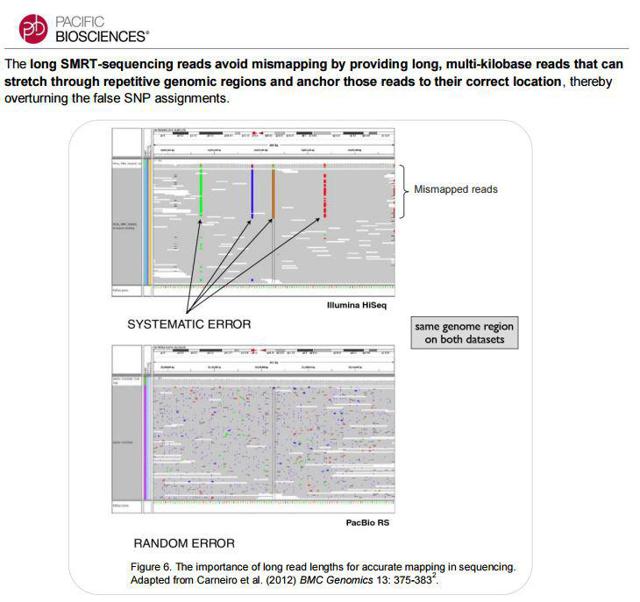 Such technology-specific results can be the difference between identifying and mapping a true biological variation and distinguishing it from a sequencing error. This is key as scientific understanding is built and improved upon by the discovery of variability. On that front, the PacBio RS II is also beginning to unlock an understanding that variability may be far more complex in many cases than which was previously believed. Over the past year, a number of scientific papers have come to the support of the PacBio RS II. One such paper was referenced by Pacific Biosciences CEO Mike Hunkapiller in the company's Q1 2015 conference call found below:
"As background, towards the end of last year, Dr. Eichler had published a paper in Nature describing over 26,000 novel structural variants he had uncovered from sequencing a human cell line with PacBio. Since that time, Dr. Eichler sequenced a different human cell line, and to his surprise discovered an equally large and different set of structural differences, suggesting that the actual genomic structural variability among different individuals is much greater than previously believed."
As our understanding of the differences between humans grows, it is becoming increasingly clear that identifying structural variations may be the key to additional advances in science. For that matter, it becomes all the more essential to both detect and consistently identify such areas of interest. This requires improving upon the quality of the sequencing in a way which short-read technology may simply be unable to accomplish. In another paper referenced by Hunkapiller, the PacBio RS II was able to detect noteworthy mutations which inhibited clinical research. The following is an excerpt from the same conference call:
"Our technology is also being used increasingly for targeted sequencing of human DNA, as illustrated in the paper that was published in BMC Cancer last month, and researchers at Uppsala University, were studying chronic myeloid leukemia. In this research study, researchers sequenced samples from six CML patients, who experienced poor response to the standard cancer treatment. The team checked for mutations in the BCR-ABL1 fusion gene, using the PacBio RS2 at the time of diagnosis and again following treatment with a regimen of tyrosine kinase inhibitor or TKI-based therapy.

Over 10,000 full-length BCR-ABL1 sequences were obtained for all samples studied. In all six patients, PacBio Sequencing successfully identified all mutations seen by other standard methods. Importantly, the team also identified several mutations that escape detection of routine clinical analysis, including analysis by short-read sequencing methods. All mutations identified had previously been implicated in resistance to one or more TKI therapies."
Such improvements to understanding as a result of a Pacific Biosciences' unique sequencing method are beginning to lead to reported and well-documented results. This has translated into an increase in instrument sales and an increased use of the company's machines as verified through growing consumables sales. More importantly, the company's system is beginning to penetrate into some of the most established customers in the field.
In early May, for example, the company announced that the Beijing Genomics Institute [BGI] purchased its first PacBio RS II instrument and pledged to purchase additional units in the future. BGI is the world's largest genomics organization, and their interest in the PacBio RS II is to integrate SMRT technology into its global service business. Considering that Pacific Biosciences' current install base remains under 150 machines worldwide, the introduction of this reputable customer further validates the company's growing acceptance by the scientific community. Such traction is likely to continue to grow as Pacific Biosciences continues to improve upon its technology.
While the PacBio RS II already leads the industry in read lengths, there is still ample room for additional improvement. In early May, Pacific Biosciences also entered into a collaboration with RainDance Technologies in a relationship which may be capable of providing synthetic read lengths in excess of 100 kilobase pairs. This is a feat which may more than double some of the longest reads currently performed on the PacBio RS II system.
Not only improving upon the quality of the output, Pacific Biosciences also remains committed to lowering the cost of its process. Recently, the company introduced a new barcode sample prep kit which enables customers to pool multiple samples under a single consumable SMRT Cell. By reducing the costs to clients in performing reads, Pacific Biosciences hopes to attract additional customers more sensitive to price.
All said, while Pacific Biosciences is often criticized for its expensive system, the company is slowly beginning to prove that its platform is able to offer a vast improvement when it comes to quality. This is appearing to be particularly appealing to those on the frontline of advancing science. At the same time it is striving to reduce its cost to consumers in order to further break down the barriers which inhibit demand for the company's technology.
A Look At The Company Now
Pacific Biosciences now trades with a market capitalization of $428 million based on the last price of $5.74 as of May 22. In Q1 2015, the company saw a gross profit of $5.9 million based on $17.6 million in revenue, but this also resulted in a bottom line net loss of $20.2 million. The company's total assets now amount to $106.4 million, of which liabilities amount to $65.9 million and shareholder equity is $40.5 million.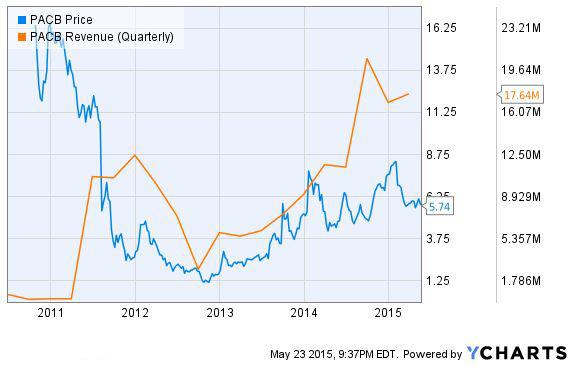 Some of the company's revenue will fluctuate over the coming quarters in light of its ongoing relationship with Roche (RHHBY). Pacific Biosciences recently achieved a milestone which entitles the company to a payment of $10 million which will be recognized in Q2 2015. Such research and development programs may skew some of the company's financial metrics in the present given its early commercialization efforts. For example, while the company's milestone payment will be realized in Q2 2015, much of the expenses accrued for that project leading up to that milestone has already been incurred in ongoing R&D expenses.
Altogether, Pacific Biosciences continues to see traction in sales. Product sales increased 43.8% year-over-year and service and other revenue increased 31.7% year-over-year. Particularly key was the company's growth in consumable revenue, which was up a steady 69% year-over-year. The average consumable revenue per installed system now exceeds $130,000 per system per year. In Q1 2014, this amount slightly averaged over $100,000 per system per year. This continues to show significant growth of customer use when it comes to the company's installed base of previously sold systems.
Final Thoughts
There is little doubt that Pacific Biosciences is playing catch up to some of its largest peers in the industry. Illumina, for example, has a market capitalization of $29.5 billion compared to the paltry $428 million market capitalization of Pacific Biosciences. Nevertheless, the field of genetic sequencing is already significantly large and continues to grow. In a recent article from Forbes, Illumina CEO Jay Flatley upgraded his understanding of the market size. He cited that the DNA sequencing market will substantially exceed the $20 billion market opportunity he had originally estimated only 15 months before.
The question inevitably becomes just how much of that market share Pacific Biosciences will eventually be able to claim as its own. As it stands now, the number one factor that is inhibiting the company is the high price tag associated with its technology. But as the field continues to evolve towards a pursuit of greater sequencing quality, investors should be prone to believe that the company may be able to claim a small portion of the market now dominated by short-read technology. This is especially the case as the company continues to improve upon its capabilities and further reduce its costs to consumers.
As it stands now, Pacific Biosciences remains a speculative investment that continues to endure losses. Yet given its nascent return to a market in which it was once discredited, the company is now gaining significant traction due to its unique process which utilizes SMRT technology. Pacific Biosciences has already proven itself to lead the industry in some key metrics, but it will continue to need consistently growing momentum in order to establish for itself a profitable niche in the large market for genetic sequencing.
Disclosure: The author is long PACB. The author wrote this article themselves, and it expresses their own opinions. The author is not receiving compensation for it (other than from Seeking Alpha). The author has no business relationship with any company whose stock is mentioned in this article.
Editor's Note: This article discusses one or more securities that do not trade on a major U.S. exchange. Please be aware of the risks associated with these stocks.