2011 was a year to forget for Chinese TMT companies. A combination of macro overhang, fear of hard landing in China and wave of frauds by lightly regulated RTOs has shattered investor confidence on many Chinese companies. As a result several quality companies are trading at their historical lows during the 2008/2009 financial crisis and significantly below their growth rate.
However, I believe that these companies will offer both value and growth investors compelling opportunities this year because of their:
Leading industry standing
Low valuation
Near-term catalysts
Promising growth prospect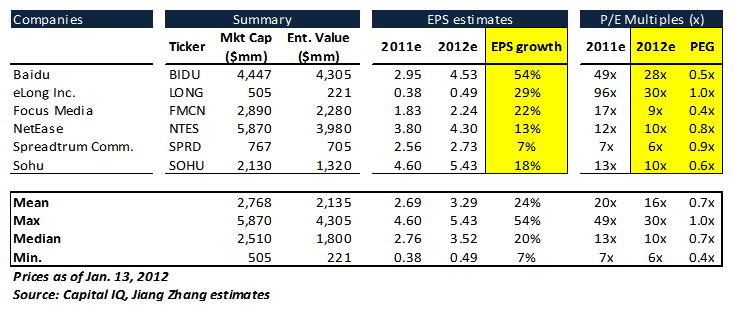 Baidu (NASDAQ:BIDU): Going Mobile With Baidu Yi
Baidu currently trades at 28x 2012e earnings, which is expected to grow 67% this year as the company expands its industry leadership in desktop search and enters the mobile search market. Baidu Yi will be a key catalyst for 2012 as Baidu officially enters the mobile OS market to challenge Apple (NASDAQ:AAPL) and Google (NASDAQ:GOOG). In late December, Baidu introduced its own mobile OS-powered phone with Dell. While I believe that Dell is a respectable business partner for Baidu due to its strong brand recognition in China's PC market, Baidu needs to find other partners to promote its Baidu Yi OS because Dell's brand recognition in China's mobile phone market is weak. I note that the top five mobile phone brands in China are Apple, Nokia, Samsung, Motorola and HTC. For a closer look at Baidu Yi, please refer to my Dec. 4th note titled, "Baidu Yi Heats Up China's Mobile OS Market".
eLong Inc. (NASDAQ:LONG): Leveraging Web 2.0
Over the past several quarters, eLong's revenue growth is approach to that of Ctrip (NASDAQ:CTRP), and is expected to achieve 27% revenue growth for next year compared to Ctrip's 25% growth as eLong expands its product offering and distribution via partnership with Expedia (NASDAQ:EXPE), Tencent, and Renren (NYSE:RENN). The company's earnings per share is expected to grow 29% y/y to $0.49 compared to Ctrip whose EPS is expected to grow 17% this year, making eLong an underappreciated and overlooked company among the Chinese internet names.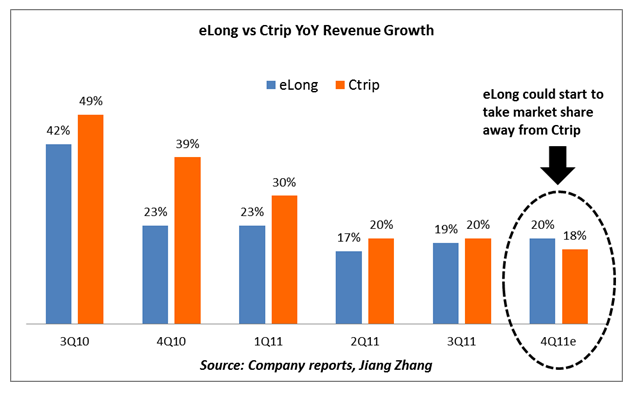 Continued focus on expanding online booking and leverage Web 2.0 to expand group buying initiative will be two main catalysts for eLong.
Unlike rival Ctrip which relies heavily on call centers to provide superior customer service, eLong is encouraging its customers to be more active in online booking by issuing e-coupons. For example, an online customer receives Rmb 800 voucher for hotels when he registers a profile on eLong. Increased online booking will alleviate the traffic to the call centers, allowing eLong to save substantially on operating costs. As of 3Q11, 60% of eLong's customers choose internet booking over call centers. As more of its customers shift to online booking, eLong will experience margin expansion and increasing profitability.
eLong's group buying site features over 1,200 daily deals and the company is partnering with Renren's Nuomi and Tencent's QQTuan to offer group discounts on hotels and travel packages. eLong's continued investment in group buying will improve user experience. According to management, eLong is the first travel site in China that allows customers to directly purchase group buying deals from the travel site rather than from hotels. This feature provides a convenient booking measure to the customers, thereby increasing user stickiness and repeat sales.
Finally, there are over 4.4 million eLong followers on Sina's Weibo, Tencent Microblog and Tencent Qzone, making the site the most followed Chinese OTA. eLong's usage of social networking sites to promote its products and services will generate stronger consumer awareness and further expand its group buying initiative to drive future revenue growth.
Focus Media (NASDAQ:FMCN): Dominating China's Outdoor Advertising Space
Focus Media is the clear leader in China's digital outdoor advertising space. The company currently trades at 9x 2012e earnings with an estimated 22% EPS growth. As I pointed out in my December 18th note titled "Positive On Focus Media s Growth As It Enters The Interactive Era", Focus Media's newly introduced Interactive LCD screen is a major catalyst for the stock in 2012.
Focus Media's Interactive LCD screens provides a one-stop shop for outdoor advertising and promotion with its large LCD screen for video ads and three smaller screens for flash ads. The two different types of screens on one platform allow Focus Media to capture not only the company's advertising budget but also the promotional budget, which historically share 1:1 ratio. In 2012, the company is expected to have 40,000 Interactive LCD screens and 130,000 upgraded basic LCD and Framedia poster frames operational for the interactive initiative.
Management expects the Interactive LCD screens to be 5% of 2012e revenue, but I believe that this estimate could be conservative. According to my channel checks with regional sales managers, there are considerable amounts of interest in the new LCD screens in the second tier cities, indicating that the demand could be higher than expected.
NetEase (NASDAQ:NTES): Undervalued Gaming Leader
NetEase is trading at 10x 2012e earnings with an estimated 13% EPS growth. The near-term catalysts for NetEase will be Tianxia III expansion pack, Ghost Online and Diablo 3. Tianxia III will be a successful expansion pack of Tianxia II in that it caters to both hardcore and casual gamers. The customization of in-game environment will likely deliver superior user experience compared to the previous versions while the improved graphics, dynamic action sequence and robust portfolio of in-game items can also generate user stickiness.
Ghost Online is expected to introduce an expansion pack in 1H12 and NetEase is committed on expanding the 12 million gamers and 9,000 gaming clans that the game attracted at its debut. I believe that hiring actress Crystal Liu as the game's spokesperson will raise the game's brand awareness and lead to increased sales.
Finally, Blizzard is expected to continue to license World of Warcraft to NetEase this year. In addition, NetEase's advertising of Diablo 3 on its microblog indicates that the company will obtain the licensing right for the popular title in China.
Spreadtrum Communication (NASDAQ:SPRD): Positive Outlook For 2012
Continued growth of the TD-SCDMA market in China and of the 2G/2.5G internationally will positively impact Spreadtrum Communication in 2012. Introduction of WCDMA solution adds further upside for 2H12.
According to management, TD-SCDMA baseband market is expected to grow from 50 million units in 2011 to 90 million units in 2012 as China Mobile encourages subscribers to transition from 2.5G to 3G. Currently, 3G subscribers only account for approximately 7% of China mobile's 640 million subscribers, implying significant upside in 3G adoption and revenue growth for Spreadtrum.
While China's home market offers attractive growth for Spreadtrum's 3G chips, strong demand for 2G/2.5G chips is rising from the emerging markets such as India, Latin America, Africa and Southeast Asia. Management expects sales of 2G/2.5G chips to be 900 million units in 2012, compared to 800 million units in 2011, and Spreadtrum's 40nm technology that features improved performance and power will allow the company to expand its presence in the international market.
For 2H12, Spreadtrum expects to ship its first WCDMA solution that targets WCDMA/HSPA+ feature phone market in the wake of its MobilePeak acquisition, implying additional momentum for the remainder of the year.
Sohu.com (NASDAQ:SOHU): Focusing On Search And Content
Sohu is trading at 10x 2012e with EPS expected to rise 18% this year. Sohu's search marketing system, code named the "Rising Sun System", is comparable to that of Baidu's Pheonix Nest System. Google's eventual pullout of China will allow Sogou, Sohu's search unit, to expand its market share.
For investors, Sohu's near-term catalysts are continued growth in Sogou and online video. Sogou is expected to enter the mobile search space. While it is unlikely that Sohu will develop a mobile OS that competes against Baidu Yi, I believe that Sohu will develop several applications for smart phones and tablets that can deliver core Sogou products such as character input, MP3 and browser to compete against Baidu.
Sohu Video will continue to expand its content library to compete with Youku and take market share away from Tudou (NASDAQ:TUDO). I note that last month Sohu entered a partnership with Lions Gate in which Sohu will acquire 300 film and TV titles, including the popular series Mad Men and the comedy Weeds. The company also acquired exclusive copyright to renowned Chinese director Zhang Yimou's World War II documentary, "The Flowers of War", staring Christian Bale.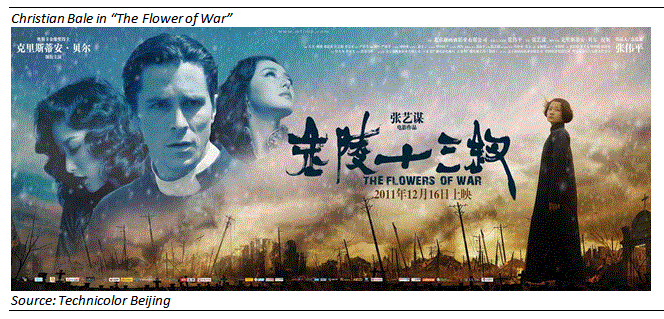 Disclosure: I have no positions in any stocks mentioned, and no plans to initiate any positions within the next 72 hours.